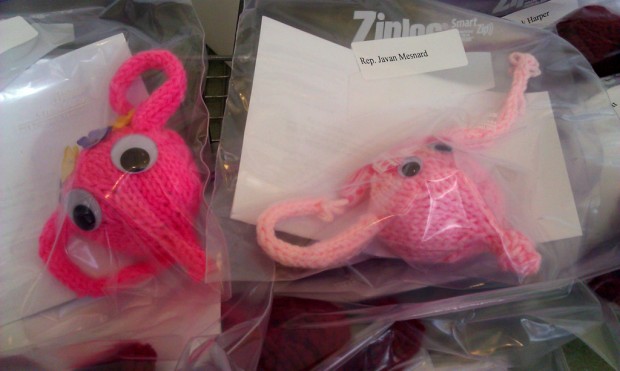 PHOENIX - Arizona employers will not be able to deny contraceptive coverage to their workers because of their religious beliefs.
Backers of a proposal giving employers that option admitted Thursday they have not been able to secure the necessary Senate votes for HB 2625 as it was approved by the House. And time is running out, with lawmakers hoping to wrap up their session within weeks.
So Ron Johnson, lobbyist for the Arizona Catholic Conference, said he and other supporters of a change in the law are willing to talk a deal.
A 2002 law requires employers whose insurance for workers includes prescriptions to also provide coverage for contraceptives.
The statute has an exception for churches and certain church-run charities and services that hire and serve mainly people of their own faith.
The measure being pushed by Rep. Debbie Lesko, R-Glendale, would have allowed any company to claim a religious exemption. She said there is no reason an employer should have to fund something totally at odds with his or her own beliefs.
Lesko did add language that said a worker who needs the hormones found in contraceptives for some purpose other than preventing pregnancy could purchase it with her own money and then seek reimbursement from the insurance company.
Still, the measure came up two votes short of the 16 necessary for Senate approval.
Johnson said the plan now is to widen that exception, which he said is now so narrow that it really only allows churches themselves to refuse to fund contraceptives for employees.
The new version would expand that to include church-run organizations, regardless of whether their employees or clients are of the same faith, a change designed primarily for church-run hospitals and charities like St. Vincent de Paul Society, he said.
One hurdle remains for Lesko to push the new version through the Senate: trust.
Because the Senate defeated a House-passed measure, accomplishing even the scaled-back changes will be tricky.
The Senate would have to take a new vote approving the broader measure it just rejected, sending it to a conference committee to make the changes.
Doing that, however, requires Lesko to convince other members of the Senate that she will not then divert the bill, already given final House approval, to the governor instead of referring it a conference committee to make the promised changes.
Dozens of lawmakers get their own knitted uterus
PHOENIX - Several dozen state lawmakers got an unusual and unsolicited gift Thursday: their very own uterus.
The four-inch red or pink knitted uteruses - longer if the fallopian tubes are stretched out - were delivered to the Capitol in plastic bags with the names of lawmakers who have supported legislation to let employers refuse to provide contraceptive coverage to their workers. Each bag also had a typewritten note urging lawmakers to accept the uterus as "a reminder of the women who are or have been in your life."
"I am amazed that you have taken it on to make personal health-care decisions for all these women, without knowing anything about their individual circumstances," read the note signed by Chandler resident Deborah Sullivan.
"A significant majority of adult women have used contraception at some time in their lives, frequently within marriage, for a variety of reasons, without intervention of Congress," it continues. "This status should continue, as a recognition of the dignity of women."
The letter also says increased access to contraceptives will mean fewer abortions and fewer unwanted children who may become victims of abuse.
"Please treat the women in your life as the intelligent persons they are," it ends. "I provide you with a uterus. Please leave ours alone."
Sullivan said she felt it important, even in her 60s, to get involved and to make sure lawmakers think about women when they consider HB 2625.
"Who knew that as a grandmother I'd get motivated to do something political based on my knitting group?" she said.
- Howard Fischer/Capitol Media Services