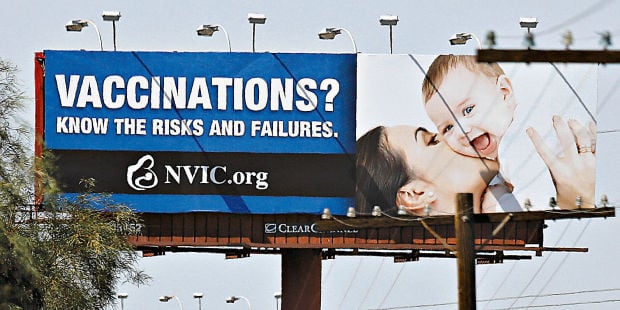 A billboard along Interstate 10 is disingenuous and misleading parents about childhood vaccinations, some local public health officials say.
The billboards urge parents to learn about the "risks and failures of vaccines" and are accompanied by a photo of a mother and her baby. The group behind the advertisement, the National Vaccine Information Center, says it has put up billboards in several cities, including Tucson, Chicago and Austin, Texas.
"They look benign and I think that is part of the strategy," said Dr. Francisco Garcia, who is the chief medical officer for the Pima County Health Department. "The issue they leave out when you go to their website is the benefits of vaccines. It doesn't do justice to the very real reasons why we need vaccines."
The local billboard can be seen from westbound Interstate 10 between Grant Road and Miracle Mile. It is owned by Clear Channel Outdoor.
The multistate campaign targeted areas of the country where the rights of parents to opt out of vaccinations for nonmedical reasons are in peril, officials with the National Vaccine Information Center say.
A state law proposed in the last Arizona Legislature session would have required parents to get a doctor's signature and hear the risks of not vaccinating before exempting their children from immunization for personal beliefs. The bill failed, and no similar legislation has been introduced this session.
All states allow medical exemptions for children who have medical contraindications to vaccination. Most states allow religious exemptions and at least 20, including Arizona, allow philosophical or "personal belief" exemptions.
"We strongly support the ability for citizens to have nonmedical exemptions," said Barbara Loe Fisher, president of the National Vaccine Information Center. "We don't believe medical doctors should be gatekeepers. I think this is a First Amendment issue. There has been an attempt to shut down a public conversation about vaccination health."
Loe Fisher also opposes the label "anti-vaccination" that people frequently attach to her group. Rather, she says, the center's purpose is to prevent injuries and deaths from vaccines through education and to ensure informed consent.
But the name of the nonprofit group - the National Vaccine Information Center - is misleading, said Elizabeth Jacobs, an associate professor of epidemiology at the University of Arizona's Mel and Enid Zuckerman College of Public Health.
"I know for a fact people are misled by their name," she said of the 31-year-old group. "If you are not enmeshed in the movement, you may be completely unaware the NVIC does not promote vaccine benefits." The same group advertised on Delta Airlines in a move that was criticized by the American Academy of Pediatrics, Jacobs notes.
Rather than going to a website for vaccine information, Jacobs advises getting real-life advice.
"The best thing for people to do is to trust their doctor," she said.
The National Vaccine Information Center has merits, but its website is incomplete, says Arizona Department of Health Services Director Will Humble.
"The piece kind of missing from their website material is how we benefit from vaccines because we don't have to worry about infectious diseases like a few generations ago," Humble said. "Vaccines are probably right up there with clean water in terms of the No. 1 most effective public health intervention of all time."
Still, Loe Fisher contends the information about vaccines that's forwarded by government health officials, medical trade associations and pharmacy companies is one-sided. Her group provides a much-needed perspective for parents, she said.
"We have the right to have the conversation," Loe Fisher said. "The benefits are talked about consistently. Vaccines could cause health problems, and they don't always work."
Indeed, Humble commends the group for informing people about how to report adverse reactions to vaccines.
"You need that feedback. If there's a problem, you identify it quickly," he said.
Personal-belief exemptions have been rising in Arizona, according to a study published in the journal Vaccine last year that Jacobs co-authored. In some schools, as many as 20 percent of the children were unvaccinated, the researchers found. Overall exemption rates by school varied from zero percent to 68 percent.
One in three Arizona schools in 2011 had kindergarten classes with vaccination rates so low that children were vulnerable to outbreaks of vaccine-preventable diseases, an Arizona Daily Star investigation in May found. More mid- to high-income parents are choosing not to vaccinate their children, and charter schools were more likely to have low vaccination rates, the investigation also showed.