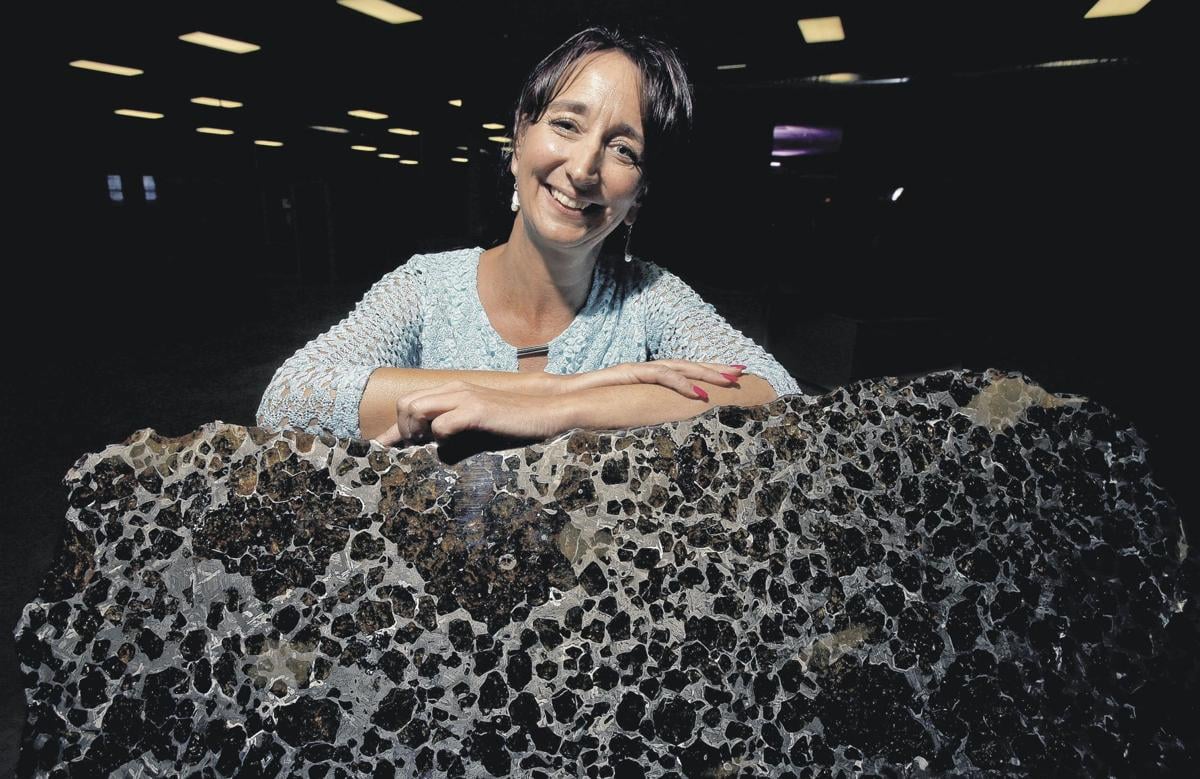 The new deputy principal investigator for the OSIRIS-REx mission has succeeded in planetary sciences even without the traditional degrees.
OSIRIS-REx, which aims to visit the asteroid Bennu and return a sample of the space rock back to Earth, isn't Enos' first space mission. She's been involved with NASA missions since the '90s.
That's even though she doesn't have a doctorate or a degree in the sciences; She studied business and accounting and earned a master's in business administration from the University of Arizona.
A conversation at a copy machine in 1997 changed here career trajectory . At the time, she was working to put together a biotech facility at the UA.
Eugene Levy, then the dean of the College of Sciences, approached her while she was making copies in the Gould Simpson Building.
"He said, 'Heather, I know you've been working on the biotech stuff, and it's going really well, but have you ever thought about using your skill set to build planetary hardware and manage planetary contracts?'" Enos said.
"I really hadn't thought about it, but I was thinking it was time for me to try something new," she said.
Enos went to work on the Mars Odyssey mission, which launched in 2001 to orbit and study the red planet. She served as the project manager for the University of Arizona team that developed the Gamma Ray Spectrometer – an instrument that analyzed the chemical composition of the Martian surface, eventually leading to the discovery of water ice.
After 19 years and four missions, she can't shake the space bug.
She said she's fascinated by the ingenuity of the engineering that goes into space missions and the idea of building electronics and systems that have to withstand extreme environments.
She's also blown away by how science can be done from so far away. When the Mars Odyssey spacecraft reached the planet and the science instruments were turned on, Enos said the team was getting back data from Mars in 20 minutes.
"You're looking at something on a planet millions of miles away, and yet you're sitting here around a table with a bunch of colleagues and scientists going, 'We're really doing science from this distance,'" she said.
She also worked on the UA-run Phoenix Mars Lander mission. She was similarly in awe at how they could control a robot on another planet, but grew a little frustrated at the mission's limitations.
The rover collected samples of Martian soil and tested its composition, but there was only so much that could be done remotely.
"We found ourselves in a situation where we had limited time and limited resources and you want to do more with it," she said.
Enos joined OSIRIS-REx in 2011 as project planning and control officer. She worked with the original principal investigator, Mike Drake, and his deputy, Dante Lauretta, to lay out the mission plan and guiding principles.
"So she's great at it, she's a whiz, she loves her numbers," said Lauretta, who became principal investigator after Drake died in 2011.
Enos's work on the Mars Odyssey and Phoenix Mars Lander missions make her perfect for the deputy principal investigator role during this stage of the mission, Lauretta said. She has experience operating science instruments on a deep space mission.
"There were a lot of challenges with that instrument (on the Phoenix mission), and they overcame them and got some good science out of it," Lauretta said. "That kind of experience is invaluable for me."
As deputy, Enos will be managing the science teams and facilitating communication between them.
Dani DellaGiustina, the lead image-processing scientist, said she thinks Enos will excel in the position because she is "the most amazing organizer."
"Heather is just excellent at making sure things get done," DellaGiustina said.
Though she doesn't have a traditional education in STEM, she said she's been called a "bootstrap engineer" because she's learned on the job.
She's also had to overcome some sexism as she worked her way to the top. Planetary sciences has typically been a male-dominated field, she said.
When she first visited the Jet Propulsion lab with Principal Investigator Bill Boynton after joining the Mars Odyssey mission, Enos said people assumed she was his secretary.
She loves the idea of being a female in a top leadership role.
"I think I have a responsibility to upcoming young women in science and engineering, and any field, business even, look what you can do with it," she said. "One of the most important things for me to do is pave the way, break some glass ceilings."
Elizabeth Eaton is a NASA Space Grant intern.