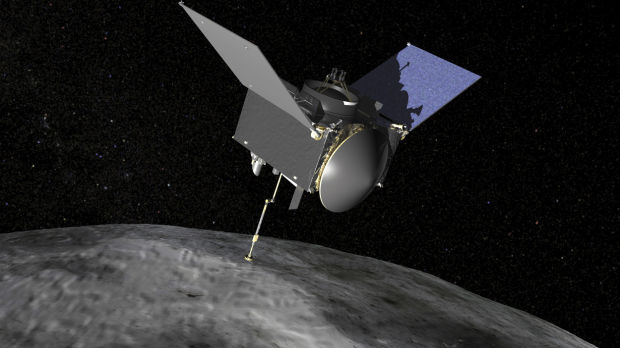 Planetary scientists meeting in Tucson on Wednesday cheered their European colleagues as the Rosetta mission accomplished the first successful landing on a comet.
Dante Lauretta, who heads a University of Arizona-led mission to capture a sample of an asteroid, said he "flash-forwarded" to that rendezvous as he and his team awaited word that the lander Philae had successfully landed.
"We're very proud and very excited along with our European colleagues," Lauretta said.
He said his team has already worked with the Rosetta team, and plans a more formal consultation next year.
"We face very similar challenges," he said.
Lauretta said the European Space Agency's experience was a good warning for his team, especially when it comes to choosing a landing site.
"They didn't expect that comet to look that complex. We have to get ready for the unknown."
The OSIRIS-REx mission to an asteroid named Bennu will have more time to pick a landing site. It launches in 2016, arrives at Bennu in 2018, and will have two years of study before it collects a sample for return to Earth.
Lauretta was among 800 scientists in Tucson this week for the 46th annual meeting of the Division for Planetary Sciences of the American Astronomical Society.
Many in attendance had close ties to the Rosetta mission.
Scientists who built the instruments aboard the Rosetta spacecraft say the successful deployment of the lander, named Philae, will make their findings that much more valuable.
Fabrizio Capaccioni, whose international group provided a visual and infrared thermal imaging spectrometer called VIRTIS for the Rosetta mission, said he was worried, but said, "I was also very confident it would have ended up as it did."
His instrument had aided the ESA in picking a landing site for Philae.
"The surface is rugged, but in the end, the lander is very small." There were plenty of flat spaces to land, he said.
Capaccioni, of the Institute for Space Astrophysics and Planetology in Rome, said the instruments aboard Rosetta, which have been observing the comet since August, have already produced a wealth of scientific knowledge.
Philae, which will grab samples of the comet to analyze on-site, will serve as "ground-truthing" for his and the other instruments, he said.
Alan Stern, principal investigator for an ultraviolet spectrometer named Alice, was excited to see the first pictures of the comet's surface but is already looking ahead to his next big mission.
Stern is principal investigator for the NASA New Horizons mission that will reach Pluto in July. "You think this was good. Just wait till next year," he said.