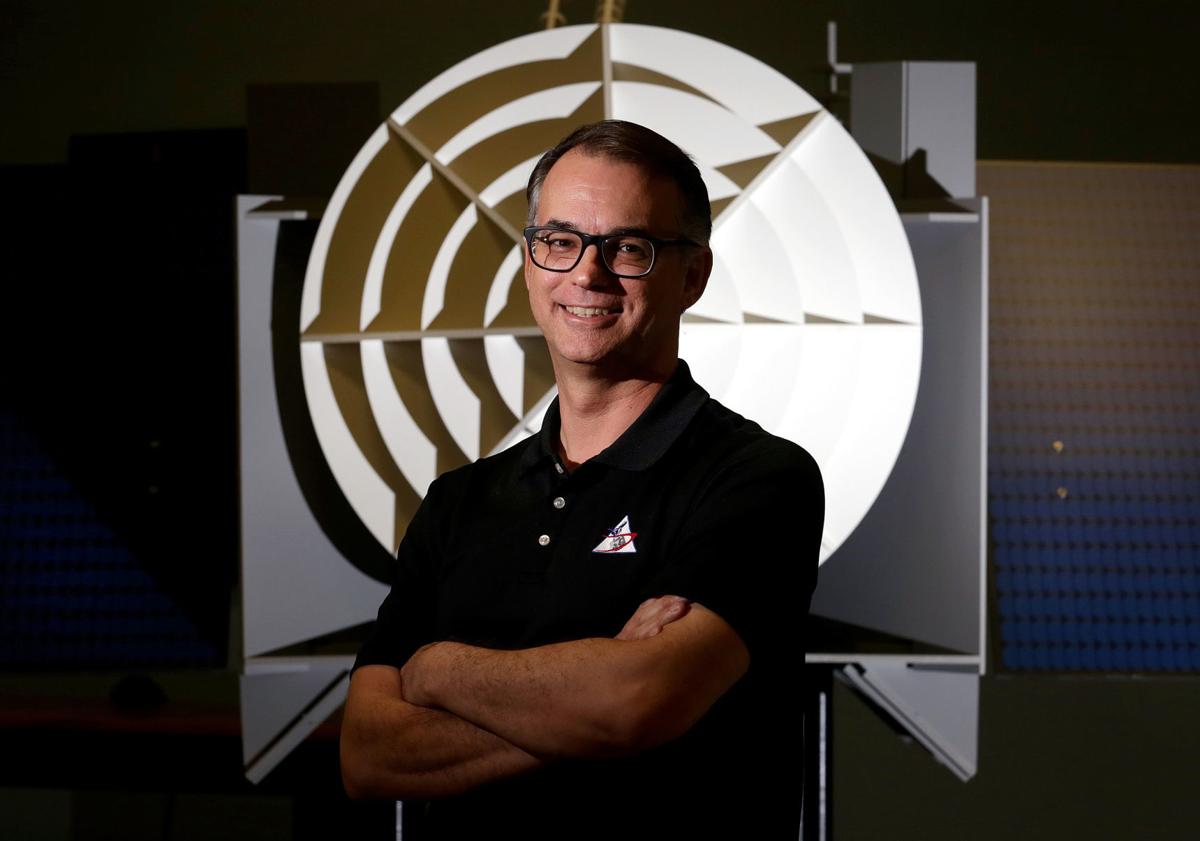 Dante Lauretta is mad about science, but the University of Arizona cosmochemist shares none of the trappings of the archetypal mad scientist.
His desk is clean. His shirts are pressed. His hair is never ruffled, nor is his demeanor, though it has been challenged many times since he took the helm of a $1-billion NASA space mission during the fatal illness of a beloved colleague and mentor.
During that time, he and his wife began a family and she started a business. Lauretta began practicing yoga, playing electric guitar and brushing up on his Japanese so that he could talk freely with his asteroid-hunting colleagues from the Japanese Space Agency. He developed a class on how to land a NASA contract and created two asteroid-themed board games. He joined a space-mining company and proposed a future NASA mission with some colleagues.
Oh, and he and his team successfully designed, built and launched the OSIRIS-REx spacecraft, which will rendezvous with the asteroid Bennu next year. Its ultimate goal is to return a fist-sized sample of small pebbles teeming with the precursors of life in the universe.
OSIRIS-REx is a New Frontiers mission, an opportunity NASA provides to universities and institutes to compete for a contract to explore the solar system, led by an individual principal investigator.
Fellow cosmochemist Tom Zega, who has known Lauretta since graduate school, said he has not been surprised by his colleague's cool control of every last detail of the enterprise.
"He was born to run this mission," Zega said.
Lauretta's mother, Paula Magno, agrees. She said her son has been a conscientious, dependable guy all his life.
"I used to say he was a little old man in a child's body." She would jokingly tell him: "I'm going to take you to your people in Sun City."
"He was my right-hand man as a single mom," she said. Lauretta's father had moved the family to rural New River, north of Phoenix. He left when Lauretta was 12 and Lauretta helped his mom with his two younger brothers.
"We lived in a single-wide mobile home up on tripods in the middle of the Arizona desert," said Lauretta. School meant a long bus ride to Deer Valley High School in Glendale — when the roads weren't flooded.
In school, Lauretta discovered he loved math, and was good at it. He would tear through the textbooks in the first weeks of school. He still treasures his "outstanding achievement in mathematics" award from Deer Valley, where he graduated in the top one percent of his class, earning an Arizona Board of Regents Scholarship to the University of Arizona.
The award is one of many hanging on the wall of his office in the Michael J. Drake building north of the UA campus. Named for his mentor and the original principal investigator for the OSIRIS-REx mission, the Drake Building is fairly quiet now, but will be filled with hundreds of scientists from across the globe when the spacecraft arrives at its target in August 2018.
Lauretta didn't set out to be a planetary scientist. At the UA, he majored in theoretical mathematics, supporting himself with an evening job on the loading dock at Broadway Southwest department store and an early-morning gig at Mike's Place on University Boulevard, where he was the weekend short-order cook. 
"I still cook a mean breakfast, by the way. It was a really good life skill I learned there."
He added a major in physics and a degree in Japanese along the way, working for a time as cultural counselor to Japanese students at the Center for English as a Second Language. 
Then he saw an ad in the Daily Wildcat for a NASA Space Grant internship with the Lunar and Planetary Lab.
"I discovered LPL. I didn't know it existed. I thought 'Hey, these people have pretty good jobs, they sit in their offices and study Mars."
He got the job, and found a new direction for his career.
He applied to the three of the four universities that offered doctoral programs in planetary sciences. He was accepted by all of them and chose Washington University in St. Louis.
The class of 12 graduate students included his future wife. Lauretta said he was immediately smitten by Mary Katherine "Kate" Crombie. "I don't think she noticed me right away," he said.
Lauretta, who had spent his undergraduate years in physics and math, had some deficiencies in the geosciences to correct. He ended up in a mineralogy course where Kate was the teaching assistant. He fell in love with both subject and teacher.
Lauretta snared a job out of graduate school at Arizona State University, signing on for a role in the NASA Mars Observer mission to study gullies on Mars. That spacecraft disappeared during orbital insertion a few months later.
Lauretta branched into other areas, developing a particular specialty on stable isotopes of mercury as he pursued his next goal.
"I really wanted to be a professor. I wanted to teach. I wanted to have students." In 2001, he was hired on at the UA's Lunar and Planetary Lab and began his teaching career.
His involvement in OSIRIS-REx would keep him out of the classroom for a long time.
In 2004, LPL Director Mike Drake invited Lauretta to join him as deputy principal investigator for a proposed mission to retrieve a sample from an asteroid.
Lauretta was 33 years old and had been on the faculty for only three years. 
"It was such a cool opportunity," he said. "I knew it was a risk but figured 'What's the worst thing that could happen? — we'd spend seven years and get nothing.'"
First, he had to talk to Kate. "I knew it was going to define our life," he said.
Kate had some experience in the consuming nature of space missions. She was working for colleague Bill Boynton on the Mars Odyssey mission at the time. "It prepared me, even though he might not have had an idea of how all-encompassing it would be," she said.
The questions the couple had revolved around family. They wanted to start one. They both had careers. Could they afford this investment of time?
Turns out they could. Both became involved with OSIRIS-REx eventually. Kate quit her job when Xander was born and when Lauretta had to be gone for three weeks, they went along. "Xander learned to crawl in a motel room in Greenbelt, Maryland," she said. Griffin, now 8, came next. 
Lauretta, meanwhile, was basically doing the job of principal investigator, while Mike Drake battled liver failure. The team won the contract in May 2011 and Drake died that September.
Lauretta tapped Ed Beshore, director of the asteroid-hunting Catalina Sky Survey, to take his former job as deputy principal investigator.
Beshore said Lauretta had assumed control of every aspect of the mission. "Normally, you talk to (principal investigators) and they're interested in the science not the details. But Dante had an extraordinary amount of knowledge, not just about the science but the spacecraft and the budgets. He could pretty much tell you everything you needed to know."
Beshore said there a was a "natural amount of trepidation on the part of people involved in the project that somebody so young and so unexperienced could do the job. He stepped up."
Beshore said Lauretta is the super-organized type, but he's also interesting and funny and a big music fan.
The guitar in Lauretta's office is an outgrowth of that interest. Lauretta said he picked up the instrument about the time his first son was born. It was one of the things on his "bucket list" and it gave him some stress release.
He also started practicing yoga daily, from a book his mom gave him. "Work was intense. Having a new baby at home I needed something even if it was just 15 minutes a day," he said.
When Beshore retired last year, Lauretta appointed Heather Enos to take his place. Enos, an experienced project manager, had handled the financial side of things.
"We did our homework on the cost of everything," said Lauretta. "That's where Heather Enos came in. She brought that discipline. I want the cost data to be as rigorous and scientifically justified as any science data I would publish."
OSIRIS-REx, which launched in September 2016, is closer to Earth now than it was a few months ago. It's coming back for a gravity assist that will change its orbital orientation to align it with the orbit of the near-Earth asteroid Bennu.
When it arrives at Bennu in August 2018, the excitement and the tension will ramp back up as the mission team assembles in Tucson to examine and characterize the asteroid with an array of cameras and instruments, looking for a perfect spot to extract an interesting sample that will be stowed into a capsule for return to Earth in 2023.
"The data is the treasure" in most robotic missions, said Kate Crombie.
Crombie is the data archivist for OSIRIS-REx, a specialty she developed while working on Mars Odyssey and continues in the business she founded shortly after Xander was born.
Keeping that data safe, and in a format accessible to researchers is crucial, she said. "OSIRIS-REx is different because it's bringing back extra treasure."
The sample being returned to Earth — somewhere between 2 and 70 ounces — will be the focus of scientific study for years to come.
Zega, who was hired by the LPL to put together a facility capable of analyzing that treasure, said scientists can learn a lot from a little sample.
One machine being fine-tuned in the basement of the Kuiper Space Sciences building on campus last week, easily images the atomic structure of elements contained in a sample only 100 nanometers thick. A sheet of paper is about 100,000 nanometers thick.
The $4.5-million transmission-electron microscope offers the best resolution of any such machine on Earth, said Jane Howe, the Hitachi instrument scientist assigned to the UA for the machine's setup. "It's better than NASA's," Howe said.
It is one of several hi-tech instruments recently purchased or transferred from other UA labs to the facility, which will be available to researchers across campus.
It will allow Zega and other scientists working on the OSIRIS-REx mission to examine the treasure it returns, as well as analyzing samples from other planned sample-return missions.
OSIRIS-REx is a carbonaceous asteroid that should contain amino acids and other precursors of life, preserved in the vacuum of space for more than 4.5 billion years.
A minute grain of it "is a world of its own," said Lauretta.
Lauretta, who has spent a good part of his career analyzing samples taken from meteorites, anxiously awaits the return of a pristine sample.
It's why, even though he has joined colleagues to propose another space mission, he is not interested in leading another one any time soon. "Let me see what these samples look like first. I'm only 46. I've got time ahead of me."
Meanwhile, Lauretta and Crombie juggle work and life, sharing the cooking duties and the rides to basketball practice for the kids.
Lauretta finds time each week for math night with Xander and chemistry night with Griffin.
He said the boys tested and helped him develop the two board games he created as part of an educational outreach plan for the mission.
"As busy as he is, he's a great father and, not having that example as a child, I'm in awe sometimes of how naturally he picked that up," said his mom, Paula Magno.
Magno is a very big fan of her son. She was there when OSIRIS-REx launched from Cape Canaveral in September 2016.
"I was amazed. It brought tears to my eyes. To watch this rocket take off, knowing that your child did that. I can't even explain how that felt."
Contact: tbeal@tucson.com or 573-4158. Follow him on Facebook or on Twitter: @bealagram