At the University of Arizona, Jenn Frymark helped develop a greenhouse for extreme weather and then spent six months at the South Pole growing food for scientific researchers.
Now she grows 10 million heads of lettuce and other greens year-round, without soil, in considerably more benign conditions inside greenhouses in New York and Chicago.
She said her business, Gotham Greens, has been a success since she joined partners Eric Haley and Viraj Puri in growing greens hydroponically on a rooftop in Brooklyn in 2011.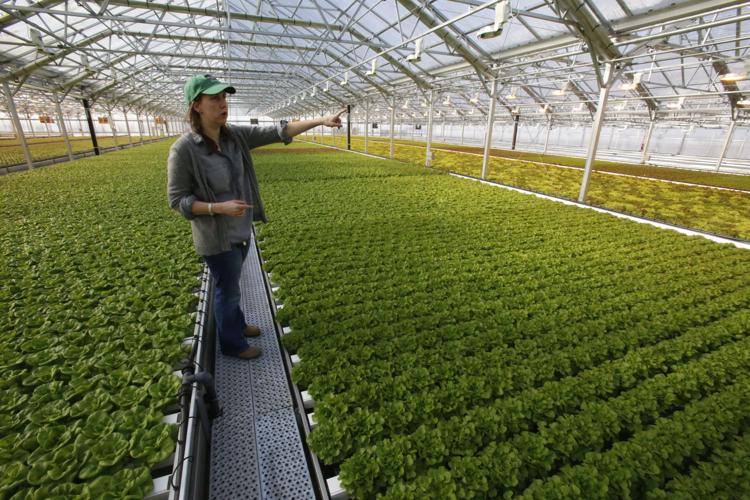 Frymark is the poster child for the UA's Controlled Environment Agriculture Center, where she did her graduate studies.
"She's certainly one of the most successful graduates we have, particularly as it relates to business development," said center director Gene Giacomelli.
"She took the science she learned and put it into a highly successful, very unique business," Giacomelli said.
The center, known as CEAC, is training the next generation of farmers for an urban agriculture revolution, researching ways to improve efficiency, taste and freshness in everything from lettuce to mushrooms. Giacomelli is planning to extend it to wine grapes.
Frymark said the skills she learned there are key to her business success and she still calls the center for technical advice.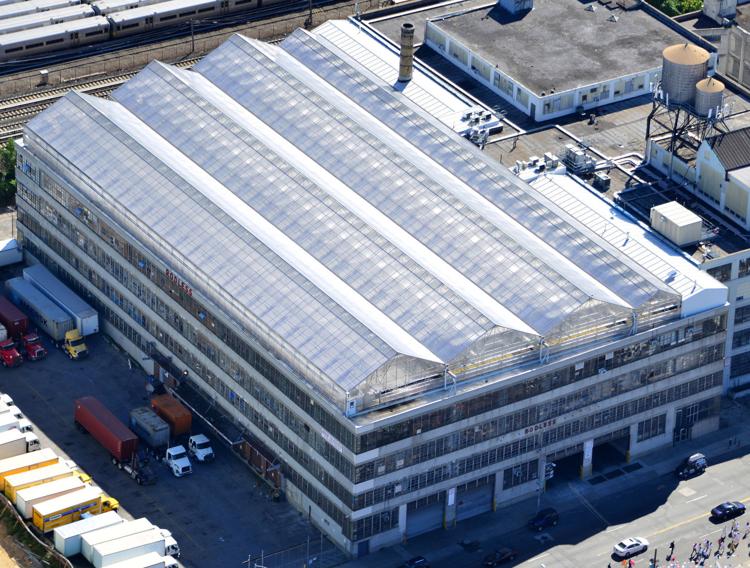 Potential great for high-value crops
The center is helping NASA develop a gardening system for the moon and Mars. It is developing sensors that will allow plants to signal their needs for light, carbon dioxide and nourishment. The center is branching out into mushroom farming and its director wants to learn if it's possible to make fine wine from grapes whose roots never touch the soil.
It is also helping to lay the groundwork for the Monsanto Co.'s 7-acre corn-research greenhouse on Tucson's northwest side.
The center is housed in sheds, greenhouses and offices scattered across the historic floodplain on the south side of the Rillito near North Campbell Avenue. It is jointly run by the UA Department of Agricultural and Biosystems Engineering, and the School of Plant Sciences. About 85 students from those programs and others are taking the center's courses, Giacomelli said.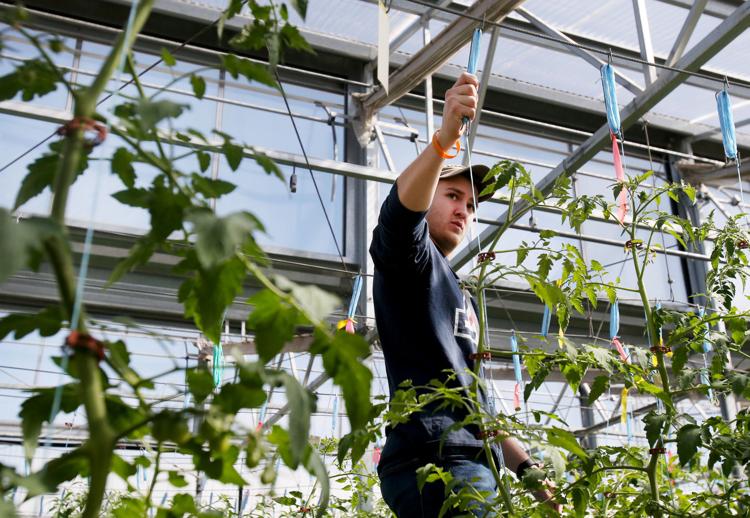 "This is an exciting time for food-production agriculture," Giacomelli said. "For the first time in history, if you're not born into the agriculture business, you can start a food system in a garage, on a rooftop or in the corner of a building."
Controlled-environment agriculture will never replace field crops, said Jeff Silvertooth, UA associate dean of cooperative extension services, but its growth potential is great for high-value crops and niche opportunities.
Frymark said Gotham Greens had no trouble finding customers for lettuce it packages and ships every day.
"Ship" is a bit of an exaggeration. Her second site in Brooklyn was built atop a Whole Foods Market. They just walk it downstairs. Proximity, and her company's ability to control all aspects of distribution, make it possible to deliver greens the same day they are picked, she said.
Her greens are not organic — a method of growing that is traditionally defined as "feeding the soil rather than the crop."
But the company's greens remain attractive to the natural-foods crowd. "People like 'local' to the point where it is a stronger brand than 'organic,'" Frymark said.
Her hydroponic crops use no soil. They float on Styrofoam rafts atop a pool of water enriched with the chemical nutrients that the plants need.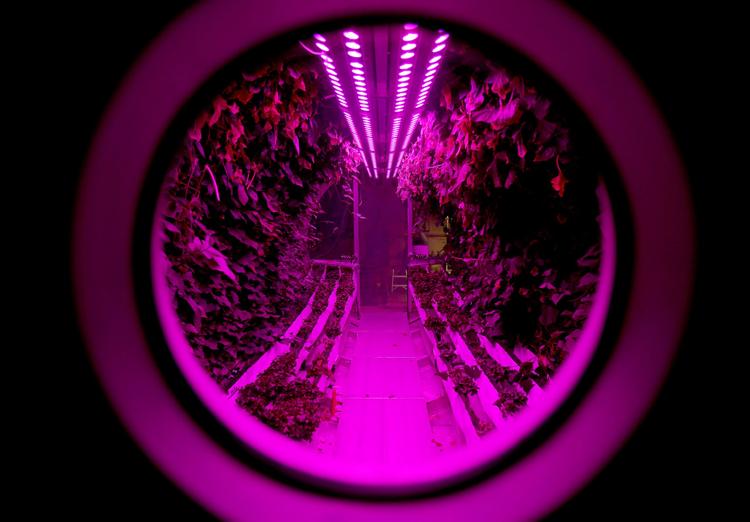 "Speaking plants"
for Mars colonization
Methods of growing hydroponically were pioneered at the UA, and are being continually refined at the CEAC.
The center was started by pioneer hydroponic researcher Merle Jensen, who had previously worked on demonstrations of the technique for Disney's Epcot Center.
Jensen helped secure original funding for CEAC in 1998 from the Legislature, as Eurofresh Farms was developing huge tomato greenhouses in Willcox and Snowflake, Giacomelli said.
Many of the improvements made in growing crops in ordinary circumstances come from taking on the challenge of growing them in extreme environments, according to Giacomelli.
He contracted with Raytheon's Polar Services division to work with the National Science Foundation to develop the South Pole greenhouse, and his students helped run it until 2012.
Giacomelli is in the last year of a third NASA grant to develop a system for space colonization called the Mars-Lunar Greenhouse. It was called the lunar greenhouse before NASA switched its long-range planning to include colonization of Mars.
The prototype is a lightweight, compact facility inside a windowless room in the corner of the Agriculture College's research complex just west of Campbell Avenue.
Light for photosynthesis is supplied by banks of 20-percent blue and 80-percent red LED lights. It is not just a food supply, said Giacomelli. It was designed to produce enough oxygen for a single astronaut.
Currently, it is growing lettuce and sweet potatoes, along with some basil and strawberries.
In a different building, in another lightless room, engineer Murat Kacira is experimenting with sensors that could allow the plants to control their own environment.
"We call it 'speaking plant,'" Giacomelli said. "The plants are speaking to us. What he does is he creates the systems to listen to those plants and create environments to help them grow more optimally."
Kacira, a UA professor of agricultural-biosystems engineering, and his students feed the plants nutrients, control the carbon-dioxide levels in the air and adjust the frequency of the lightwaves, as well as the duration of the lighting.
He is working with hydroponic basil and lettuce, but says his high-tech, indoor growing systems aren't designed for such low-value crops. It could be used for pharmaceutical-grade plants that require precise control of plant quality, Kacira said.
In the education and teaching greenhouse, seven varieties of tomato are tended by volunteers and students who are learning all aspects of the process.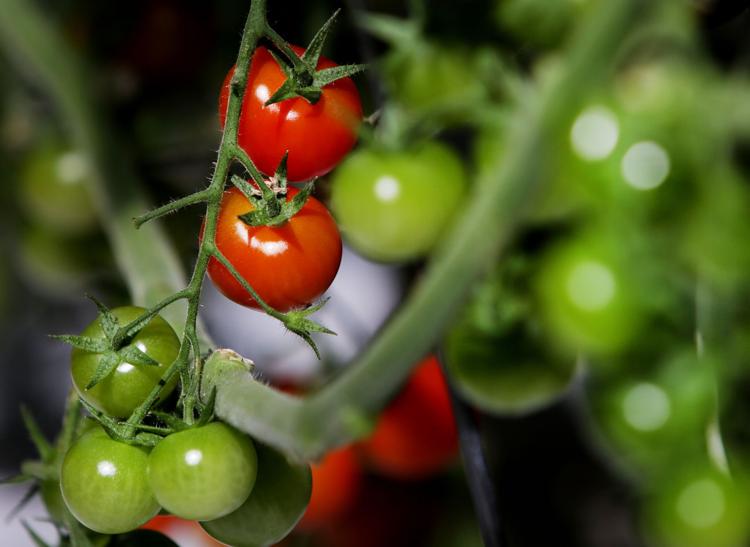 mushrooms for protein
It's Thursday, which means "lean and lower" day for the tomato vines, which are reaching for the light at the glass ceiling.
Jacob Cataldo, who is working toward a degree in agricultural technology management, lowers the cord supporting a tomato vine and coils a week's worth of vine growth around the base. He said his curriculum at the center covers "everything it takes to run a greenhouse."
Jobs for graduates are increasing in number, said Giacomelli, as is corporate involvement. The center tests varieties of crops, grafting techniques, sensors, lights and other greenhouse infrastructure for a number of companies, he said.
Barry Pryor, UA professor of plant sciences, is not officially affiliated with CEAC, but he and his students have been so successful growing mushrooms in a large shed on the property that they're about to make the leap.
Pryor is something of a reluctant mushroom farmer. He is a mycologist, an expert on mushrooms, but had never grown any until prodded by students in his lab.
While studying the usefulness of mushrooms for bioremediation — cleansing polluted soil with some mushroom magic — the students developed a plan to grow their own and pitched a proposal to the UA's Green Fund to grow them with discarded waste.
They have since refined the medium to equal amounts of straw and mesquite pods collected on campus. The medium is placed in plastic bags and inoculated with mushroom spores.
On a recent visit, the bags sprouted pearl and blue oyster mushrooms, along with a few lion's manes. With limited control of temperature, the fungi grow best in spring and fall, he said.
Mushroom growing is mushrooming said Pryor, with backyard growers and farmers who find it to be a good, reliable extra-money crop.
Giacomelli said mushrooms represent a way to provide protein in controlled environments and he has plans to build facilities with better temperature control for Pryor's studies.
green advantages
Tomatoes have been the biggest greenhouse crop for the last couple decades, but greens are making a move.
Gotham Greens' expansion to Chicago was instantly profitable, said Frymark, and the team is now looking at six other cities.
Frymark said she's been steadily employed since deciding to learn hydroponic agriculture after graduating from Arizona State University with a bachelor's degree in plant science.
After getting her master's degree at the UA, she completed a six-month stint at McMurdo and South Pole Stations in Antarctica; then helped develop a greenhouse on a science barge in the Hudson River before hooking up with Haley and Puri to start a 13,000-square-foot rooftop greenhouse in Manhattan.
The demand for fresh salad greens was immediate and overwhelming, she said.
The rooftop location, while it created some permitting problems with city officials, provided the sunlight she needed.
A second greenhouse in Brooklyn was bigger. The company partnered with Whole Foods, which was building an ecologically friendly market and wanted a 20,000-square-foot greenhouse atop it.
"We sold out immediately. We couldn't answer the phones," Frymark said.
A third greenhouse in Manhattan took up 60,000 square feet and their Chicago expansion is a 75,000-square-foot greenhouse.
Frymark's greens have a raft of advantages, she said. Pests are few in number and easily controlled. The produce is pesticide-free.
And while she can't call her lettuce "organic," she can call it "responsibly grown" — a label Whole Foods uses in the categories of "good, better and best." Gotham Greens gets the "best" label, she said.
The technology also makes it possible to grow crops with "a fraction of resources, including water and energy."
Giacomelli said controlled-environment lettuce generally uses a tenth of the water of field-grown crops, even when cooling water is factored in.
"My number is so much better than that," Frymark said, though she doesn't want to say how much better until she has published, peer-reviewed research to back up the claim.
Because Gotham Greens is vertically integrated, it controls the timing of packaging and shipping, getting the product to customers with a lot of shelf life left. "People are always asking, 'What do you put in the lettuce? It just doesn't go bad.'"