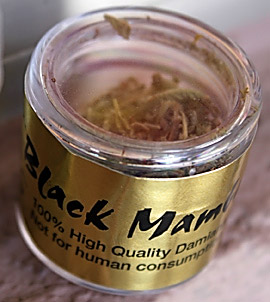 PHOENIX - The young man shook uncontrollably and couldn't speak.
As an emergency room doctor tried to figure out what was wrong, the man's friends showed a package of herbs clearly marked "not for human consumption."
The man and his friends had smoked it.
As a doctor at Tucson Medical Center, that was Matt Heinz's first encounter with substance often referred to as spice. The mix of herbs, sold legally as incense, is increasingly popular among those who say it produces a high comparable to marijuana.
As a state representative, Heinz wants to prevent more people from winding up in the hospital.
"I think that it's a recreational and a stupid use - an off-label use - of a substance that is probably being quietly marketed that way," said Heinz, a Democrat.
Spice is a mixture of herbs varying by the brand and sprayed with a chemical, JWH 018, that mimics the effect of tetrahydrocannabinol, or THC, in marijuana. It is sold under brands including K2, Black Mamba and Wicked X.
Concerns about spice have prompted Kansas, Kentucky, Alabama, Arkansas and Missouri to regulate K2 or its active ingredient.
Heinz said he is considering legislation that would have Arizona follow suit or take lesser steps to regulate spice once federal and state officials offer guidance.
"Ultimately, what I would like to do is follow the recommendations of the accepted groups - the CDC, the Health Department, the FDA," he said.
Options range from a ban to making spice a controlled substance like pseudoephedrine, which by law is sold behind the counter because it can be used to make methamphetamine.
"We have to work on possibly some kind of sanction for the folks that are marketing it off-label," Heinz said, "because you can't have a smoke shop or a small businessperson convincing folks to do stuff that could endanger themselves."
Keith Boesen, managing director of the Arizona Poison and Drug Information Center, said his office began receiving reports of spice's side effects in March.
He said Arizona hospitals called about users, mostly high school students, who came in after experiencing side effects including agitation, nausea, fever, hallucinations and seizures.
Boesen said it's too soon to know about long-term effects, but the center records every call to track exposure and symptoms associated with risky substances so the office can coordinate with agencies such as the federal Food and Drug Administration.
FDA spokeswoman Elaine Gansz Bobo said spice is classified as a street drug alternative, meaning it is unapproved and potentially threatening. Though the substance may be legal, manufacturing, marketing and distribution may be subject to regulation, she said.
During a reporter's visits to four Phoenix-area smoke shops that carry spice, owners and employees declined to discuss the substance, citing legal advice.
Jerrod McGill, a customer at one shop, said he and his friends have smoked spice and call it "legal marijuana." Since the price is comparable to marijuana's, McGill said, some of his friends use spice because it doesn't show up on drug tests.
Stephanie Siete, public-relations director for Community Bridges, an organization providing substance-abuse education and treatment, said some lawmakers have contacted her for information about spice.
"This is so new, not like a cigarette," said Siete, who said that the effects are closer to those of hallucinogenics such as LSD.