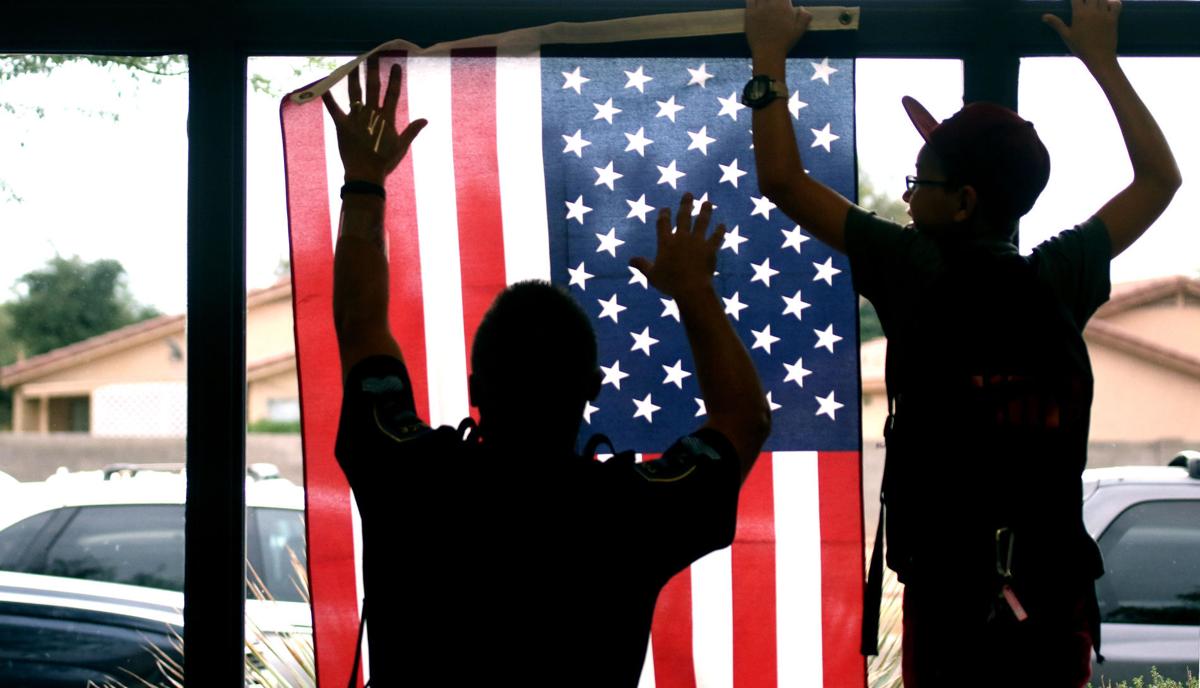 PHOENIX — Saying the American flag is a special symbol, a Republican lawmaker wants to make it a felony to steal one that is on display.
The proposal by Sen. John Kavanagh, R-Fountain Hills, would carve an exception into existing law that generally determines the severity of a theft by the value of what is taken. That law says it's a misdemeanor to steal anything worth less than $1,000, punishable by six months in the county jail and a $2,500 fine.
Kavanagh's proposal, SB 1009, would boost the penalty to a year in state prison, regardless of the value of the flag. And felonies allow a judge to impose a fine of up to $150,000.
Kavanagh said the enhanced penalty is justified.
"You are not only stealing the flag, which is a venerable object to begin with," he said.
"You are also stealing the expression of the person who is displaying the flag, perhaps in mourning for someone who is deceased, perhaps as an act of patriotism, perhaps as an act of protest," Kavanagh explained.
"It is the First Amendment right of the person displaying it."
But Kavanagh's measure does not extend that same special protection to someone's right of expression to other flags or banners. So it would remain a misdemeanor to steal a state flag, the flag of the University of Arizona or someone's rainbow flag displayed to support gay rights.
"You have to draw the line somewhere," he said. "And the flag of our nation, which has a special place in the hearts of its citizens — and in law — is the one that I think is most appropriate."
The legislation comes amid renewed interest nationally in whether the flag should have special protections.
"Nobody should be allowed to burn the American flag — if they do, there must be consequences — perhaps loss of citizenship or a year in jail," President-elect Donald Trump tweeted last month.
There are, however, two separate rulings by the U.S. Supreme Court specifically protecting flag-burning as a constitutional right of expression.
And while the concept of a flag-burning law has some popular support, even Senate Majority Leader Mitch McConnell, R-Ky., issued a statement in response suggesting that while the act is "unpleasing speech," the president-elect is legally off base, citing the high-court rulings.
"In this country we have a long tradition of respecting unpleasant speech," McConnell said. "I happen to support the Supreme Court's decision on that matter."
Attorney Will Gaona of the Arizona chapter of the American Civil Liberties Union said what Kavanagh is proposing does not rise to the same level as Trump's statements. And Gaona said he knows of no court ruling that would say it's illegal to provide an enhanced penalty for the theft of a U.S. flag while not covering other banners.
Kavanagh also pointed out that to trigger the law, one has to first commit a crime — in this case, stealing a flag — before the felony provision would apply. And theft, he said, is hardly a constitutionally protected right of expression.
Still, Kavanagh left the door open to having the measure challenged if it becomes law. And he's ready with a response.
"If pressed by court decision to expand it to other flags, I would be open to that," he said.
Not every flag theft would become a felony.
The legislation covers only those flags that are on display by a resident or business.
But it would remain a misdemeanor to steal a flag being shown or flown solely to sell it.