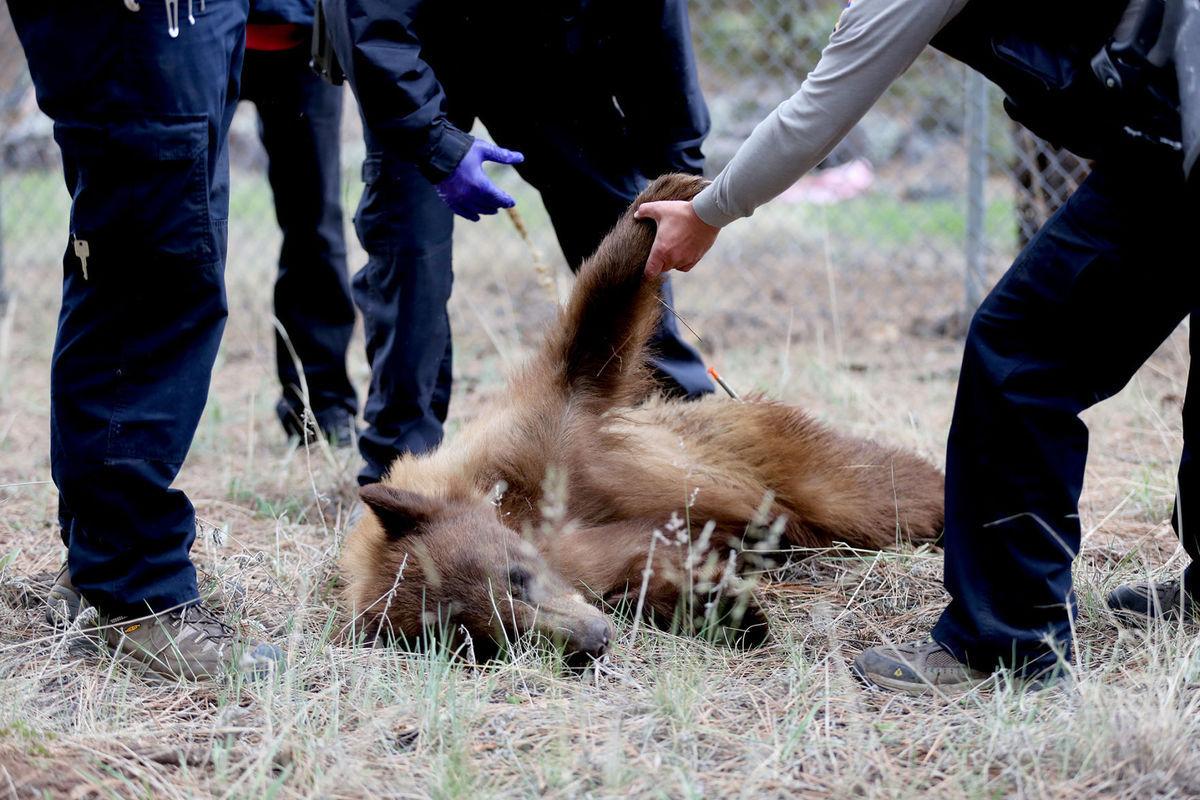 Friday's news that Arizona Game and Fish Department officials had captured and later euthanized a bear that had wandered into a west Flagstaff neighborhood spawned a wave of emotional reaction that department officials say they rarely see in such situations.
Social media lit up with questions about why the bear couldn't have been relocated, harsh critiques of the department's wildlife policies and more general commentary about humans' relationship with wildlife as development encroaches further into their natural habitat.
A petition was created that calls Game and Fish's policy on the euthanization of male black bears "outdated and reactionary." To date, it has garnered 2,200 signatures.
"Living in Flagstaff, surrounded by National Forest, is a blessing and we accept the risk of encountering wildlife, including predators. We feel it is only acceptable to euthanize an animal when it has become a repeat offender," the petition states. "Therefore, we wish to revisit and modify the policy. This land belongs to the animals first. We are the visitors."
The state's policy, which dates back two decades, requires that wildlife officials "destroy" any adult male black bear exhibiting unacceptable behavior, found in an unacceptable location or posing a potential threat to human health and safety.
It stems from a 1996 incident near Tucson in which an adult male bear that was caught and released by Game and Fish returned to a campground and seriously mauled a teenage girl.
But Game and Fish Regional Field Supervisor Larry Phoenix emphasized that the policy wasn't created in a vacuum. Phoenix and other wildlife researchers emphasize that such predator management policies have to take into account not only animals' ecology, but also the complex influence of politics, social factors and people's personal fears and values.
"We don't want to kill anything," Phoenix said. "At the same time, we can't have a bear that finds itself in the middle of town, and has jumped fences and run through parking lots, being captured by us, being released, then having 1996 happen all over again."
If such a situation were to happen again, the department "certainly would have some liability," Phoenix said.
Ken Wilson, head of the Department of Fish, Wildlife and Conservation Biology at Colorado State University, agreed that it's unfair to view something like Game and Fish's black bear policy only in the context of science.
"The risk from wildlife is pretty small compared to the risk of getting in your car and driving, but nobody wants to be injured by a wild animal, it's an innate fear. So most policy isn't set by pure science, it's set by our liability as humans and the risk," said Wilson, who led a five-year study on bear foraging and bear-human interactions in the Rocky Mountains.
Other factors that come into play in managing black bears is the animals' propensity to return to their home territory after being relocated.
The bears are known to move up to 100 miles in search of food, and Wilson said that in his study in the mountains of Colorado, well over half of the bears returned after being relocated.
Whether those bears would be aggressive toward humans is another issue. Considering all the years of bear encounters, the percent of times those encounters are aggressive is very small, Wilson said.
"I think most bears aren't necessarily going to be bad bears," he said.
Phoenix, however, pointed to a 2011 study by a University of Calgary researcher that analyzed fatal predatory bear incidents over the past 100 years and found 92 percent involved adult male bears.
That fact, the paper's authors wrote, reflects biological and behavioral differences between male and female bears.
Even if Game and Fish's policy about black bear euthanization were to change, there are challenges with other ways of dealing with a captured bear, Phoenix said. Due to urbanization, there are fewer and fewer suitable habitat locations that are far enough from rural communities where Game and Fish can release a bear, Phoenix said.
The option of collaring the animal and monitoring it also runs into constraints in both cost and staff time, he said.
Black bears once roamed nearly all of Canada, the United States and northern Mexico. Today, the species' range has shrunk drastically but the bear is still found in at least parts of 40 states, much of Canada and northern Mexico.
Compared to other states, Arizona, with a population of about 3,000 black bears, is on the low end of human-bear conflicts, Phoenix said. Since 1996, Game and Fish has recorded 11 human attacks by black bears. A woman in Pinetop was seriously attacked while walking her dog in 2011 and three bear attacks were recorded in the Payson area in 2012. Last summer, Game and Fish officers killed a black bear while it attempted for the second time to break into a cabin on Hart Prairie.
Statewide, Phoenix said Game and Fish probably euthanizes between 10 and 20 adult male bears or return offending female bears each year. Phoenix estimated about five nuisance bears have been killed in the Flagstaff area in the past decade, he said. The majority of bears the department deals with locally, which ranges from two to nine each year, are females with cubs and yearlings that are caught and then released in locations far from town, Phoenix said.
The Arizona Game and Fish Department also considers black bears a big game animal and manages hunts of the animals in the spring and fall. Statewide data from the past five years shows that between 144 and 210 bears have been killed annually by hunters. Hunting season ends for the bears when a certain number of female bears are killed — one to three in the Flagstaff area, Phoenix said.
Arizona's policy is stricter than neighboring Colorado, which has a two-strike policy for nuisance bears. A bear not exhibiting threatening behavior is generally deterred or relocated on the first instance. Only if it again wanders into human development will it be euthanized.
California gives leeway to responding state employees to take whatever action is necessary to protect public safety unless the animal poses an imminent threat, in which case it is humanely euthanized.
Wilson said he personally would advocate for a two strike policy. At the same time, every time wildlife officials add another strike there is a higher risk that a human being will be harmed, he said.
John Beecham, a former research biologist with the Idaho Department of Fish and Game and now the co-chair of the International Union for Conservation of Nature's Bear Specialist Group, said a hard and fast rule on euthanizing bears fails to recognize the variation in bear behavior around humans and the varying likelihood they will become dependent on human food instead of natural foraging.
"I don't agree with an agency policy that does not have the flexibility to treat each case on its merits," Beecham wrote in an email. "There are times when bears need to be euthanized (rather than moved), but you cannot conclude that every bear that comes into conflict with humans will become food-conditioned."