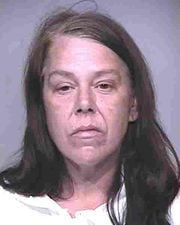 A 46-year-old woman has been arrested on suspicion of first-degree murder after telling officers she smothered her 79-year-old mother in the apartment they shared, Scottsdale police say.
Officers went to the apartment Monday and found Sharon Simmons dead on a bed after a neighbor called 911 at the request of the daughter, Holly Brennan, Sgt. Ben Hoster said.
The 911 dispatcher pressed the caller for information, and the caller handed the phone to Brennan who told the dispatcher that she had killer her mother.
According to Hoster, Brennan told officers at the scene that she had smothered Simmons with a pillow.
Hoster said the women had a history of domestic violence.
Court records don't indicate whether Brennan has an attorney who could comment on the allegations.