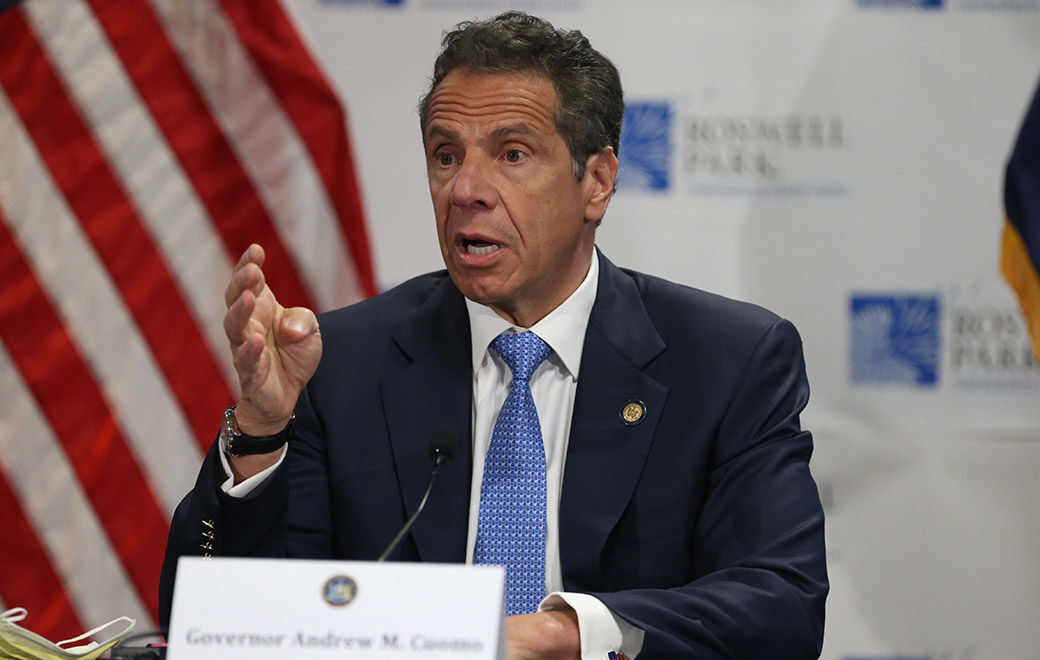 The investigation into sexual harassment allegations against Gov. Andrew M. Cuomo was unjustly manipulated to reach a foregone conclusion about the governor's guilt, his attorneys said Friday.
Investigators retained by the state Attorney General's Office ignored evidence that either helped the governor's cause or undermined the claims made against him and refused to share evidence gathered during the probe, such as transcripts of interviews, with Cuomo's legal team, said Cuomo attorney Rita Glavin.
"This was one-sided, and he was ambushed," Glavin, a former federal prosecutor, said on a conference call among Cuomo's attorneys and reporters.
The lawyers spoke Friday afternoon, three days after New York Attorney General Letitia James and outside counsel employed by her office released an explosive report detailing their investigation into allegations Cuomo sexually harassed young women on his staff and other state employees.
The report found claims from 11 women of harassment and unwanted physical contact were credible, citing contemporaneous text messages and emails as well as witness statements that bolstered the women's accounts.
In its aftermath, despite his contention that he always acted appropriately, support for the governor has dwindled and calls for Cuomo to resign or be removed from office have grown louder by the day.
"To attack this investigation and attempt to undermine and politicize this process takes away from the bravery displayed by these women," Fabien Levy, a James spokesman, said in a statement released late Friday.
When sexual harassment allegations against the governor became public earlier this year, Cuomo asked the attorney general to oversee an independent investigation into the claims.
James named attorneys Anne L. Clark and Joon H. Kim to lead the probe. Clark and Kim, armed with subpoena power, collected volumes of evidentiary materials and interviewed 179 people.
The 165-page report found Cuomo violated state and federal law, acted improperly, and that women who complained about harassment were subject to improper retaliation in some cases. The report also described the governor's office as a toxic environment that enabled Cuomo's behavior.
Read the report released Tuesday morning by state Attorney General Letitia James of the investigation into allegations of sexual harassment by Gov. Andrew Cuomo.
Shortly after James and the investigators made the report public Tuesday, Cuomo released a video denying the allegations, though it did little to mute the chorus of criticism.
Friday brought the Cuomo camp's first substantial response to the report's damning findings.
Paul Fishman, a former U.S. attorney in New Jersey representing the state's executive branch, criticized investigators for not providing Cuomo and his aides the opportunity to review or correct a draft of the report before they made the final version public on Tuesday.
Glavin said lawyers for the governor, working with limited access to report materials, already have found numerous errors and provably false claims that cast fundamental doubt on the investigation's accuracy and integrity.
"There has been no open-minded fact-finding in this case. This investigation was conducted in a manner to support a predetermined outcome," said Glavin, who was joined on the call by Fishman and attorney Mitra Hormozi.
In one example, Glavin said, evidence doesn't support the claim of a woman, identified in the report as "executive assistant No. 1," who said Cuomo groped her breast in the executive mansion last November.
The woman told investigators she left the residence shortly after the incident. But Glavin said emails and other records show the woman spent several hours in the mansion that day, regularly interacting with other staff. Glavin pointed to phone records not included in the report that showed Cuomo was occupied for most of that time with pandemic-related calls.
"The report's wrong," Glavin said.
Glavin also took aim at Lindsey Boylan, a former executive branch staffer whose tweets claiming Cuomo had harassed her were the first public accounts of misconduct by the governor.
Glavin said Boylan had a political motivation to attack the governor because she was running for the position of Manhattan borough president at the time, and she raised the question whether a top James aide was coordinating with a Boylan campaign consultant. And, Glavin argued, Boylan left state government in the face of complaints from fellow employees and not because she was a victim of harassment.
Further, Glavin said, every possible witness to Boylan's claim that the governor asked her while on a state aircraft to play "strip poker" denied this ever happened.
While Howard Zemsky, Boylan's boss as the head of Empire State Development, changed his story from denying he heard the comment to acknowledging he did, Glavin said he did so only after receiving what Zemsky described as a "threatening" and "jarring" message from Boylan.
The report does not reveal what Boylan said in her message to Zemsky and Glavin argued it's a possible case of obstruction of justice that needs further investigating.
When a reporter asked Glavin about a claim Cuomo harassed a female state trooper on his personal security detail, she demurred and said the governor would address this accusation directly.
The report, as with the other women, found the trooper's account believable.
Glavin said Cuomo's legal team would meet a Friday deadline set by the Assembly Judiciary Committee to provide any exculpatory materials. But she said they have questions about the Assembly's impeachment process.
"The governor deserves to be treated fairly," she said.
Cuomo's critics said Friday's rebuttal is further evidence that he should resign or be removed.
"The governor's continuing refusal to accept responsibility for his actions demonstrates his disdain for the rule of law, including the sexual harassment law he signed into effect with great fanfare, and his fundamental unfitness for the office he holds," Debra Katz, attorney for Cuomo accuser Charlotte Bennett, said in a statement.