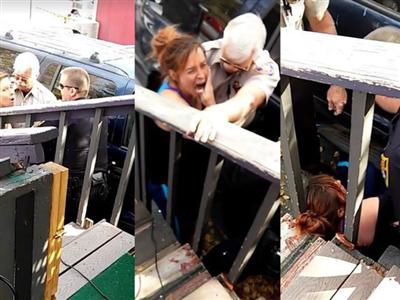 CHANDLER — A former Flagstaff police officer says he followed his training in the encounter that led to him pleading guilty to misdemeanor assault for punching a woman he was trying to arrest.
Jeffrey Bonar was sentenced Tuesday to 18 months of probation for the November 2016 encounter with Marissa Morris that a bystander captured on video.
Speaking to reporters outside his lawyer's office in Chandler on Thursday, Bonar says he does not believe his actions were "morally or legally wrong."
Bonar says the video did not capture the entire encounter that involved the two struggling and a hit to his groin.
Bonar says he "used the least amount of force necessary to effect an arrest and defend myself."
Bonar resigned from the Flagstaff Police Department last year.