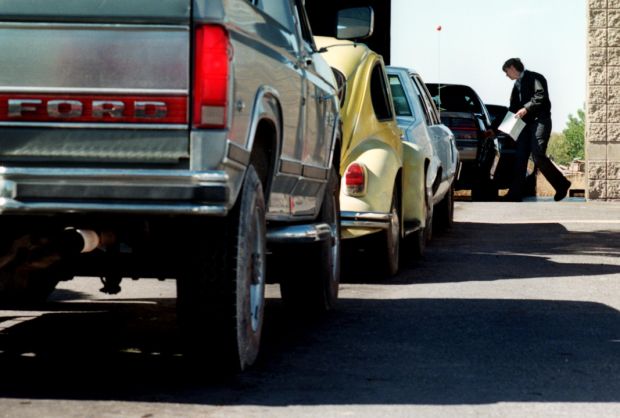 PHOENIX — The state of Arizona is giving away free gas caps.
Not to just anyone. The freebie is limited to those who fail their vehicle emissions test due to a faulty gas cap.
And the tab is actually being picked up by the company that has the contract with the state to do vehicle emission checks, not coming directly from taxpayers pockets.
The new policy, which kicks in Tuesday, will save thousands of Arizonans not only from having to shell out for a new gas cap but also having to make two trips to get their cars and trucks inspected.
Eric Massey, director of the air quality division at the Department of Environmental Quality, said it makes financial sense, too.
The biennial emission checks are required for motorists who live in or travel daily into the state's two metropolitan areas. For older vehicles, that means actually testing what comes out of the tailpipe. Newer cars have computers that monitor performance — and a spot under the dashboard where workers at testing stations can plug in and determine if the vehicle is functioning property.
But it also involves testing whether the gas cap is sealing tight.
"They get old after time," Massey said. "The plastic starts to break down and they actually leak."
The concern for DEQ is that the volatile organic chemicals that waft from the tank are precursors to ozone, a form of oxygen which, at ground level, is an irritant.
"What was happening under our old contract is that anytime an individual failed an emissions test for a gas cap, they had to go out and actually purchase a new gas cap," Massey explained. That involved a trip to an auto supply store.
But it wasn't just the cost — perhaps $10 to $15 for a regular gas cap — that was the real hassle. It was the need to return to the testing station and wait in line again to have the station worker test the new cap and certify that the car now passes, a necessary precursor to getting it reregistered.
That wastes the time not only of the vehicle owner but also the emission station which, under contract with the state, has to provide one free retest.
Multiply that out by 75,000 failed emissions due solely to gas cap problems each year and now you're talking lots of wasted time and effort. Massey said that led his staff to look around for alternatives.
One was quite simple. "What happens if you just hand them a gas cap?" he said.
What the agency found in testing the idea was that having a stock from five to seven gas cap styles was enough to cover 90 percent of vehicles on the road. So the decision was made to have Gordon-Darby, the firm with the state contract, keep a stock of those on hand.
"And when they come through and say, 'Hey, your gas cap failed,' rather than sending them off to go purchase the thing, we just hand them a new gas cap," he said.
There won't be a gas cap immediately available for every type of car and truck that comes through emissions and fails. But those vehicle owners will at least get a $5 prepaid debit card to help defray the cost of getting a new one somewhere else.
Massey said the move makes sense for Gordon-Darby, which has had to spend its time and resources on the free second test.
"They're actually spending more money giving people a free retest than they would be if they just essentially handed them a brand new gas cap," he explained.
And there's another benefit: Sending someone with a leaking gas cap away to buy a new one means that the vehicle continues to leak volatile organic compounds for days. But a new gas cap ends that leakage immediately.
"It's better for the environment," Massey said.
The idea is not unique to Arizona. Massey said there is a similar program in Ohio.