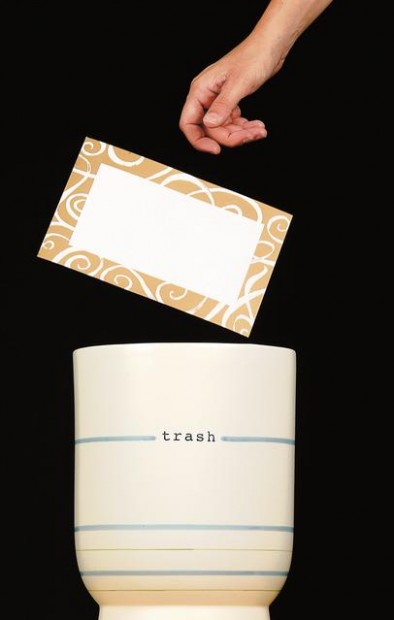 When Jennifer Wojnar threw her daughter's sixth birthday party at Krispy Kreme this year, she asked parents to R.S.V.P. within three days before the party. Not even half of those invited got back to her.
"I even put my cell phone number on there because it's always with me," she says.
The R.S.V.P. blowoff, etiquette experts say, has reached a chronic level.
The Emily Post Institute, the gold standard for good manners, says R.S.V.P.ing is the most important responsibility guests have. And not following through on it, experts say, is inexcusably rude.
It also causes hassles for the host or hostess who has been kind enough to extend an invitation of entertainment.
On the day of Wojnar's daughter's party, nearly twice as many children as expected showed up, and both she and the store had to scramble.
Past experience had taught Wojnar to pack extra goody bags, and while she says the party turned out well, she admits to feeling overwhelmed.
"It was hard to keep them under control," she says. "I had planned for a certain number of adults to help me, and there weren't enough." Plus, she had to come up with the money for the extra children on the spot.
R.S.V.P. is an acronym for the French phrase "répondez s'il vous plait," which translates as "please reply" not "tell me if you're coming."
And here, say experts, is where people get hung up.
Tucsonan Mary Foster has been planning events for nonprofits here for 25 years. Many of those invited, she says, think they have to respond only if they're coming.
Alaina G. Levine, who teaches business etiquette to University of Arizona students and runs the company Quantum Success Solutions, says that R.S.V.P.ing isn't complicated and that not following it exudes laziness and thoughtlessness.
"Something that says R.S.V.P. means they want a response, whether you're planning to attend or not," Levine says. Good manners dictate that you let the host or hostess know by the posted date. If the invitation doesn't have an R.S.V.P. date, respond within 48 hours.
Leah Ingram, who runs the etiquette Web site www.mannersmom.com, says she gets frustrated with the lackadaisical guests who assume the host knows they're coming.
"It's a two-part process. I invite you, you tell me if you're coming," says the author of "The Everything Etiquette Book: A Modern-Day Guide to Good Manners" (Adams Media, $14.95). "I have no idea what your social calendar is like. I'm not a mind reader. I'm just trying to throw a party."
When a host or a hostess is faced with a looming event — and a question mark for the head count — Ingram and other etiquette mavens encourage hosts to hound their guests.
"You shouldn't be embarrassed to call them if they didn't R.S.V.P.," Ingram says. While it's annoying, it's perfectly within the guidelines of good manners, she adds.
Foster says she anticipates that people won't R.S.V.P. and tries to come up with creative solutions, like letting the check for the event's cost serve as the R.S.V.P.
Both Levine and Ingram agree that acknowledging an invitation is a social nicety that's still a must; it's critical to maintaining good professional and personal standing.
But Ingram says that doesn't mean every response requires a piece of the monogrammed stationery your great-grandmother kept neatly stored in her desk drawer.
Wojnar's adding her cell phone number was a thoughtful move on her part, Ingram says.
"I love it when people give me multiple options for R.S.V.P.ing, like a phone number and an e-mail address," Ingram says. "Make it easy for me."
In general, the reply should mirror the invitation, she says. Formal requests for events such as a wedding require an on-paper response. For a Saturday night get-together, a phone call or an e-mail is fine.
Ingram says she doesn't think people are rude on purpose; they just underestimate the necessity of letting a host know if you're going to show up.
Wojnar saw that attitude with the parents who just dropped off their children. None of them, she says, even bothered to apologize for springing their kids on her, taking it for granted they'd be welcome.
In recent decades, Ingram says, parents underplayed the importance of R.S.V.P.ing, and a whole generation seems to think it's no big deal.
But, she adds, "People who thought they didn't care about R.S.V.P.ing are suddenly blowing a gasket when they're planning their child's first birthday party."
● When am I obligated to R.S.V.P.?
Any time that you're invited to an event, even if you don't plan on attending and even if you didn't get a written invitation. Period.
● How long do I have to get back to the host or hostess?
Respond by the date on the invitation. If there is no date, reply within 48 hours.
● Do I have to do it in writing?
For formal events, like weddings, use the included response card or stationery. For a more casual event, a phone call or an e-mail is acceptable.
● How do I get people to R.S.V.P.?
Make it easy. Include an e-mail address and a phone number, as well an explanation about to whom the person needs to R.S.V.P. For example, say, "R.S.V.P. to Jane Doe, mother of John Doe."
● What if I'm generally well-mannered, but it slips my mind?
Call or send a note to apologize immediately.
● What if I respond no, then find I can attend?
Call the host or hostess and explain that you're honored to be invited. Say that your schedule has changed and that, if it's convenient, you'd like to attend. Be prepared for them to say no.
● What if I'm not sure about attending an out-of-town event because of scheduling or finances?
Call and explain your situation, then ask what the absolute latest date to R.S.V.P. is. It allows you to be thoughtful without stressing out the host.
● What does "regrets only" mean?
In this case, you respond only if you don't plan on attending.
● If I tell a host or a hostess that I'm coming, am I obligated to attend?
Barring appendicitis, yes, you are. Blowing off an event you've committed to for a "better" one or because you're too tired is unacceptable. It's disrespectful of a host's or a hostess's time and money and no way to win or keep friends.