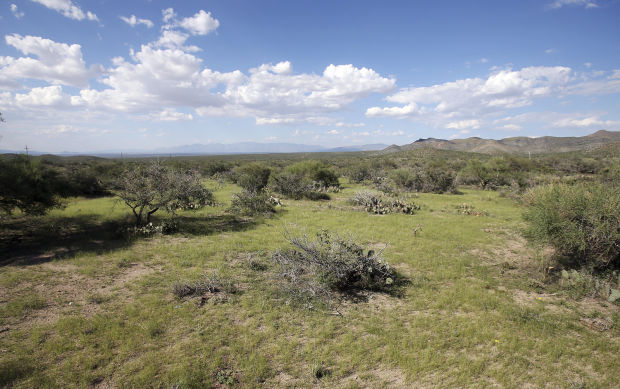 The proposed $1.2 billion Rosemont Mine now has a lot more financial heft to deal with permitting issues standing between it and the start of construction.
An agreement for a friendly takeover of mine site owner Augusta Resource Corp. by Hudbay Minerals Inc., announced Monday, will put the mine project in the hands of a much larger company. Toronto-based Hudbay has more than 100 times more cash on hand — $764 million — and more than 10 times more total assets — $4.4 billion — than Augusta.
The takeover will remove what mine opponents have long felt to be one of their strengths: the uncertain and at times shaky financial position of Augusta. Since 2012, the Vancouver, British Columbia-based Augusta has been kept whole financially largely by continued expansions and additions to loans from the British-based RK Mine Finance Trust, also known as Red Kite.
Also, the U.S. Forest Service has recently given the mine a boost. It said it doesn't believe that the 101 parties who objected to the service's tentative approval of the mine showed any valid legal concerns that would merit blocking the project.
Opponents say they won't be intimidated by the presence of a better-heeled adversary. Environmentally, "The proposed Rosemont Mine will always be a bad project no matter who owns it," said Gayle Hartmann, president of Save the Scenic Santa Ritas, the leading opposition group. "The massive open-pit mine threatens Southern Arizona's drinking water, air quality, wildlife and mountains."
But a mining analyst who has followed Augusta said Monday that Hudbay has the time and money it needs to put the project together.
"Before, Rosemont's problems were permitting and financial," said the analyst, Christopher Chang of Laurentian Bank Securities in Toronto. "Now, they're just permitting."
Rick Grinnell, vice president of the pro-Rosemont Southern Arizona Business Coalition, said of Hudbay: "I know they are financially very capable of getting this thing across the finish line. This mine will be built. The question is, when?"
While opponent Greg Shinsky, acknowledged Monday that he's concerned about the mine's added financial strength, he feels, "The name has changed. The situation hasn't." Shinsky lives on Hilton Ranch Road east of Arizona 83, not far from the proposed mine site in the Santa Rita Mountains southeast of Tucson.
Dr. Tom Purdon, a board member for the opposition group Save the Scenic Santa Ritas, said his group isn't troubled by the prospect of fighting a better-heeled adversary.
"We are so committed and convinced that the Forest Service has done an inadequate analysis for its environmental review, we think that while Hudbay may have more resources, we are committed to the fact that this mine should not be built or operated in that area," Purdon said Monday.
Early Monday morning, Hudbay and Augusta announced they had agreed on a takeover price amounting to $3.56 a share. That's 60 cents more per share than Hudbay had offered Augusta in February — an offer that Augusta denounced as "grossly inadequate."
In a news release, Augusta said its Board of Directors has unanimously determined the new Hudbay offer is fair, as have Augusta's financial advisers, Scotia Capital Inc. and TD Securities Inc. Augusta's directors, officers and some of its shareholders who own a combined total of 30 percent of all Augusta's shares have announced they'll accept the offer.
The mine still needs two key federal approvals, from the Forest Service and the Army Corps of Engineers. It also needs a state certification that the mine won't pollute surface water downstream at Cienega Creek and Davidson Canyon.
The Corps has said it believes that Rosemont's plans for compensating for the mine's expected damage to washes and streams are inadequate. The Environmental Protection Agency, which has a veto power over the mine, has urged the Corps to deny a Clean Water Act permit.
But on Monday, analyst Chang and Rosemont ally Grinnell said they believe Hudbay can pay for additional mitigation or challenge the Corps' position in court. Rosemont Copper, Augusta's Arizona subsidiary, had planned to spend about $25 million on various protection projects to compensate for the mine.
"It's no secret that Augusta was basically tight on the budget. The opposition's efforts to try to drain the resources to a certain degree with respect to Augusta probably worked. But they can't do that with Hudbay," Grinnell said.
On the Forest Service mine objection process, Southwestern Regional Forester Calvin Joyner recently said he has told Coronado National Forest Supervisor Jim Upchurch to consider new information presented by objectors to see if it needs additional analysis under the National Environmental Policy Act.
On Monday, however, Upchurch said in an interview that, based on what information he's reviewed, he generally sees no need for an additional analysis.
The main exception is for endangered species, he said. That's due to the recent discovery of an ocelot near the mine site and continued scientific concern over the mine's impacts on Cienega Creek and a tributary that are home for endangered fish, frogs and a rare bird species.
"The reviews were done by hydrologists, geologists, and biologists — not by some management folks, but by resource professionals," Upchurch said.
As far as activist Purdon is concerned, the Forest Service objection responses have given his group more meat for its expected litigation to try to stop the mine if agencies approve it.
"Almost by executive fiat they brushed aside our scientifically based objections," he said.