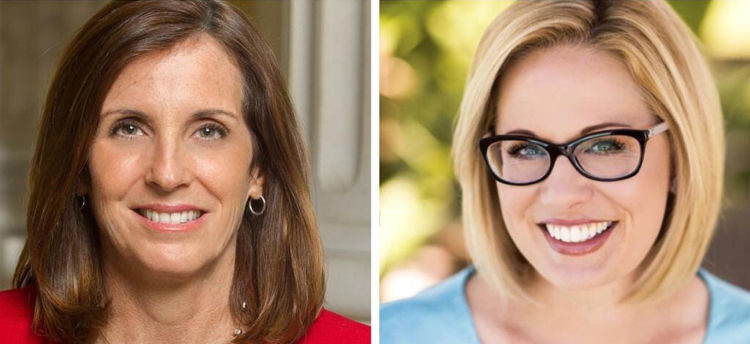 TEMPE — Wearing a bright yellow dress and walking on eight-inch-high platform shoes with glittering cactus applique, Democratic Rep. and U.S. Senate candidate Kyrsten Sinema wove through tailgating Arizona State University fans Saturday on her way to oversee the on-field coin toss for the school's homecoming game.
Once inside the stadium, she had to wait for her rival, Republican Rep. Martha McSally — an ex-combat pilot dressed in jeans and a maroon ASU T-shirt emblazoned with the name of former linebacker and Afghanistan war hero Pat Tillman — to belt out a rousing rendition of the national anthem.
Arizona's Senate race moved into its final weekend as Sinema and McSally kept to punishing schedules trying to get out every last possible vote. More than 60 percent of Arizona residents have already voted by mail, the race is neck-and-neck and both sides are pulling out all the stops.
The congresswomen are running to replace retiring Sen. Jeff Flake.
Sinema has argued she'll be a centrist problem-solver who protects people with pre-existing conditions while McSally has vowed to support President Trump and attacked Sinema for the Democrat's decade-old antiwar protests and liberal stances. In a reflection of how bitter the campaign has grown, each congresswoman was greeted by a mix of cheers and boos from the crowd.
McSally dashed to the stadium from an early morning event at an "active adult" community outside Tucson, and after singing the anthem she headed to Yuma for events there. A former combat pilot, McSally plans to fly around the state on Monday and Tuesday on her final push accompanied by Gov. Doug Ducey and the entire GOP ticket.
Sinema, who styles herself as a nonpartisan centrist, has been campaigning more on her own, but she wasn't alone on Saturday at ASU. She teaches two courses on social work there and has earned four degrees from the university -- her most recent, an MBA, completed last year, largely during her long flights between Arizona and Washington..
Fans clad in the bright yellow of the ASU Sun Devil team swarmed Sinema, posing for pictures or just hugging her. "There's one of my students!" Sinema cried, embracing Tallerita Tunney Rogers, who's taking Sinema's seminar that requires eight-hour long sessions.
"It doesn't even feel like eight hours," Tunney Rogers said.
The seminar ends in two weeks. "It's almost done," Sinema said.
As she approached the stadium, a scalper called out for tickets. Sinema laughed and told him she was heading inside.
"Good luck, Ms. Sinema," the scalper called.
Sinema high-fived an aide. "We've got the scalper vote," she chortled.
Be the first to know
Get local news delivered to your inbox!