A bill proposed last month by Oro Valley Rep. Mark Finchem regarding a code of ethics for Arizona public school teachers pulls language — in many cases word-for-word — from that of a nationally recognized far-right group.
Finchem's HB 2002 outlines nine ethical rules for teachers, banning them from weighing in on "controversial" topics like politics, race and religion in the classroom. Those nine rules are identical to the those outlined by the Stop K-12 Indoctrination campaign, a project sponsored by the anti-Muslim, anti-black and anti-immigrant David Horowitz Freedom Center.
A report from the Phoenix New Times says Finchem never brought up the Freedom Center or the campaign during a Dec. 18 interview about HB 2002.
Finchem told the New Times and the Arizona Republic the sole motivation for the bill and the language of the code of ethics came from concerns brought to him by parents, who said they were worried about teachers spreading their own political agendas in the classroom.
Finchem declined to respond to multiple calls and emails for comment from the Arizona Daily Star.
But Finchem's code and that of the Stop K-12 Indoctrination campaign only differ by a couple words and punctuation marks here and there.
Both the Finchem and Stop K-12 indoctrination codes prohibit teachers from singling out one racial group of students for the "suffering or inequities" experienced by another racial group of students and from endorsing, supporting or engaging in any activity that "impedes the lawful access of military recruiters to the campus."
The difference in verbiage between the two codes, in these cases, differs by only a couple of words.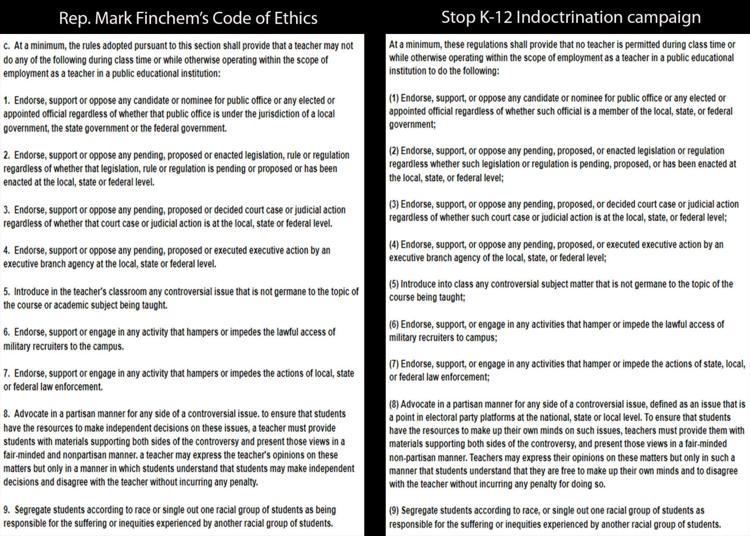 The Freedom Center was founded by white extremist David Horowitz in 1988, according to an article from the Southern Poverty Law Center. He became a "driving force" in modern far-right hate movements targeting Muslims, black Americans and immigrants after co-founding the liberal New Left movement in the 1960s, the SPLC wrote.
Horowitz established the center as the Center for the Study of Popular Culture in Los Angeles to bring a "conservative presence" to Hollywood, where he said popular culture had become a political battleground. He renamed it in 2006 and shifted its focus toward spreading misinformation and hateful ideologies about "the efforts of the radical left and its Islamist allies to destroy American Values," the SPLC article said.
Horowitz urged legislators and lobbyists to push for teacher codes of ethics at the American Legislative Exchange Council's annual conference last year in September, according to a report on the SPLC's Hatewatch blog. ALEC is an industry-backed group that "promotes 'model' legislation on a range of topics, much of it controversial," according to Documented, a watchdog group that investigates how corporations influence public policy.
Local educators interviewed by that Star said they felt Finchem's bill was a targeted attack on last year's #RedForEd movement, where statewide teacher walkouts prompted Gov. Doug Ducey and the Legislature to increase teacher salaries by 20 percent over three years. The walkouts also prompted the state to restore $100 million of the $386 million Ducey cut in capital funding.
The teachers said the strict code is unnecessary for many reasons. For starters, state law already bans public and charter school employees from using school resources to influence the outcome of an election. And students won't stop asking about controversial topics in the classroom just because their teachers stop bringing them up, some said.
"I teach 13-, 14-year-olds kids," Tucson Unified School District educator Rachel Johnson said. "They aren't stupid. They know what's going on. … They bring up issues."