Pamela Anderson dissed for promoting Joe Arpaio's jail meals
Actress and PETA criticized for association with Maricopa County sheriff.
Pamela Anderson, Joe Arpaio prepare to serve inmates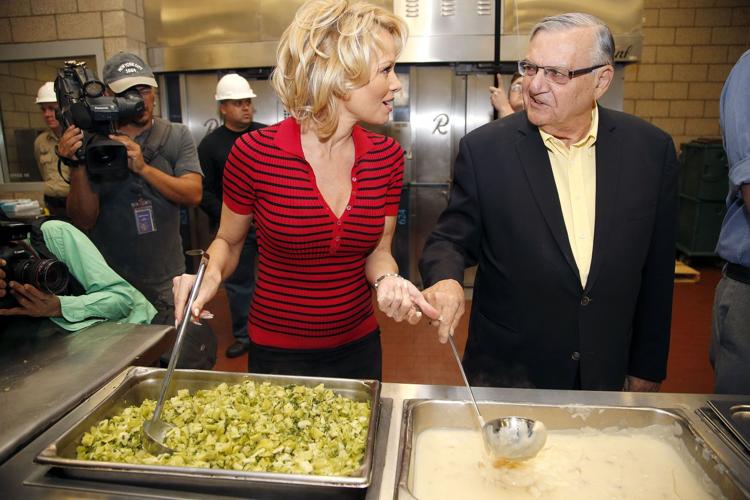 Pamela Anderson, PETA ignore criticism of Arpaio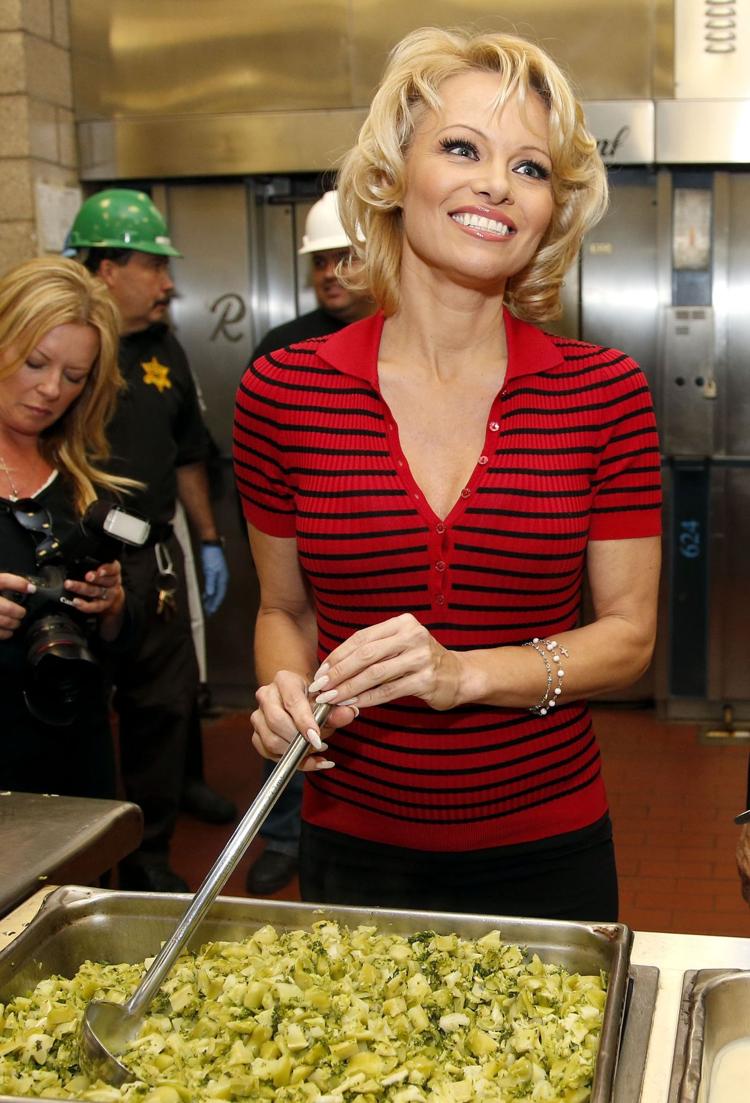 Pamela Anderson dishes out broccoli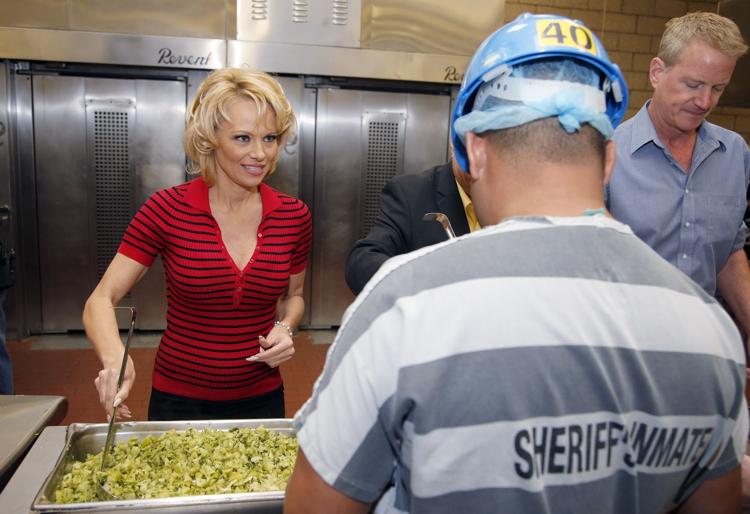 Pamela Anderson serves up lunch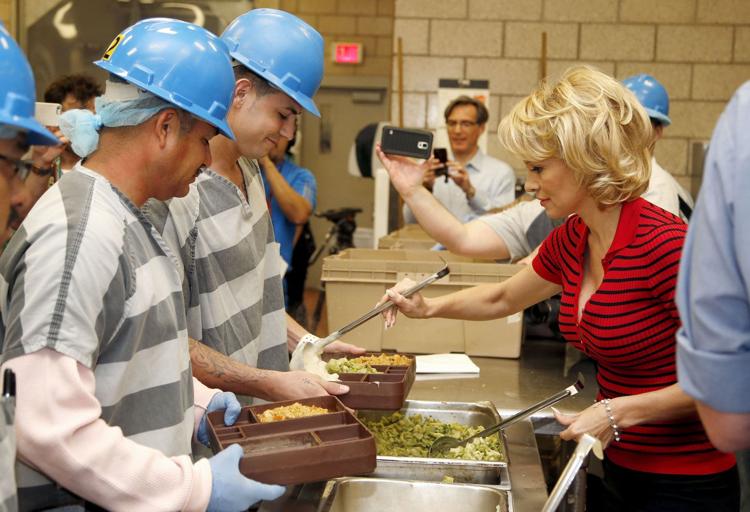 Pamela Anderson, Joe Arpaio, Dan Matthews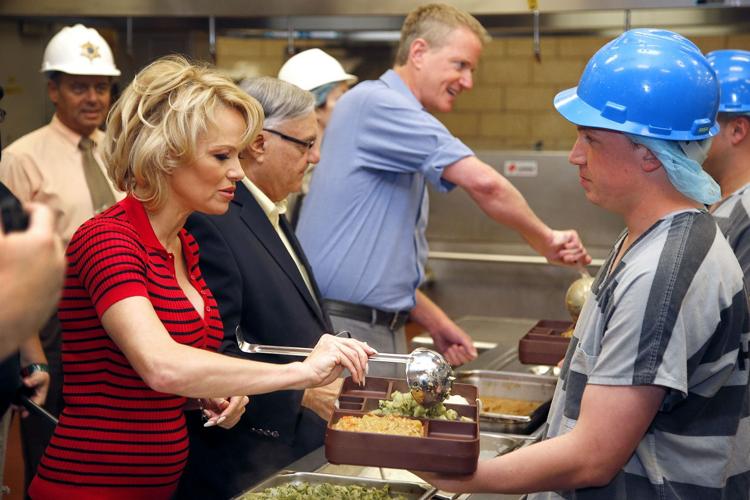 Pamela Anderson says people want to change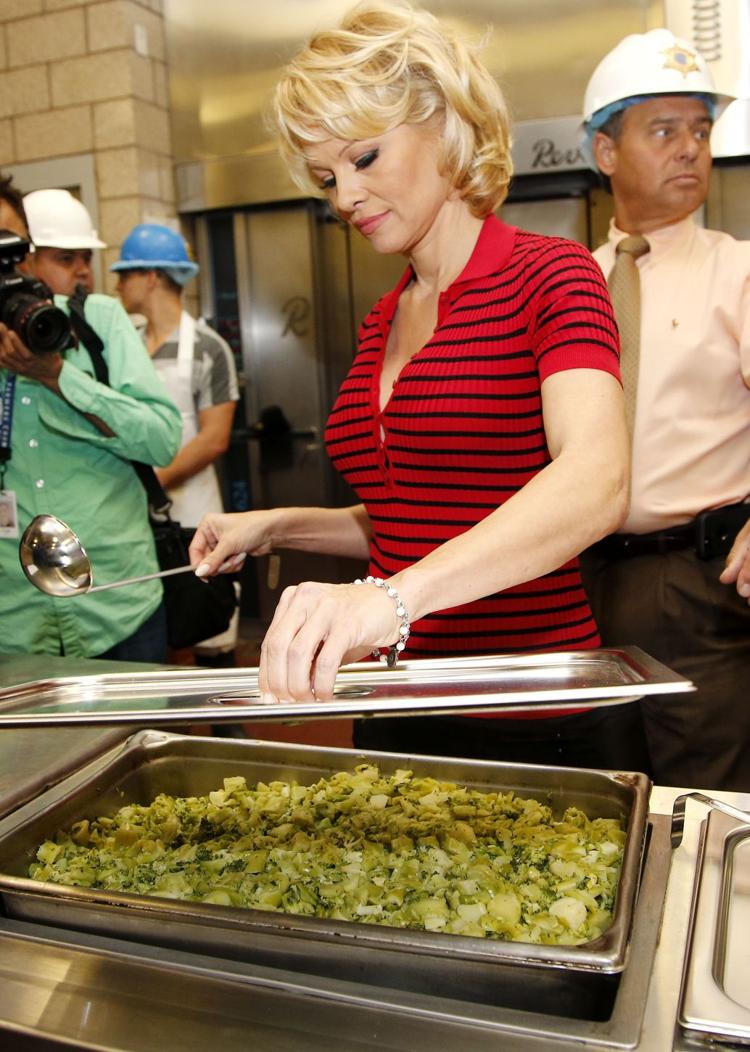 Joe Arpaio begins vegetarian diet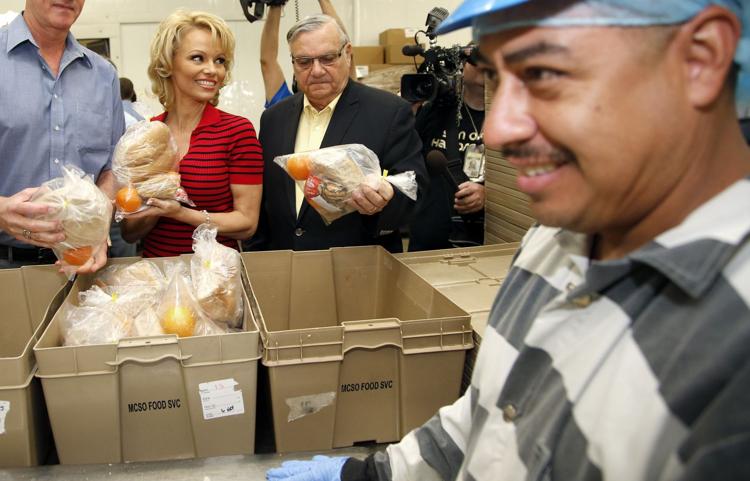 Pamela Anderson calls all-veggie meal a model for prisons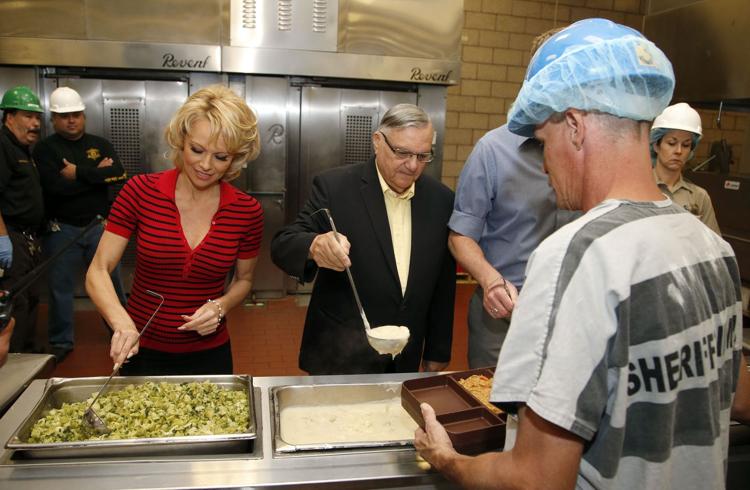 Pamela Anderson signs autographs for inmates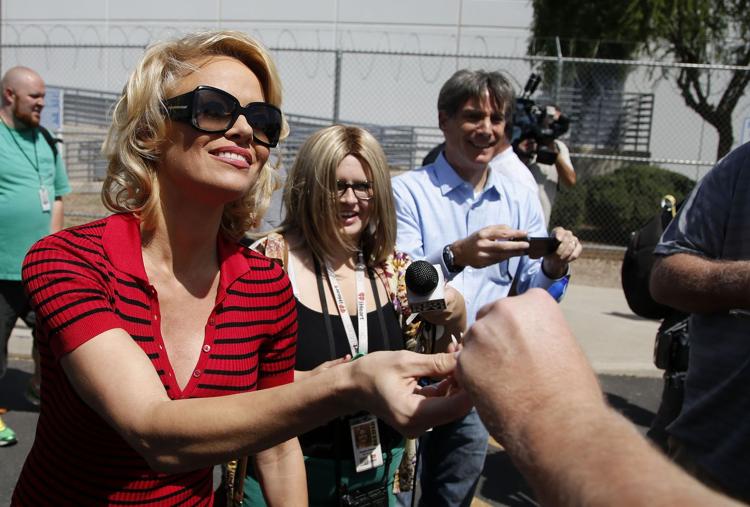 Pamela Anderson visits inmates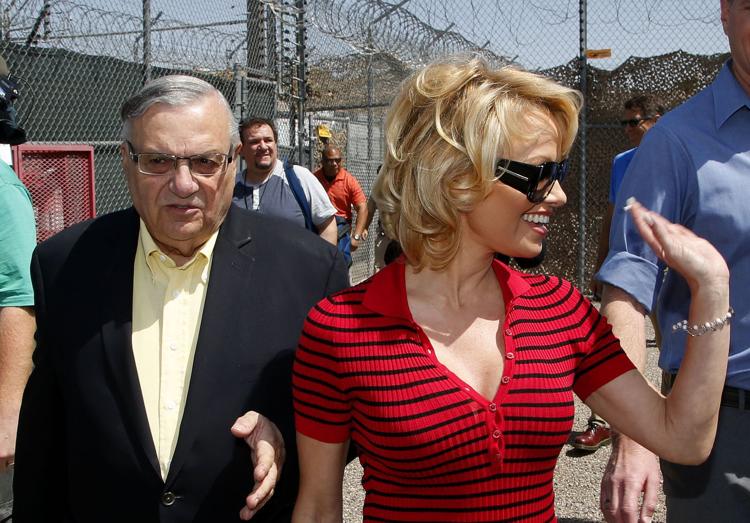 Pamela Anderson signs more autographs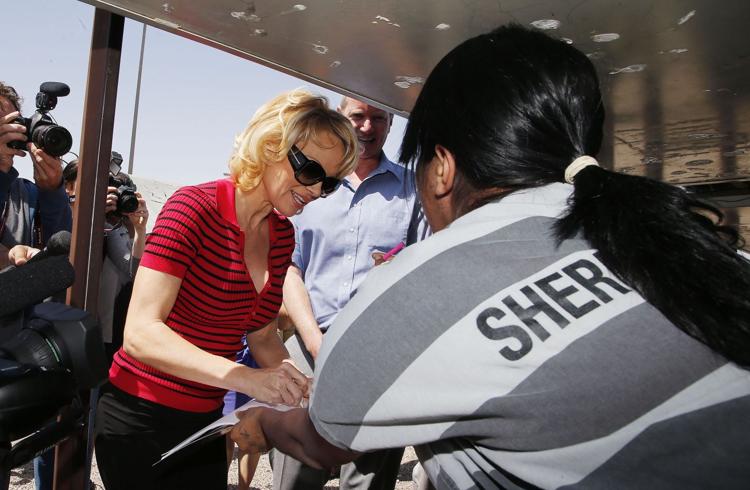 Joe Arpaio regales Pamela Anderson with tale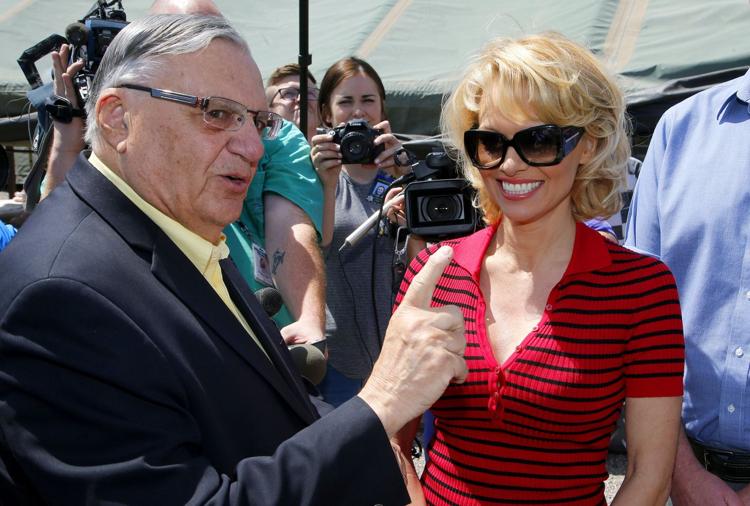 Pamela Anderson, Dan Matthews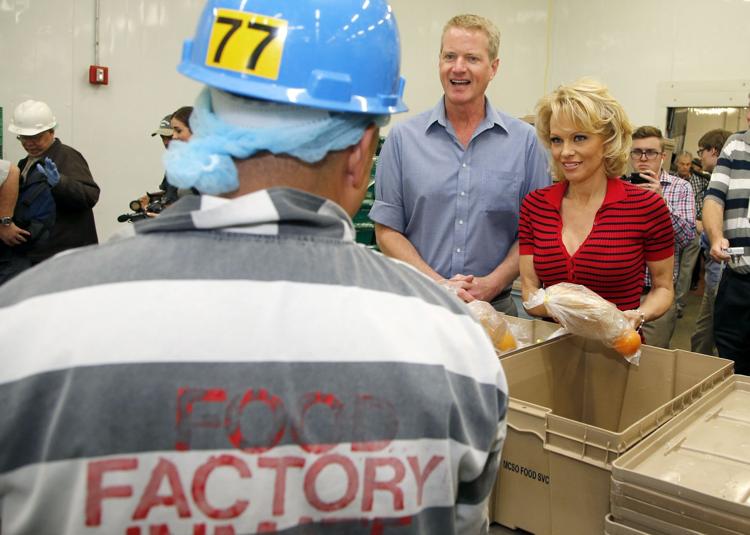 Judge: Sheriff Arpaio's office profiles Latinos
PHOENIX — A federal judge ruled Friday that the office of America's self-proclaimed toughest sheriff systematically singled out Latinos in its trademark immigration patrols, marking the first finding by a court that the agency racially profiles people.
The 142-page decision by U.S. District Judge Murray Snow in Phoenix backs up allegations that Maricopa County Sheriff Joe Arpaio's critics have made for years that his officers rely on race in their immigration enforcement.
Snow, whose ruling came more than eight months after a seven-day non-jury trial on the subject, also ruled Arpaio's deputies unreasonably prolonged the detentions of people who were pulled over.
A small group of Latinos alleged in a lawsuit that Arpaio's deputies pulled over some vehicles only to make immigration status checks. The group asked Snow to issue injunctions barring the sheriff's office from discriminatory policing and the judge ruled that more remedies could be ordered in the future.
The sheriff won't face jail time or fines as a result of the ruling.
The group also accused the sheriff of ordering some immigration patrols not based on reports of crime but rather on letters and emails from Arizonans who complained about people with dark skin congregating in an area or speaking Spanish. The group's attorneys pointed out that Arpaio sent thank-you notes to some people who wrote the complaints.
The sheriff has repeatedly denied the allegations, saying his deputies only stop people when they think a crime has been committed and that he wasn't the person who picked the location of the patrols. His lawyers also said there was nothing wrong with the thank-you notes.
The ruling represents a victory for those who pushed the lawsuit. They weren't seeking money damages but rather a declaration that Arpaio's office racially profiles and an order that requires it to make policy changes.
Stanley Young, the lead lawyer who argued the case against Arpaio, said he was still reading the decision Friday afternoon but was happy that the court ruled the sheriff violated the constitutional rights of Latinos.
He said the decision contained "very detailed findings of discriminatory intent and effect."
Young said Snow set a hearing for June 14 where he will hear from the two sides on how to make sure the orders in the ruling are carried out.
"It's a great day for all the people of Maricopa County," said Cecillia D. Wang, director of the ACLU Immigrants' Right Project. "For too long the sheriff has been victimizing the people he's meant to serve with his discriminatory policy. Today we're seeing justice for everyone in the county."
Tim Casey, Arpaio's lead attorney, declined comment until after reading Snow's decision.
Arapio, who turns 81 next month, was elected in November to his sixth consecutive term as sheriff in Arizona's most populous county.
Known for jailing inmates in tents and making prisoners wear pink underwear, Arpaio started doing immigration enforcement six years as Arizona voters grew frustrated with the state's role as the nation's busiest illegal entryway.
Snow wrote that "in the absence of further facts that would give rise to reasonable suspicion or probable cause that a violation of either federal criminal law or applicable state law is occurring," Arpaio's office now is enjoined from enforcing its policy "on checking the immigration status of people detained without state charges, using Hispanic ancestry or race as any factor in making law enforcement decisions pertaining to whether a person is authorized to be in the country, and unconstitutionally lengthening stops."
Snow added that "the evidence introduced at trial establishes that, in the past, the MCSO has aggressively protected its right to engage in immigration and immigration-related enforcement operations even when it had no accurate legal basis for doing so."
The trial that ended Aug. 2 focused on Latinos who were stopped during both routine traffic patrols and special immigration patrols known as "sweeps."
During the sweeps, deputies flood an area of a city — in some cases, heavily Latino areas — over several days to seek out traffic violators and arrest other offenders. Illegal immigrants accounted for 57 percent of the 1,500 people arrested in the 20 sweeps conducted by his office since January 2008, according to figures provided by Arpaio's office.
At trial, plaintiffs' lawyers drew testimony from witnesses who broke down in tears as they described encounters with authorities, saying they were pulled over because they were Hispanic and officers wanted to check their immigration status, not because they had committed an infraction. The sheriff's attorneys disputed such characterizations, typically working to show that officers had probable cause to stop the drivers based on a traffic violation.
Plaintiffs' lawyers also presented statistics to show that Latinos are more likely to be stopped on days of immigration patrols and showed emails containing offensive jokes about people of Mexican heritage that were circulated among sheriff's department employees, including a supervisor in Arpaio's immigrant smuggling squad.
Defense lawyers disputed the statistical findings and said that officers who circulated offensive jokes were disciplined. They also denied that the complaint letters prompted patrols with a discriminatory motive.
Arpaio violated civil rights, feds say
The federal government issued a scathing report Thursday that outlines how Maricopa County Sheriff Joe Arpaio's office has committed a wide range of civil rights violations against Latinos, including a pattern of racial profiling and discrimination and carrying out heavy-handed immigration patrols based on racially charged citizen complaints.
The report is a result of the U.S. Justice Department's three-year investigation of Arpaio's office amid complaints of racial profiling and a culture of bias at the agency's top level.
The Justice Department's conclusions in the civil probe mark the federal government's harshest rebuke of a national political fixture who has risen to prominence for his immigration crackdowns and became coveted endorsement among candidates in the GOP presidential field.
Apart from the civil rights probe, a federal grand jury also has been investigating Arpaio's office on criminal abuse-of-power allegations since at least December 2009 and is specifically examining the investigative work of the sheriff's anti-public corruption squad.
The civil rights report said federal authorities will continue to investigate complaints of deputies using excessive force against Latinos, whether the sheriff's office failed to provide adequately police services in Hispanic communities and a large number of sex-crimes cases that were assigned to the agency but weren't followed up on or investigated at all.
The report took the sheriff's office to task for launching immigration patrols, known as "sweeps," based on complaints that Latinos were merely gathering near a business without committing crimes. Federal authorities single out Arpaio himself and said his office, known as MCSO, has no clear policies to guard against the violations, even after he changed some of his top aides earlier this year.
"Arpaio's own actions have helped nurture MCSO's culture of bias," wrote Thomas Perez, who heads the Justice Department's civil rights division, adding that the sheriff frequently gave such racially charged letters to some of his top aides and saved them in his own files.
"MCSO is broken in a number of critical respects. The problems are deeply rooted in MCSO's culture," he said Thursday.
The Justice Department's expert on measuring racial profiling said it's the most egregious case of racial profiling in the nation that he has seen or reviewed in professional literature, Perez said.
Investigators interviewed more than 400 people, including Arpaio, reviewed thousands of documents and toured county jails as part of its probe, he said.
If the sheriff's office doesn't turn around its policies and practices, the federal government could pull millions of dollars of federal funding.
Arpaio's office did not immediately respond to AP requests for comment.
The report will require Arpaio to set up effective policies against discrimination, improve training and make other changes that would be monitored for compliance by a judge. Arpaio faces a Jan. 4 deadline for saying whether he wants to work out an agreement. If not, the federal government will sue him and let a judge decide the complaint.
Arpaio, the self-proclaimed toughest sheriff in America, has long denied the racial profiling allegation, saying people are stopped if deputies have probable cause to believe they have committed crimes and that deputies later find many of them are illegal immigrants.
Arpaio has built his reputation on jailing inmates in tents and dressing them in pink underwear, selling himself to voters as unceasingly tough on crime and pushing the bounds of how far local police can go to confront illegal immigration.
The report also said he and some top staffers tried to silence people who have spoken out against the sheriff's office by arresting people without cause, filing meritless lawsuits against opponents and starting investigations of critics.
One example cited by the Justice Department is former top Arpaio aide David Hendershott, who filed bar complaints against attorneys critical of the agency along with bringing judicial complaints against judges who were at odds with the sheriff. All complaints were dismissed.
The anti-corruption squad's cases against two county officials and a judge collapsed in court before going to trial and have been criticized by politicians at odds with the sheriff as trumped up. Arpaio has defended the investigations as a valid attempt at rooting out corruption in county government.
The civil rights report said Latinos are four to nine times more likely to be stopped in traffic stops in Maricopa County than non-Latinos and that the agency's immigration policies treat Latinos as if they are all in the country illegally. Deputies on the immigrant-smuggling squad stop and arrest Latino drivers without good cause, the investigation found.
A review done as part of the investigation found that 20 percent of traffic reports handled by Arpaio's immigrant-smuggling squad from March 2006 to March 2009 were stops — almost all involving Latino drivers — that were done without reasonable suspicion. The squad's stops rarely led to smuggling arrests.
Deputies are encouraged to make high-volume traffic stops in targeted locations. There were Latinos who were in the U.S. legally who were arrested or detained without cause during the sweeps, according to the report.
During the sweeps, deputies flood an area of a city — in some cases, heavily Latino areas — over several days to seek out traffic violators and arrest other offenders. Illegal immigrants accounted for 57 percent of the 1,500 people arrested in the 20 sweeps conducted by his office since January 2008, according to figures provided by Arpaio's office.
Police supervisors, including at least one smuggling-squad supervisor, often used county accounts to send emails that demeaned Latinos to fellow sheriff's managers, deputies and volunteers in the sheriff's posse. One such email had a photo of a mock driver's license for a fictional state called "Mexifornia."
The report said that the sheriff's office launched an immigration operation two weeks after the sheriff received a letter in August 2009 letter about a person's dismay over employees of a McDonald's in the Phoenix suburb of Sun City who didn't speak English. The tip laid out no criminal allegations. The sheriff wrote back to thank the writer "for the info," said he would look into it and forwarded it to a top aide with a note of "for our operation."
Federal investigators focused heavily on the language barriers in Arpaio's jails.
Latino inmates with limited English skills were punished for failing to understand commands in English by being put in solitary confinement for up to 23 hours a day or keeping prisoners locked down in their jail pods for as long as 72 hours without a trip to the canteen area or making nonlegal phone calls.
The report said some jail officers used racial slurs for Latinos when talking among themselves and speaking to inmates.
Detention officers refused to accept forms requesting basic daily services and reporting mistreatment when the documents were completed in Spanish and pressured Latinos with limited English skills to sign forms that implicate their legal rights without language assistance.
The agency pressures Latinos with limited English skills to sign forms by yelling at them and keeping them in uncomfortably cold cells for long periods of time.
The Justice Department said it hadn't yet established a pattern of alleged wrongdoing by the sheriff's office in the three areas where they will continue to investigation: complaints of excessive force against Latinos, botched sex-crimes cases and immigration efforts that have hurt the agency's trust with the Hispanic community.
Federal authorities will continue to investigate whether the sheriff's office has limited the willingness of witnesses and victims to report crimes or talk to Arpaio's office.
"MCSO has done almost nothing to build such a relationship with Mariciopa County's Latino residents," Perez wrote.
Congress to probe alleged abuses by Sheriff Arpaio
WASHINGTON — A House committee chairman said Wednesday he'll hold a hearing next month on alleged civil rights abuses by a high-profile Arizona sheriff.
Judiciary Committee Chairman John Conyers said at a news conference that he will hold a hearing in late April examining the conduct of Maricopa County Sheriff Joe Arpaio, who has been conducting sweeps in Hispanic neighborhoods in the Phoenix area that have resulted in the arrests of illegal immigrants.
Conyers, D-Mich., said the hearing will also examine other examples from around the country of alleged abuses of a program that allows local police departments to enforce federal immigration laws.
"We're not trying to persecute or take advantage of anybody," Conyers said. "Law enforcement officers have a very important and valuable function. The problem is they can't interpret the law their own way to harass or use racial strategies to determine who they arrest."
He was joined at the press conference by Rep. Jerrold Nadler, D-N.Y., chairman of the committee's civil rights subcommittee, Rep. Raul Grijalva, D-Ariz., and Mary Rose Wilcox, the lone Democrat on the Maricopa County Board of Supervisors, as well as representatives from several civil rights and Hispanic advocacy organizations.
The Justice Department's civil rights division said in a letter to Arpaio this week that he is under investigation for an alleged pattern of discriminatory police practices and of discrimination based on national origin.
The letter offers no specific allegations. But Arpaio said he believes the investigation was spurred by his department's often controversial efforts to combat illegal immigration in Maricopa County, which includes Phoenix.
The investigation and the congressional hearing are "saying to the country and the people of Arizona that no one is above the law," Grijalva said.
Arpaio's department has aggressively pursued investigations under Arizona's employer sanctions law and a state anti-smuggling law.
The smuggling law was designed to help local police fight smugglers, but an interpretation by Maricopa County's top prosecutor opened the door for Arpaio's deputies to arrest people who pay smugglers and accuse them of being coconspirators. No other police agency or prosecutor's office in Arizona has used that legal approach in enforcing the smuggling law.
Recently, Arpaio began to separate illegal immigrants from other inmates in Tent City, a section of the county jail where all inmates are housed in tents.
His tactics have attracted national attention and have led some critics, including immigration activists, to accuse Arpaio's department of racial profiling.
The sheriff said he will cooperate with the Justice Department.
Maricopa County Attorney Andrew Thomas, the prosecutor who for years has collaborated with Arpaio in cracking down on illegal immigration, said Wednesday that he wasn't aware of any racial profiling in Arpaio's crime and immigration sweeps.
"He has drawn a lot of criticism (for his immigration crackdowns) and a lot of protest because he is willing to be a leader in the fight against illegal immigration," Thomas said. "I think that has to be recognized here."
Arpaio news release page 1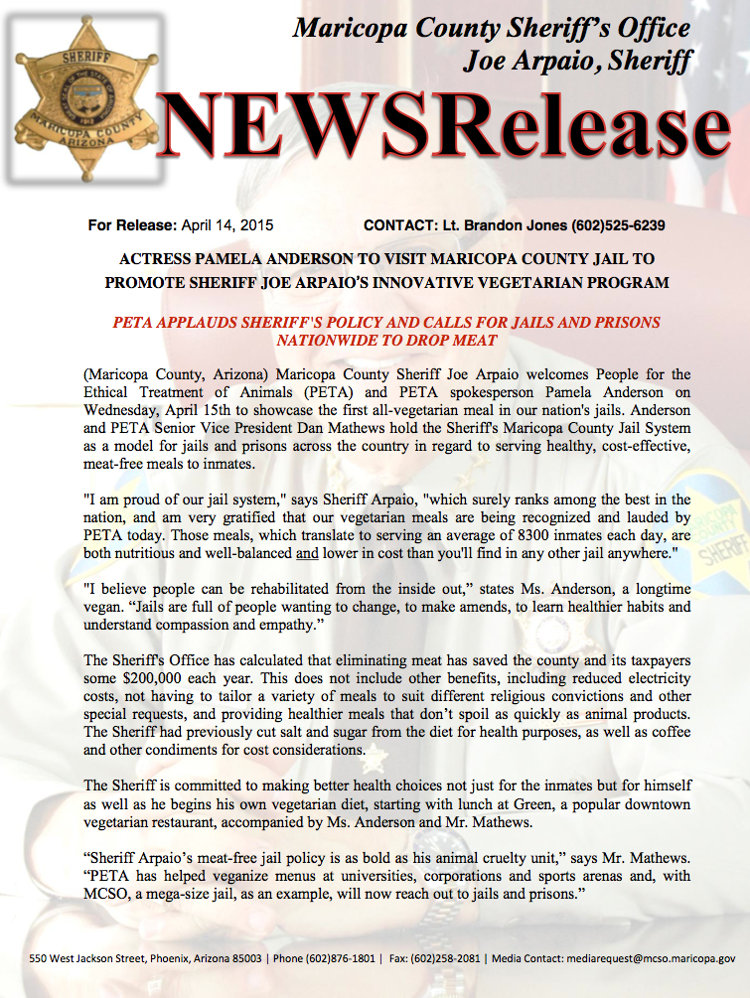 Arpaio news release page 2