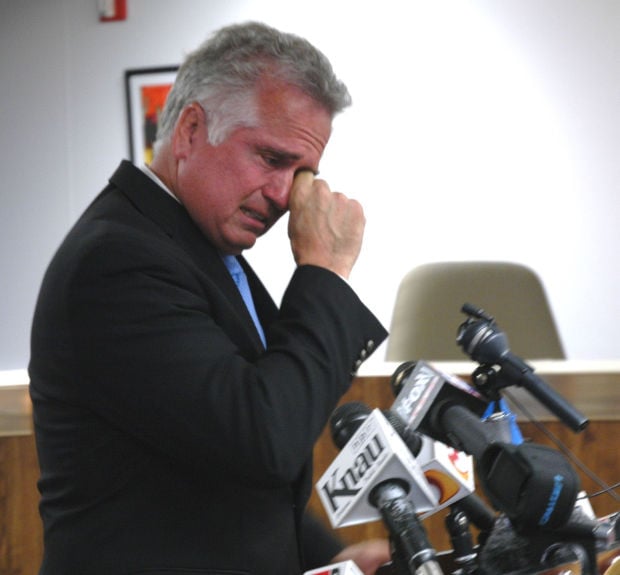 PHOENIX — The state's top school official apologized for and repudiated anonymous blog posts he has made over at least the last four years equating welfare recipients with "lazy pigs" and declaring there should be no Spanish-language radio, TV, billboards and newspapers.
But John Huppenthal said Wednesday that he has no intention of resigning the post to which he was elected in 2010, and will not drop his bid for re-election, saying the agency he heads has "an incredible body of work over the last 3½ years."
Huppenthal said his comments were not intended to be mean-spirited but simply to air important issues. He said that is why he wrote, "This is America, speak English."
"I feel the key to opportunity for our students is the ability to read, write and speak English," he said at a news conference, which is why his office has pushed to help ensure that students achieve fluency.
But his blog posts went further.
"We are condemning ourselves to a second rate future if we don't reestablish the melting pot with a strong flow of immigrants engaging in economic activity, not crime," reads one, using his punctuation and capitalization.
"We need to stomp out balkanization," he continued. "No spanish radio stations, no spanish billboards, no spanish tv stations, no spanish newspapers."
Huppenthal conceded that his motive for posting is no excuse.
"That does not set aside that the comment that I made on that issue was hurtful," Huppenthal said. "And I renounce that comment."
He said a post that "Obama is rewarding the lazy pigs with food stamps (44 million people), air-conditioning, free health care, flat-screen TV's (typical of "poor" families)," represents "a tremendous bias towards opportunity as opposed to providing, just providing."
Huppenthal broke down in tears at the end of the nearly half-hour news conference when apologizing for the effect his comments had on Merle Bianchi, his assistant since his days at the Legislature and who, according to press aide Jennifer Liewer, represented a real-life example of the effects such hurtful comments can have on people he knows, versus just unknown blog readers.
Huppenthal lost his blog post anonymity this month when a blogger traced the IP address of the sender back to the state Department of Education.
Huppenthal said the comments were simply his effort to spur debate on important issues.
The blog flap comes just months after Huppenthal, whose title is superintendent of public instruction, agreed to tape "robocalls" urging parents to use tax money to send their children to private and parochial schools.
He said the topics he tackled were legitimate issues for public debate, even if his methodology was not.
"My point here is that I have an obligation to express that debate in the highest possible terms, terms that bring honor to this agency, in terms to bring honor to our teachers, to our regular school system, to our principals," he continued. "That's why I'm here to repudiate my blog comments and to renounce them."
But he insisted nothing he wrote makes him unfit for his job — or convinces him that he should not try to get another four-year term.
"I'm here today to apologize for my hurtful blog comments," Huppenthal said. "When your words are hurtful, the first thing you do is you understand how those words are hurtful.
"And then you apologize for those words," Huppenthal said. "And then, more than ever, you dedicate yourself to service, to the mission that you're on, which is helping, which is assisting, which is providing opportunity."
Wednesday's hastily called news conference came just an hour before a previously planned event by two former state school chiefs — Lisa Graham Keegan and Jaime Molera, both Republicans like Huppenthal — to chastise him for his comments and seek his resignation.
"The No. 1 issue for the person who holds the job of superintendent of public instruction is deep respect and community with the people that we serve," Keegan said. "John Huppenthal's comments have violated that sacred bond."
Be the first to know
Get local news delivered to your inbox!