YUMA — In a matter of a couple of hours, federal magistrate judge James Metcalf explained charges, accepted pleas and sentenced 40 immigrants in three different languages — with one case postponed to have an interpreter available.
Not every day is as busy in this Yuma courtroom as it was that day in late July. But as the Trump administration pushes for a return to a zero-tolerance policy with the goal of criminally prosecuting everyone the Border Patrol apprehends, the numbers continue to rise, and the nationalities grow more diverse.
Last fiscal year, which ended in September, the courthouse in Yuma prosecuted 2,117 people through Operation Streamline, a fast-track program for border crossers, up from 836 in 2017. That is still much lower than the numbers seen in 2013, when nearly 5,800 were prosecuted.
The fiscal 2018 numbers only represent 8 percent of the 26,000 apprehended — in large part because 3 out of 4 were parents and their children or minors traveling alone, many of them Guatemalan.
Compare that to five years ago, when 94 percent of those apprehended were processed through Streamline but only 8 percent were families or unaccompanied minors.
The program known as Operation Streamline was created in 2005 in the Border Patrol's Del Rio Sector in Texas to deter a growing number of Central Americans adults from crossing illegally.
Similar to what's happening today with families, they would be released with a notice to appear before an immigration official because there wasn't enough detention space to hold them while their cases were processed. But officials said few showed up to their appointments and the practice became known as "catch and release."
Yuma was one of the first places that followed suit in 2006, at a time when its Border Patrol sector was making upwards of 100,000 apprehensions. Tucson joined in 2008.
The Border Patrol and some elected officials in part credit Streamline for the dramatic reduction in apprehensions seen in Yuma back then, where even those who had crossed for the first time were prosecuted.
In 2014, under the Obama administration, prosecutors in Yuma started to focus on repeat offenders — just as their colleagues were doing in Tucson — to great opposition from Republican Sens. Jeff Flake and John McCain. They repeatedly pushed for the return of zero-tolerance, an effort that continued when now-former Attorney General Jeff Sessions was appointed by President Trump.
But the effectiveness of Streamline, especially when considering the cost, is still up for debate. While the Border Patrol deems it one of its most effective deterrence programs, government watchdog groups have said more information is needed to track its impact on recidivism rates.
The Border Patrol measures a person's crossing history by fiscal year. But using year-to-year data to analyze re-entry, the Office of Inspector General wrote, doesn't take into account attempts to come back into the country illegally that span multiple years.
Even by those measures, Yuma had the second highest recidivism rate among all Border Patrol southwest sectors in 2013 — at 16.26 percent.
Most of those who cross the border for the first time and go through Streamline are sentenced to time served. But they will have a criminal record and if they cross again can be prosecuted for illegal re-entry, which is a felony.
Even Customs and Border Protection officials have said Streamline, while effective, is not the ultimate answer.
"Streamline and other consequences are more effective at deterring recidivism when the drivers of immigration are weaker," Eugene Schied, assistant commissioner for CBP's office of administration, wrote in response to the OIG's 2015 report.
An enforcement action that successfully deterred a person in one year when the drivers of immigration were weaker, he wrote, "may not affect that same subject to the same degree, or at all, if stronger reasons, such as greater disparity in economic opportunity or increased political unrest in the subject's home country, existed to enter illegally into the United States."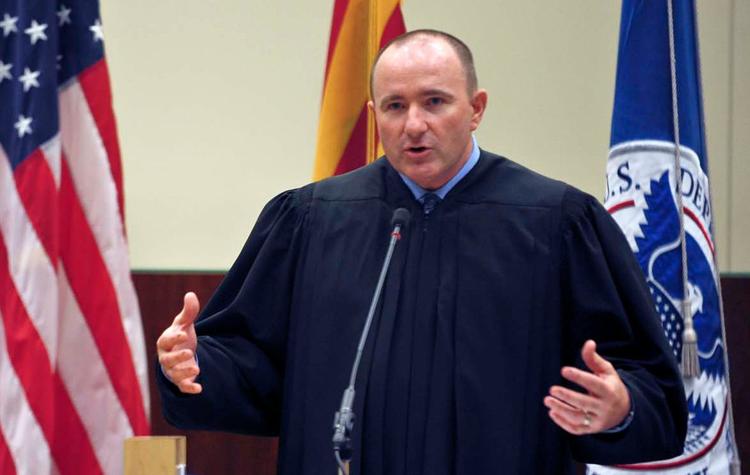 A day in the court
That late July afternoon the hearings started at 2 p.m. in courtroom 2, a large room without a jury box, designed for the group proceedings.
The first three defendants were a couple from Nicaragua and a Guatemalan woman.
Guatemalans used to represent a larger share of those processed through Streamline, but their numbers went down after the government stopped prosecuting parents traveling with children — more than half of those caught by the Border Patrol in the Yuma sector.
Shackled by the feet and handcuffed, the three sat on a side bench while their assigned attorneys and Spanish interpreter faced the judge.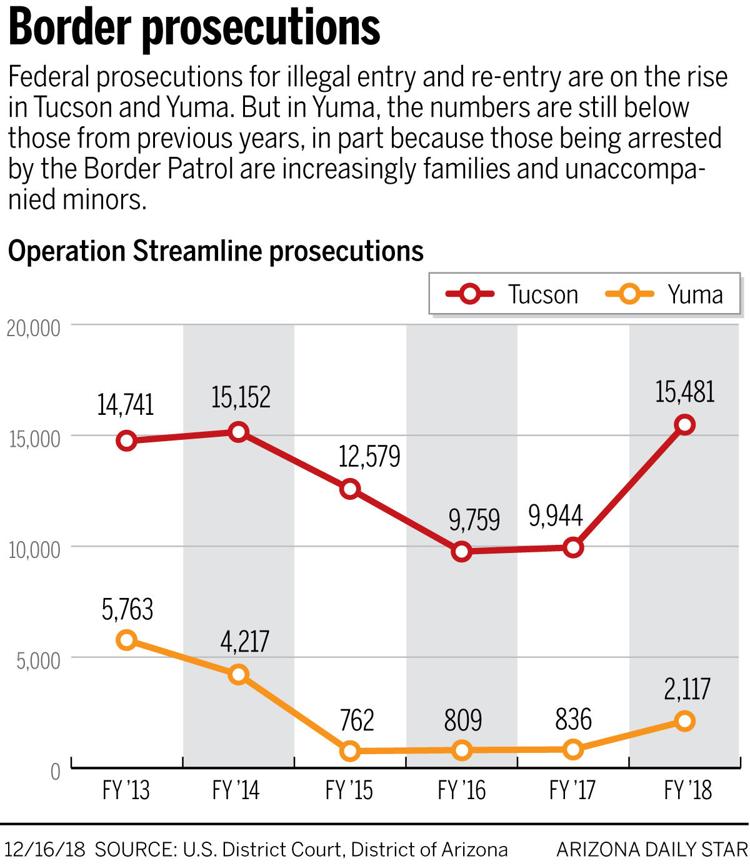 Metcalf explained they were charged with a petty offense violation. "It simply alleges you've entered the U.S. illegally," he told them.
He repeatedly advised them they didn't have to plead guilty that day. "You are presumed to be innocent and you have many rights, including a trial … It's very important that you understand all of your rights."
There was confusion about whether the Guatemala woman was 18 or a minor, in which case she couldn't be tried. She spoke primarily Mam, one of Guatemala's multiple dialects, and no interpreter was available. They decided to postpone the hearing to verify.
Within a few minutes, the couple from Nicaragua, who had been shaking their legs and biting their lips, said they understood and pleaded guilty, a defeated look on their faces.
"Anything you would like to tell me Mr. Godinez?" Metcalf asked.
"What drove me to come to the U.S. is that the situation in my country is critical," said Davien Godinez, 30. If it wasn't for that, he wouldn't have done it, he said.
"If you have a concern about conditions in your country," Metcalf responded, "you need to let immigration officials know about that. You have the right to have that adjudicated separately."
Since April, more than 300 people have been killed and 2,000 others injured in Nicaragua, according to Human Rights Watch. Hundreds of others have been arbitrarily detained by police and armed gangs in a government crackdown on protesters.
"I first want to ask for forgiveness for entering the country this way, I am not doing it out of pleasure but out of necessity because I was afraid," Aryeris Rizo, 27, told the judge, choking back tears.
"I appreciate your acceptance of responsibility," Metcalf told her, "that says a lot about your character."
Within a few minutes it was over.
Now, they had to figure out the logistics of prosecuting a group of 30 India nationals with an interpreter on speaker calling from Phoenix.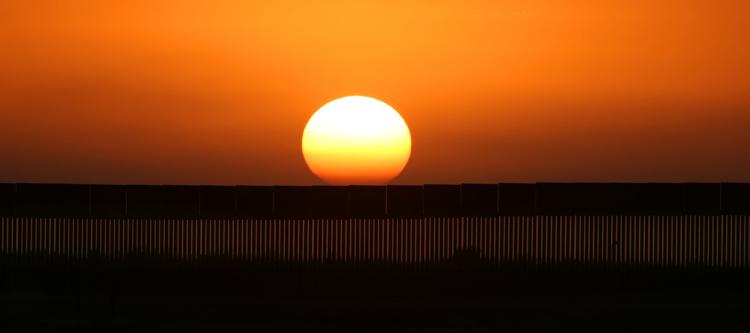 'We'll do the Punjabi speakers first'
"Today, it's going to be a special day," Metcalf told the attorneys at 2:35 p.m. "We will do the Punjabi speakers first, hopefully that will keep things a lot simpler."
Most of the men crossed into the United States near San Luis. They spoke Punjabi, a language spoken in northern India, and all were represented by Assistant Federal Public Defender Nora Nuñez.
The number of Indians crossing into the United States through Mexico has ebbed and flowed over the years. A few years ago, a large number was crossing through the Tucson sector.
Recently, they've been coming through California and Yuma. Since June, Metcalf has sentenced more than 200, a few days in larger groups like this one.
But until recently, they weren't as visible because, as first-time entrants, they generally weren't prosecuted.
They tell attorneys they are fleeing political and religious persecution. Under the ruling party, vigilantes have committed violence against religious minorities, marginalized communities and critics of the government, Human Rights Watch has reported.
Occasionally, nationals from China, Romania and Brazil also go through Metcalf's courtroom. In fiscal 2017, the Border Patrol in Arizona arrested people from nearly 60 countries, although the vast majority are from Mexico and Central America.
Wearing orange jumpsuits, except for three who had just been caught by the Border Patrol, the men shuffled into the courtroom and filled the wooden benches that lined the room.
Metcalf read them their rights, repeated they didn't have to plead guilty and asked them individually whether they understood the charges and how they wished to plea.
"I am guilty," one by one responded.
"Each of my clients fears for their life (if removed to India)," Nuñez told the judge. "I'm putting it on the record that they will claim asylum."
While initially telling the attorney that is not pertinent at this point, Metcalf, a former immigration and government attorney himself, later commended the federal public defenders for making it part of the record.
Roughly an hour later they were done with the first 30, but in a few minutes, they would go through the process all over again. They had seven Hindi speakers to go.
One by one Metcalf started to call their names. "Is that your true and correct name, sir?" he asked, and began to advise them of their rights.