For most medical students, education revolves around laboratory work and clinical training, with little attention paid to how to interact with patients beyond giving treatments. However, in several classes at the University of Arizona, medical and pre-health-sciences students are learning how to integrate empathy and compassion for patients into their future jobs.
Ellen Melamed, an instructor in the College of Medicine and the University of Arizona Honors College, is helping medical and undergraduate students develop a different way of communicating and interacting with patients and one another through medical humanities and narrative medicine.
Medical humanities, Melamed said, falls under what people might call the "soft science" portion of medical training, and is part of different medical training programs all over the world. Narrative medicine is part of the medical humanities and focuses on the whole story of a patient to help heal them, rather than just the isolated medical problem.
"I believe that it is looking at the humanity, the humanism of the patient, practitioner, caregiver relationship, in addition to the science that doctors in training must learn," Melamed said.
Melamed is also an artist in residence in the College of Fine Arts, where she teaches the Alexander technique to performing arts students. The technique helps people reduce chronic pain and avoid repetitive injury by retraining how they move their bodies, according to Melamed, who also has a private practice in Tucson. Melamed based her course, which she's taught for several years, on a model of narrative medicine first developed at Columbia University, but expanded the idea of narratives to include different types of art to help students explore empathy and compassion.
"I am interested in how all the arts can encourage empathy and compassion in the medical experience," Melamed said. "I think this way because I'm not sure that all of us learn through a literary lens. I think some of us do well with music or movement or fine art, anything that somehow creates empathy."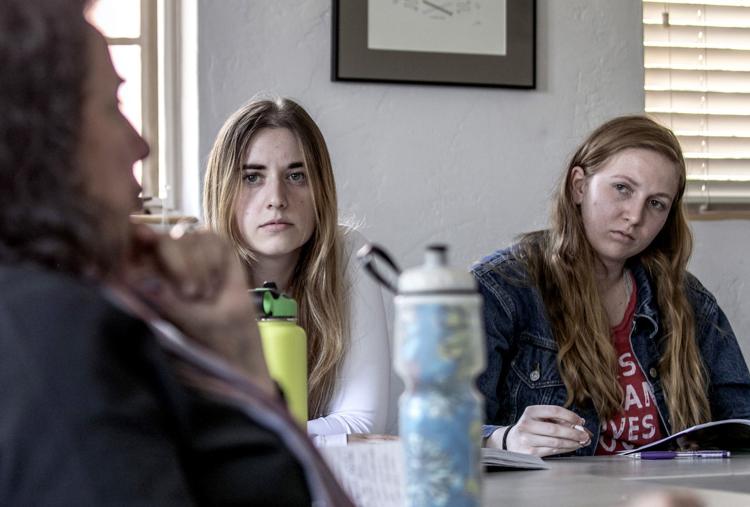 The class that medical students take is called Introduction to Narrative Medicine, and Melamed said it's divided into two, two-hour classes. All 120 students in the class of 2022 are required to take it, so they're split up into groups of about 15 students. In the first class, students look at images and discuss the shared skills between artists and physicians, and in the second class they examine writings of patients, practitioners and caregivers.
"The discussions are amazing because they're often talking about things that they don't have another place to talk about in med school. That could cover self-care, it could cover … what it's like to have your first patient," Melamed said. "This is not therapy; this is a shared experience of what the actual pieces of this training evokes in medical students."
Introduction to Narrative Medicine is held in the Poetry Center, not the medical school, for a number of reasons, according to Melamed. Mostly, she wanted to give the students a chance to get outside and explore other parts of campus.
"The students don't get out of the building at the medical school. They don't get fresh air, they don't walk," Melamed said. "I wanted them to get out, get some exercise, be in a room that has windows. It's all windows in the Poetry Center. It's beautiful."
For Tyler Meier, executive director of the Poetry Center, collaborating with Melamed to hold her class in the Poetry Center was a "no-brainer."
"It's not traditional that medical students are having classes outside the College of Medicine facilities," Meier said. "It's exciting to invite them into a different space for a different kind of inquiry than the lab-based work they're typically doing."
Meier said it's part of the Poetry Center's mission to serve both the campus and Tucson broadly, which means reaching out to a variety of groups. In this case, he's already seeing benefits from connecting with the medical students.
"One of the things that's been really fun is to see students who have come from the course come back and spend more time in the library, to study or to explore a little bit," Meier said.
A new enrichment elective based in narrative medicine will be also available for medical students starting this fall, for students who want to go deeper into the medical humanities, and Melamed also holds a semester-long course for pre-health sciences undergraduates that explores the foundation and theories of what narrative medicine is, and what it means to be a patient, a practitioner and a caregiver, using arts and writings.
"If they are lucky, they will play those three roles," Melamed said. "If they live long enough, they will be a patient, if they aren't already. If they love someone, they will be a caregiver. If they continue and graduate and work in the field of health care, they will be a practitioner. So this is a very important part of their experience, to think this way."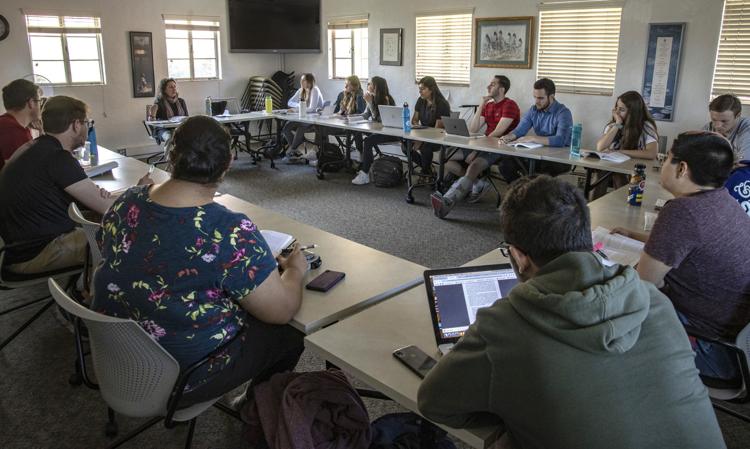 For junior physiology majors Emily Marine and Marisa Cannon, the Introduction to Narrative Medicine honors elective fulfilled a requirement for their health and human values minors, but it also went deeper. For Marine, the class helped her get a more realistic picture of what it means to work in health care.
"We learned about ways that doctors have dealt with things horribly, or ways that doctors have so much pressure on them to deal with things perfectly all the time, and that's kind of not realistic so it's made me a little bit scared, but also made me want to be a doctor 100 percent," Marine said.
Overall, Cannon said her biggest takeaway from the class was to "always strive to do better and to be better" when it comes to your patients.
"I feel like a lot of people feel that once they graduate from medical school, that's it, they're a doctor, and the worst has been done," Cannon said. "But I think that in medicine you should always strive to be better and work more for your patients so they get a better quality of care. I feel like this class has taught us how to look for times to do that."