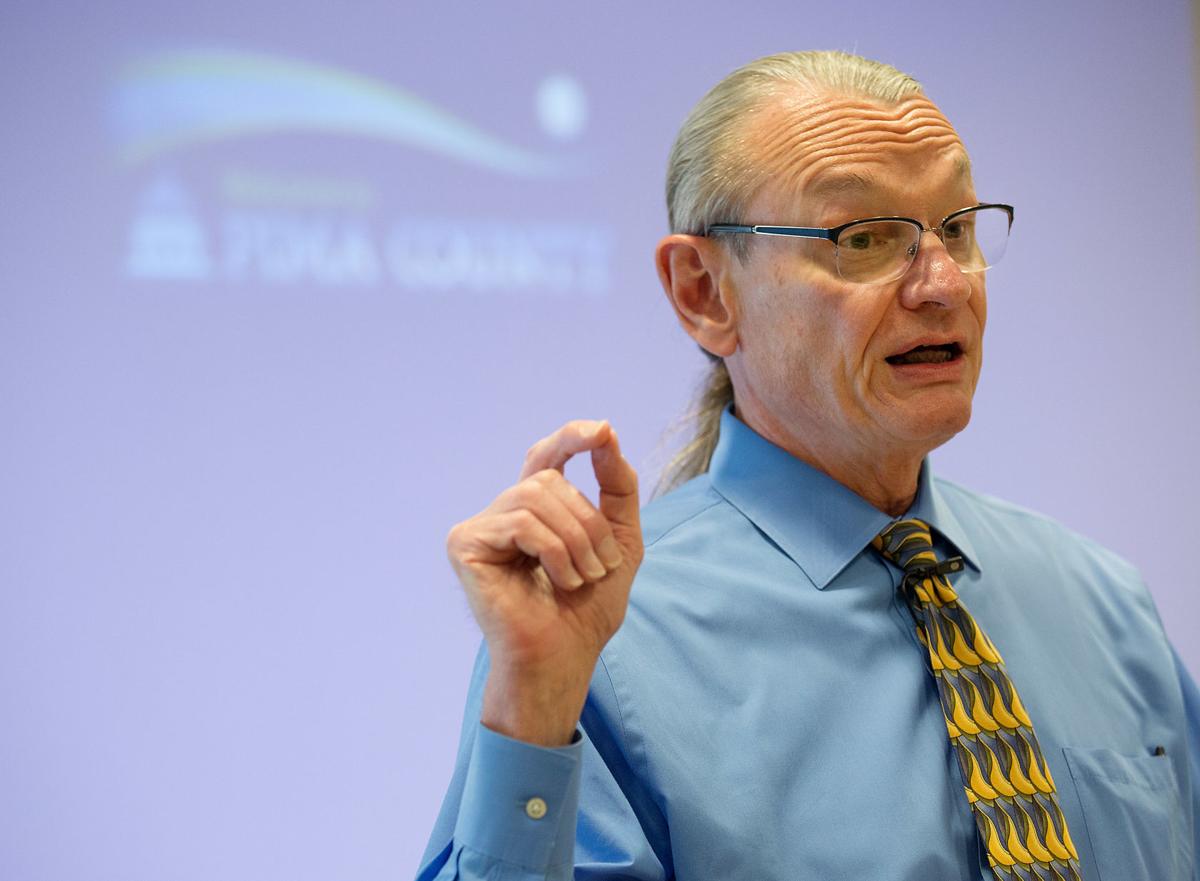 A third Pima County resident had been diagnosed with coronavirus, health officials said Sunday morning.
The latest case here marked the area's first positive test result conducted by a private lab.
The individual is an older adult and is recovering in an area hospital.
The Pima County Health Department began identifying the person's close contacts and is recommending actions to prevent further spread.
It is still unknown how the person contracted the virus. The latest case was the 13th confirmed case in Arizona.
Up until last week, the Arizona public health lab in Phoenix was the only entity capable of testing for COVID-19 and had a very limited number of kits available. Now, companies like LabCorp and Quest Diagnostics are accepting samples from community physicians for testing.
"The amount of testing capacity at the state lab in Phoenix is extremely limited," said Dr. Bob England, interim director of the Pima County Health Department. "They were given a very limited quantity of test kits by the CDC. Therefore, in order to prioritize those very limited tests, there's a very strict set of criteria that are used for them to be able to run that test so they don't run out."
At this point, tests at the state level are still limited to individuals who are really sick, have had all other illnesses ruled out or were likely to have been exposed to the virus through travel or another person.
However, now that private lab testing has opened up, England said there will be a sharp increase in the number of people who can get tested.
"It's a freaking miracle that the world was able to develop a test, a good test, for a brand new organism within weeks. That's amazing," England said. "It's a different era that we're in. But the CDC is not set up as a big production facility. So, yes, they can make this test, but they can only turn out so many at a time. That's why it's really good that these private labs have come on board to do it as well."
Here are the latest updates related to COVID-19 from Tucson and southern Arizona. 
The testing process
Even with private labs open for testing, people will still have to go through a community physician to be evaluated for the virus first. Private labs will not be accepting walk-ins.
"Only health-care physicians can take samples at this time," England said.
According to England, anyone with coronavirus symptoms — fever, cough, difficulty breathing — should consult their doctor. If the doctor rules out all other illnesses, a nasopharyngeal swab will be done and sent to a local lab.
"Don't go to the emergency room unless you're so sure that you need to be in an emergency room, because they're getting overwhelmed with people who are just scared," England said. "And I understand why people are scared. This is scary. But the vast majority of people are going to be very mild cases that don't require hospitalization."
While it may take longer to get results through private testing, England said expanding testing is vital because it will confirm that most coronavirus cases are mild or even asymptomatic.
On Friday, President Trump declared the coronavirus pandemic a national emergency in order to free up more money and resources. Trump also announced that communitywide testing would soon be available, saying that citizens would be able to go to a local Walmart or Target for "drive-up" testing.
According to England, it will most likely take several weeks before this type of testing would be available in Pima County.
"People have now been told over and over on national TV that it's widely available, when it just isn't," England said. "Maybe in a couple of weeks or more, I'm really hopeful, but that doesn't help you today."
In the meantime, the Pima County Health Department is encouraging people to take control of their hygiene.
They recommend that people wash their hands often, avoid touching their face, stay home when sick and disinfect commonly used objects or surfaces.
Health officials also strongly encourage people who are more at-risk for contracting the virus to avoid large events or crowds. This includes people over the age of 65 and anyone with chronic medical conditions such as heart disease, diabetes or lung disease.
Concerned about COVID-19?
Sign up now to get the most recent coronavirus headlines and other important local and national news sent to your email inbox daily.