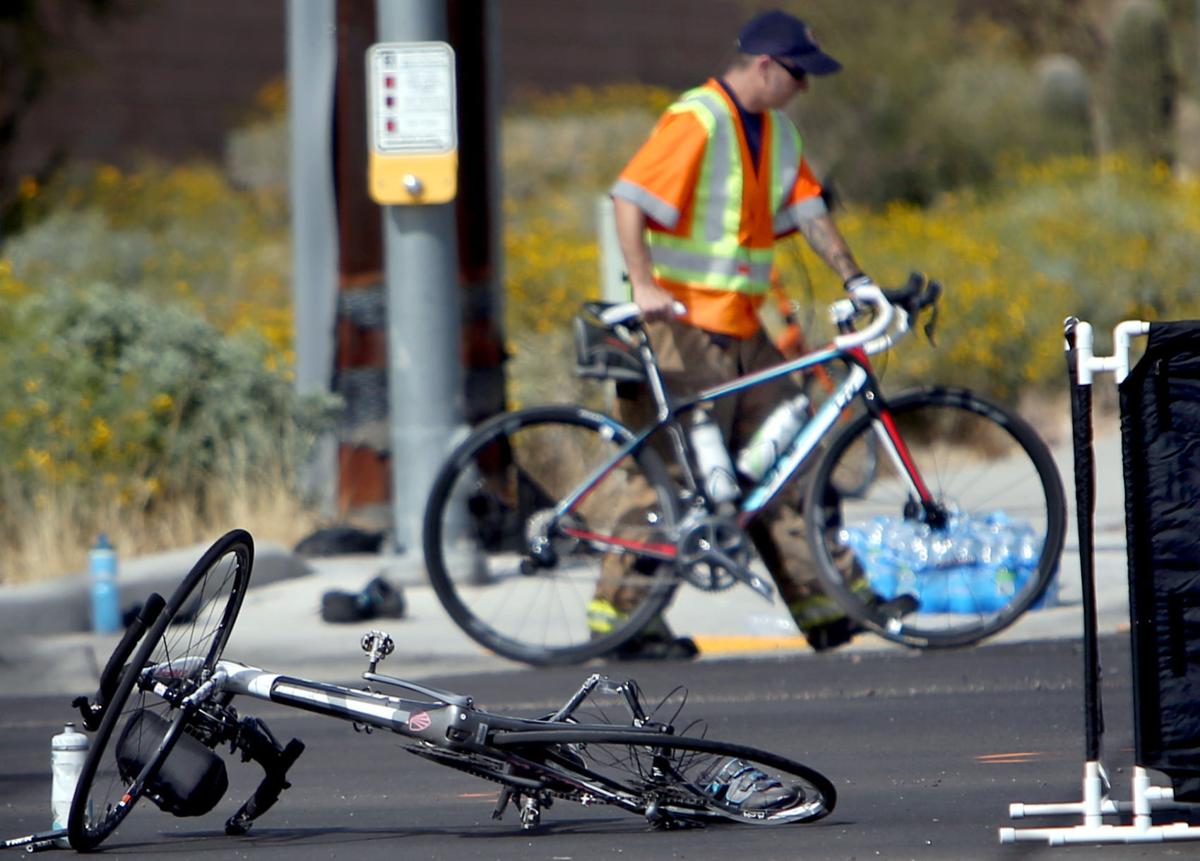 In the wake of recent fatal crashes, a local man is using data to highlight an underreported phenomenon: near misses between motorists and bicyclists.
Tucson bicyclist Robert Fritz launched SafeBicyclingData.org last week to collect information on near misses, which he calls "crash precursors."
On March 3, a driver smashed into a group of bicyclists on North La Cañada Road, killing two and critically injuring another. One of those killed was Fritz's friend and riding companion Ken Vieira.
Since Fritz launched the website March 6, a dozen bicyclists have reported near misses, including one in which a 12-year-old rider was run off the road by a car and another where a school bus passed "really close" to a commuter on a bicycle, Fritz said.
The idea for the website "evolved from my experiences as a cyclist here in Tucson," said Fritz, a 63-year-old rider with the Cactus Cycling Club and former biology professor at Vassar College.
"Cyclists need to have a voice about what occurs to them on a daily basis," he said. If every bicyclist in Tucson reported near misses, "we could get 100 a day."
At Fritz's website, bicyclists can report the location, time and circumstances of near misses, as well as crashes that may not have been reported to authorities, he said. He then shares the information with advocacy groups.
The goal is for authorities to improve signage, paint bicycle lanes green or fix infrastructure at dangerous spots before more bicyclists are killed, Fritz said.
The driver of the vehicle involved in the death of Fritz's friend was arrested on suspicion of driving while impaired, so better signage may not have helped, Fritz said.
But signage could have made a difference in a recent fatal crash at East Sunrise and East Skyline drives, which Fritz rides through regularly and calls "scary."
Pima County is addressing the dangers of the intersection, but with the appropriate data the county could have done so long before the fatal crash, he said.
"Had there been a record, there would have been numerous near misses at the intersection," he said.
Fatal crashes are at the top of what Fritz calls the "cycling crash pyramid," which has near misses at its base. Unreported and reported crashes are stacked between near misses and fatal crashes.
Fritz's website targets the bottom layers of the pyramid, which is "much, much broader" than official reports suggest, he said.
Near misses as a statistical category haven't been widely adopted in the bicycling world, despite being a standard in the safety industry used to determine whether working conditions are hazardous, Fritz said.
"We need to have this in the cycling lexicon as well as in cycling safety management, and it hasn't been," he said.
Official statistics usually focus on crashes and deaths, he said. Cycling clubs have anecdotal reports of crashes, but not enough for statistical analysis.
The city of Tucson uses data on crashes collected by Tucson police, but does not have data on near misses, said Ann Chanecka, coordinator of the city's Bicycle and Pedestrian Program.
Fritz's website could be a resource for the city, she said.
"I think anytime you can collect more information and raise awareness, it's great," Chanecka said.
The city studies traffic to figure out the safest designs for motorists, bicyclists and pedestrians, she said. And Tucson police receive grants every year to enforce traffic laws pertaining to both motorists and bicyclists.
The city also installs signals at heavily trafficked intersections to allow bicyclists to cross and partners with the Living Streets Alliance to give away bike lights and helmets, she said.
Pima County regularly receives public comments and maintenance requests about the Loop, a trail system that stretches more than 100 miles around the Tucson area, said Matthew Zoll, manager of Pima County's Bicycle and Pedestrian Program.
But the county doesn't maintain a database of near misses and Fritz's website could be a "helpful tool," Zoll said.
In light of the recent crashes, bicycle safety awareness is "at a peak right now," Fritz said.
"I expect that to be short-lived. I want to keep awareness up," he said.
Down the road
Benson-area commuters on their way to Tucson will have quite a detour as the Arizona Department of Transportation replaces a bridge on westbound Interstate 10.
The replacement project for the bridge at Davidson Canyon, between Arizona 83 and 90, will run from 9 p.m. March 22 to 5 a.m. March 23. Drivers will have to use a 67-mile detour that ADOT expects will add two hours in traveling time.
The highway will need to be closed so crews can pour new bridge decks and set concrete girders, which measure 119 feet long and weigh 45,000 pounds each.