A cloud of ill will is gathering in Tucson over a Phoenix man who for months has collected donations he said would be used to benefit local children in foster care.
Since April, his fundraisers have been a familiar sight at tables outside local stores and eateries where representatives collect cash donations.
But where the money goes isn't entirely clear.
To date, the organization has held just one event — a chaotic day at a Tucson fun park paid for with a check that didn't clear the bank.
The fundraisers staffing the tables get to keep half of the money they collect — a fact not disclosed to donors in a state where little public disclosure is required, an Arizona Daily Star investigation found.
In 2013, the Legislature killed a longstanding consumer-protection measure that required fundraisers to register with the secretary of state.
Had it not done so, Tucsonans who drop donations at the collection tables might have known that Southern AZ Foster Kids is actually based in California.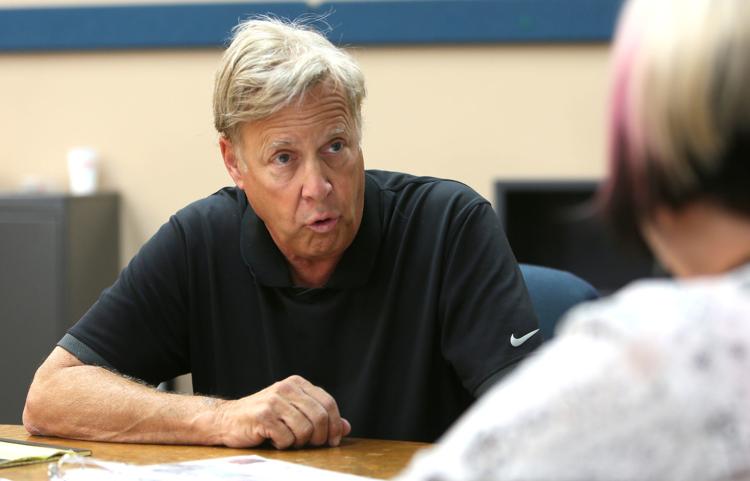 Bruce Lee Landau, 63, of Phoenix, is the founder and CEO of Southern AZ Foster Kids, whose headquarters shared the address of a charity he operates in San Diego that the state of California considers to be delinquent.
Landau talked with Arizona Daily Star reporters three times in the past month, which he said is evidence that concerns about his operation are unjustified.
"My goal is to be 100 percent transparent. I have nothing to hide because I'm doing good things," he said.
The accounts of recent events Landau provided to the Star are sharply at odds with public records and with the accounts of Tucsonans who have crossed his path.
Landau acknowledged he's made some bad decisions, but said his intentions are good and he's committed to the cause.
"Have I made mistakes? Absolutely," he said. "But we're all about the kids."
His biggest failing, he said, was not reaching out to the city's well-established foster-care network to tell them about what he was doing.
"My second-biggest mistake was Funtasticks," he said.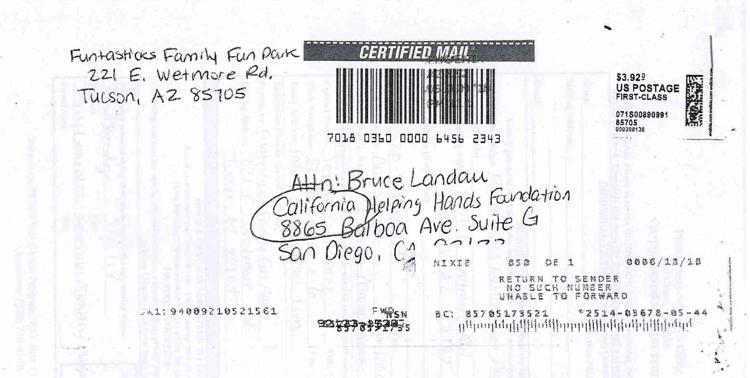 FUN PARK SNAFU
Landau's lone event for local foster kids did not go smoothly, said a spokeswoman for Funtasticks Family Fun Park, 221 E. Wetmore Road.
Terry Gonzalez, the park's group sales manager, said the May 19 event was so disorganized that some foster families got back in their cars and left soon after they arrived.
Landau told the Star he planned to take 15 foster families to Funtasticks that Saturday morning. He said he chose families specifically because they'd recently donated at one of his solicitation tables and provided their contact information.
"I felt that the people donating at the tables, filling out cards, were entitled to go because they were the ones donating," he said, adding that he plans to change that practice in order to serve a larger circle of foster families.
Problems arose when the 10 a.m. event was rescheduled for closer to noon because a local restaurant offered the group a free lunch prior to the fun park visit.
Landau said everyone was notified of the change. But some families came to the fun park at the original time and found no one there to greet them, said Gonzalez, the group sales manager.
Charities typically call ahead when booking group visits, but Landau didn't, she said. So management was in the dark when 15 people, including foster kids excited for a day of fun, arrived expecting free admission.
"We had people showing up for a free foster event at 10 a.m. and no one knew what was going on," she said. "We gave some of them free mini-golf, but others had already left, disappointed."
Landau showed up with nearly 60 more people a few hours later she said, then paid for the whole thing with a check that didn't clear.
Landau initially told the Star he stopped payment on the check because Funtasticks management was rude and also because he thought the children he brought there should be able to do more than miniature golf and arcade games.
Later he blamed himself, saying he ordered the wrong package, and later still claimed he canceled the check because Funtasticks management threatened him.
Gonzalez, however, said Landau seemed satisfied when he left the park that day. "Not once during or after his event, or even in the collection process, did Bruce give us any indication he was unhappy with our service," she said.
Gonzalez said Landau received their nonprofit rate of $10.99, plus tax, per person. That includes three hours of unlimited play to include go-karts, bumper boats, mini-golf and a five-ride kiddie land.
Whatever the reason the check didn't clear, Gonzalez said she hasn't had an easier time getting him to pay any other way. At one point he tried to pay with a credit card, she said, but the card was declined. He then promised to come in and pay cash but, nearly three months later, he hasn't, she said.
Landau told the Star he still intends to pay and blamed Funtasticks for the delay. He said he's called the park "a dozen times" but no one returns his calls.
Neither Landau nor Gonzalez would say how much he owes, but the Star calculated the bill at around $650 based on the number of attendees at the park's nonprofit rate.
Gonzalez said she recently tried to send Landau a registered letter at his organization's California headquarters. It was returned by the post office as undeliverable.
She shared a copy of the envelope with the Star. It said: "Return to sender. No such number. Unable to forward."
Landau said the post office must have made a mistake. "We are very much still there," he said.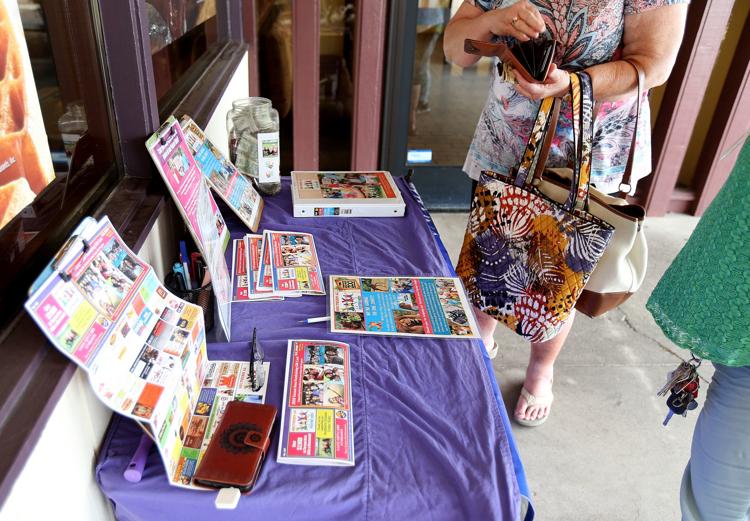 "DELINQUENT"
Landau's solicitors can keep half of the cash they raise — what happens to the other half isn't clear. His books have never been audited, he hasn't filed a nonprofit tax return and says he has "absolutely no idea" how much money his organization has collected.
Landau didn't follow through on a pledge made nearly a month ago to provide the Star with a financial statement. He later said he recently hired an accountant to work on his nonprofit taxes and doesn't want to make the documents public until his taxes are properly filed.
Landau said his Tucson operation is a branch of the California Helping Hands Foundation, a nonprofit he registered, founded and runs there — and one he claimed is in good standing.
But the San Diego outfit is not in good standing and isn't authorized to raise funds there, the California Department of Justice told the Star.
The organization is listed as "delinquent" in California's online charity registry because it didn't file nonprofit tax returns in 2016 or 2017 and also failed to pay an annual registration renewal fee, the agency said in an email. The fee is less than $100 a year, according to the agency's website.
Though he couldn't produce a financial statement, Landau did provide the Star what he said were some of his organization's main administrative expenses.
The California charity pays him $22,000 a year, enough to live on because he also receives Social Security, he said. Another $50,000 a year goes to his nephew, Ryan Fox of San Diego, the charity's chief financial officer. A San Diego office assistant also is on the payroll, he said.
Landau's local table solicitors, many of them elderly, typically are hired through online ads on Craigslist.
He defends letting them keep half the money they raise, saying they work hard and the good pay helps keep turnover low.
Landau's online job ads say his solicitors make $25 to $30 an hour.
LOCAL AGENCIES CONCERNED
Lin Leclair Turner, a board member with the Arizona Friends of Foster Children Foundation, said donations dwindled during the group's recent annual backpack-stuffing fundraiser for local foster kids returning to school.
It's the one time each year they set up a table to solicit help. Turner, a longtime foster parent who adopted a child, was distressed when people kept coming to her table saying they'd already given — unknowingly — to Landau's organization.
"I had at least six people say, 'I just donated to you a week ago.' I said, 'No, we never set up a booth except at backpack time.'"
Landau routinely posts his event plans on Facebook, publicly announcing dates, times, and locations of expected foster-family gatherings, something Turner said established agencies would never do for security reasons.
"Announcing foster-care events through social media outlets is a security risk. The children attending could be placed in harm's way if the biological family seeks them out," she said.
"These children do not need unnecessary trauma. No other agency announces their events to the public for that reason."
Mea Han Fajardo, who has worked with local foster families for 13 years, said she's concerned by the seeming lack of accountability for the money Landau collects.
Fajardo works for Grace Retreat Foster Care and Adoption Service. Her agency is a part of the Foster and Adoptive Council of Tucson, a group that brings together the 18 local agencies that license foster homes and provide adoption services. She said she first heard of Landau's group in May and at first was glad to see another organization interested in helping foster families.
That changed, she said, when she called Landau offering to collaborate and was turned down, a conversation Landau said he doesn't recall.
At that point, other agencies started getting suspicious.
"If they are a legit agency, they are certainly going about it the wrong way," Fajardo said.
Landau told the Star he regrets not contacting existing agencies when he came to Tucson. He said he plans to make amends by inviting them to future events, such as a planned trip to Reid Park Zoo next weekend.
Last week, Landau's San Diego assistant started calling local agencies asking for names and phone numbers of foster families to invite — seemingly unaware of strict state rules against releasing such information to outsiders.
ARIZONA AN OUTLIER
The 2013 change in Arizona law made the state one of the few in the nation without a registry to track all charitable solicitors. Nowadays, only veterans' charities get state scrutiny.
Setting up a nonprofit in Arizona is easier than ever since legislators axed old registration and solicitation rules, said Ellis Carter, a Tempe attorney and expert in nonprofit law.
"I believe they were getting political pressure from well-connected church groups to repeal the rules," Carter said.
"It would have been a better solution to reform the existing law to make it more effective and to exempt churches than to leave Arizona with no way to track or regulate charitable solicitors," Carter said.
Arizona, she said, is a "great place to come and commit charity fraud. It's concerning that anybody and their dog can go out and pretend to represent a charity."
The Internal Revenue Service, which awards federal tax-exempt status to nonprofits, has streamlined its process and now requires less than three pages of information, Carter said.
The federal agency made things easier to prevent application backlogs and help smaller charities move forward, she said.
Carter recommends that donors try to do some research before giving, though sometimes that's easier said than done.
The IRS has a website where the public can see if a charitable organization has filed its required nonprofit tax returns. The IRS also recommends the website guidestar.org, a nongovernment agency that helps the public track performance of nonprofits.
"There are charities out there that spend a lot of money on direct services," Carter said. Others spend heavily on fundraising and administration, leaving less for charitable works.
ZOO TRIP ON DECK
These days, Landau's solicitors are busy raising money for the upcoming Reid Park Zoo event. He said he hopes it will forge ties with other foster-care organizations.
It isn't clear how many will bite.
Of four local agencies invited to participate, two have responded and both are maybes, Landau's San Diego assistant said in a Friday email to the Star.
"Two of them are most likely going to participate, we are just hashing out the details and awaiting a definite answer regarding participation," the email said.
Landau said he hopes the local community will come to embrace his efforts.
"Everything I am doing is aboveboard," he said.
"We're out there to help the families."
"My goal is to be 100 percent transparent. I have nothing to hide because I'm doing good things." Bruce Lee Landau, Southern AZ Foster Kids