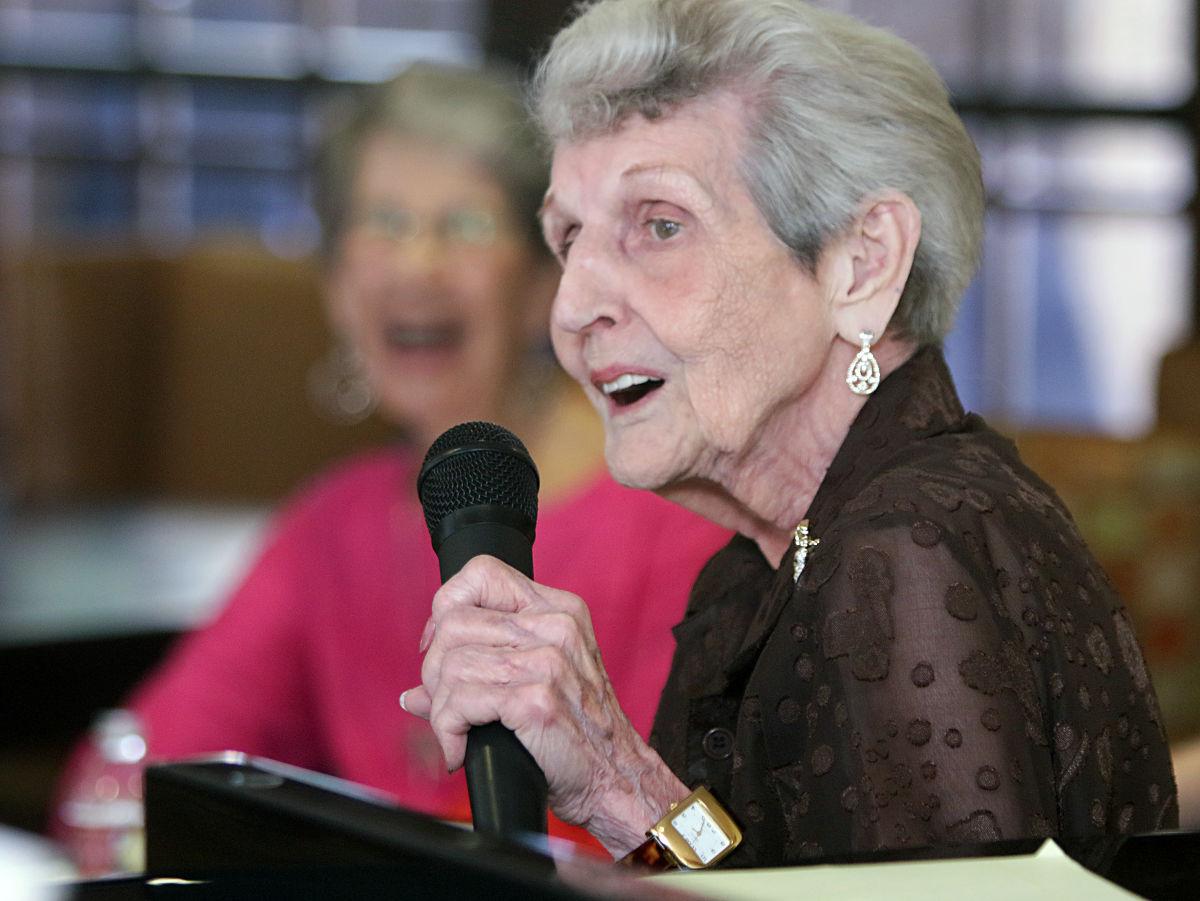 For most of her life, Edie Loesche never sang a note.
Not to her three kids at bedtime, not when her second husband, who played several instruments, sat down at the organ in their house.
"I never sang in the shower," Loesche says.
She sure sings now — at the weekly nondenominational chapel she also oversees and the monthly birthday celebrations at the senior retirement community where she lives.
"It's my life," says the 92-year-old, who's called The Country Club of La Cholla home for more than two decades.
Loesche discovered her gift, quite by accident, at age 70.
While making small talk one day with a professional pianist, the woman asked if Loesche sang. She had, but only with her high school choir in Illinois. With some coaxing, Loesche belted out the two songs she knew from back then: "Embraceable You" and "Ave Maria," in Latin.
"She said, 'My gosh, where have you been?'" Loesche recalls.
And so Loesche — who'd been a stay-at-home mom except for a stint in her 40s as a dog walker — began her true calling.
"I didn't even know I could sing," Loesche says with a shrug.
But Marna McKinney, that piano player, sure did. She mentored Loesche until she died in 2000.
"I didn't know anything about music," Loesche says. "I really was stupid about music. It didn't take me long to catch on. I learned — an old lady learned."
People — and that includes her accompanist of 17 years, Bob Wrenn — hear her and automatically assume she's a professional, with her strong breath control and ability to hold a note.
"At the end of the song, she loves to hold that note for a long time," says Wrenn, 82, a jazz musician and retired psychology professor. "Everybody just goes 'Oh and ah' and claps because she has an amazing strength. She can hold a note quite a long time."
Don't ask Loesche how she does it.
"I just do it," she says. "It just comes naturally."
Loesche considers her voice a gift.
"God has been so good to me. Of all the sadness I've had, he was getting me ready to have my good life."
She figures this is her reward for a tough childhood and the pain of outliving two of her three children as well as her second husband, Irving, who passed away in 2002 after nearly 50 years of marriage. She can't be anything but happy when she sings.
Loesche and Wrenn figure they've probably performed more than 400 songs at the birthday celebrations, mostly Big Band tunes and songs from '20s-'40s, although occasionally someone will throw a curveball and ask for John Denver or Elvis Presley. Loesche gets the list of monthly birthdays and calls all the residents, taking down their requests.
In the early days, she and Wrenn would practice, sometimes even over the phone, but these days, they've got it down.
The two recorded a CD together in 2003 and have had paid gigs in the past, but Loesche prefers to stick to volunteering at home.
"I'm in seventh heaven," she says. "I enjoy it so much. … I pray so diligently, 'Please let me sing as long as I live.'"
Contact Kristen Cook at
or 573-4194.
On Twitter: @kcookski
Be the first to know
Get local news delivered to your inbox!