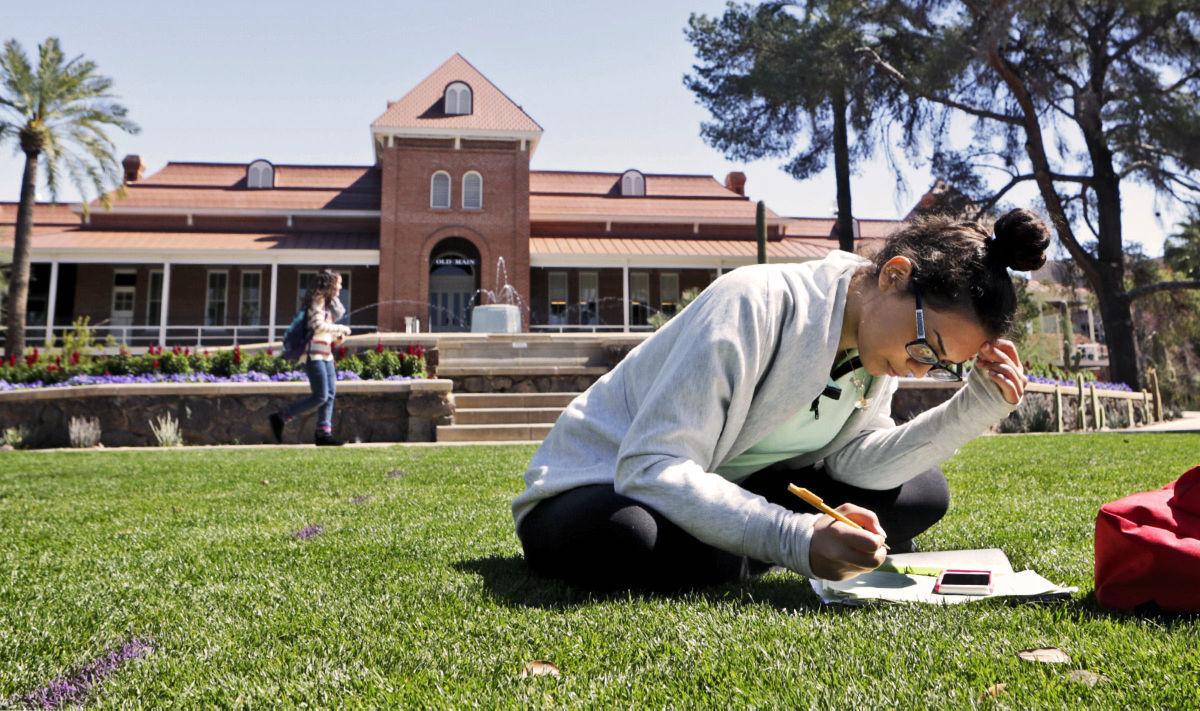 The problem of evictions in Pima County is so pronounced that a new civic-minded law course at the University of Arizona will focus on finding ways to prevent them, in a collaboration with Brigham Young University law students in Utah.
Attorney Stacy Butler developed the Innovation for Justice program at the UA's James E. Rogers College of Law, including the course of the same name that will focus on evictions this fall. The interdisciplinary course will have 12 students from law, public administration, sociology, public policy and other disciplines, all tackling an issue that contributes to homelessness and poverty in Tucson. Six BYU students will collaborate using video conferencing and tools like Google Drive and Slack, and the two teams will either develop one joint project, or two separate projects specific to their respective location.
"We feel like it's a pretty new idea," Butler said. "I'm not aware of other classes that have taken this approach of getting students in two different jurisdictions to work on the same issue."
Last year, there were more than 13,300 eviction actions filed in Pima County Consolidated Justice Court and in most cases, the court ruled in favor of the landlord. Less than 20 percent of tenants served with an eviction action even show up to court.
The potential solutions to ease the eviction problem will develop organically from students' research, observation of eviction proceedings and interviews with tenants, landlords, attorneys and judges, Butler said.
"This class is a big unknown in some ways," she said. "We go into it not knowing where students will take their project and where they'll land. That's a bit of a leap of faith from our schools, and our students, and the community members willing to participate."
But one of the goals will surely be engaging those who receive an eviction notice, and don't show up to court to fight it, she said.
"They figure, 'I don't have any money, so I'll just ignore this and move out,' " she said. "They disengage from the system."
The idea for the cross-state collaboration came about when Butler ran into BYU professor Kimball Dean Parker at a legal conference. Parker is director of LawX Legal Design Lab, which builds products and services for those who can't afford attorneys. The design lab course tackled the issue of debt collection last year.
Students sought to focus on "one area of the law that's especially full of people who cannot afford legal services and in one term, we'd try to build something for them," Parker said in an interview.
In Utah, there are 70,000 debt collection cases a year, and 99 percent of defendants do not get an attorney. Most don't even answer the complaint, so they automatically lose, Parker said.
Students created a software program called "SoloSuit" to make it easy for defendants to file a competent answer to the complaint filed against them.
"It's basically like TurboTax for answering a debt collection complaint," he said.
The program took off, getting a boost after it was featured in a story on National Public Radio, he said. The goal was for about 365 people to use the program in one year. But in just the last six months, more than 700 people have already used it, he said.
Parker told Butler about the success of the course when they met. And this year, the two universities are collaborating on a new legal topic, while recognizing that the solution their students come up with will be suited to their location's particular legal challenges and housing landscape.
"The effects of an eviction case are dramatically more severe than debt collection," Parker said. "If you lose a debt collection case, you'll have your wages garnished. If you have an eviction case, you're gonna be homeless in a lot of circumstances."
Not only will the Innovation for Justice program generate real-world solutions, the course will also expose students to the everyday hardships faced by many in the community, Butler said.
"The goal of using design thinking is to do empathy work and exploration first, so you come to a solution informed by your review of the current landscape," she said.
Contact reporter Emily Bregel at ebregel@tucson.com or 573-4233. On Twitter: @EmilyBregel.