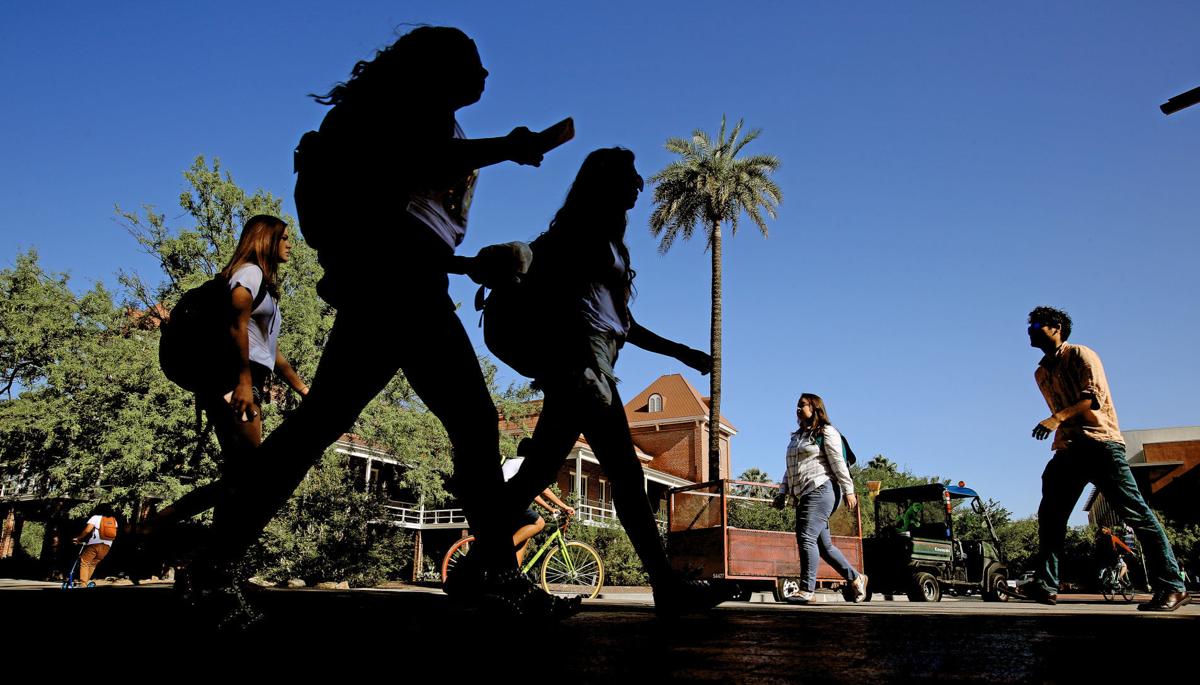 The University of Arizona is ranked 124th overall among the nation's top 300 colleges, falling behind Arizona State University, which moved up to 115th on the list, according to the newest U.S. News and World Report college rankings.
While the UA remained in the same overall position from last year's rankings, ASU jumped 14 spots for the 2018 list, which is now available online.
Princeton University was ranked No. 1 overall, followed by Harvard University. Yale University and the University of Chicago were tied for third place.
The magazine's rankings are determined by six weighted factors including outcomes, meaning retention rate and graduation rate, faculty resources, financial resources, expert opinion, student excellence and alumni giving.
The average first-year-student retention rate at the UA stayed at 81 percent. The graduation rate fell from 61 percent to 60 percent. The acceptance rate rose from 76 percent to 79 percent, and the percentage of alumni give stayed steady at 7 percent.
The retention rate at ASU rose from 84 percent to 86 percent, which is 5 percentage points higher than at the UA.
The graduation rate at ASU also rose, from 66 percent to 67 percent. The acceptance rate stayed steady at 83 percent, which is 4 percentage points higher than at the UA, and the percentage of alumni who give rose from 10 percent to 11 percent, 4 percentage points more than at the UA.
The UA is working to retain more freshmen, through numerous student success efforts, said Chris Sigurdson, the UA's vice president of communications. This includes tutoring intervention and using data to identify trends across campus.
"We saw that some students who made a C or B (in a class) still didn't have mastery and it hurt them later," Sigurdson said.
The UA also saw an increased score in peer assessment from 3.5 to 3.6 out of 5, which is determined by surveying presidents of other universities and accounts for nearly one-quarter of the scoring weight.
"That's good because that (score) is difficult to move," said Sigurdson.
ASU officials could not be reached for comment.
No specific ranking was given for Northern Arizona University, which fell somewhere between 231st and 300th the last two years.
Business programs
U.S. News also conducted a nationwide survey of undergraduate business school deans and senior faculty to list the highest-performing business programs accredited by the Association to Advance Collegiate Schools of Business.
The UA Eller College of Management slipped from 19th last year to 21st this year.
ASU's W.P. Carey School of Business in Tempe jumped from 27th on the list to 24th. NAU's Franke Business program was ranked 184th last year, but was bumped to 183rd this year.
UA's Eller was ranked third among the top five for management information systems programs. ASU's was ranked fourth among the top five schools for supply-chain-management/logistics programs.
The Wharton School of Pennsylvania business program ranked No. 1 this year, followed by the MIT Sloan School of Management and the University of California-Berkeley's Haas School of Business.
Engineering
U.S. News also ranks engineering programs accredited by the Accreditation Board of Engineering and Technology Inc., based on surveys of engineering deans and senior faculty.
The UA College of Engineering moved slightly up in ranking from 50th to 49th. ASU's Ira Fulton School of Engineering fell from 37th to 40th. NAU engineering jumped from 57th to 42nd.
The Harvey Mudd College department of engineering moved up a slot from last year to join the Rose-Hulman Institute of Technology in Indiana in the No. 1 slot which it has held for 19 consecutive years.
Contact Mikayla Mace at mmace@tucson.com or (520) 573-4158. On Twitter: @mikaylagram