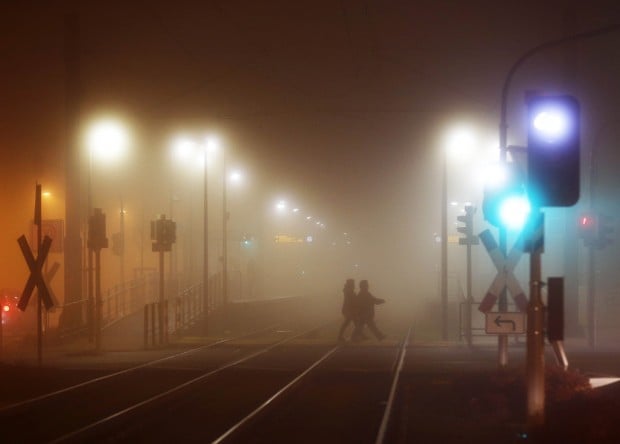 Warning: Don't wear uniforms off base
BERLIN - The U.S. military's European Command has warned troops stationed on the continent to avoid wearing military uniforms when off base. The advisory comes three weeks after two airmen were fatally shot at Frankfurt airport.
EUCOM spokesman John Tomassi said Thursday that the guidelines were aimed at keeping soldiers safe and that it would be up to each base's commander to put it into practice.
One of the airmen shot at Frankfurt airport on March 2 was in uniform, the other was not, but they were boarding a bus clearly marked with U.S. military plates.
Loyalists, reformers clash; 35 are injured
AMMAN - Protesters and supporters of Jordan's king clashed in the capital of Amman late Thursday, and about 35 people were hurt in one of the most violent incidents in three months of demonstrations.
About 2,000 Jordanians demanding government reforms joined an encampment at a central square. They were attacked by about 300 supporters of King Abdullah II, who threw rocks at the demonstrators, injuring some of them.
Leftist groups joined youths who demonstrated through the day to press demands for the ouster of the prime minister and wider public freedoms.
Gates, Buffett prod fat cats to pitch in
NEW DELHI - Billionaire philanthropists Bill Gates and Warren Buffett urged India's tycoons on Thursday to give up some of their newfound wealth to help the country's hundreds of millions of impoverished people.
Forbes counted 65 billionaires in India this year. And there were at least 126,700 Indians with at least $1 million in 2009, according to a study by Merrill Lynch and the Capgemini consulting firm.
But charitable giving in India has lagged, with individual and corporate donations making up only 10 percent of giving in 2009, compared with 75 percent in the U.S., according to a Bain & Company study last year.
5 officers detained after attack on teen
RIO DE JANEIRO - Five police officers were detained Thursday after Brazilian television released amateur video that shows officers repeatedly shooting a 14-year-old boy. The boy survived, but was seriously injured.
The attack in Manaus, capital of the northern state of Amazonas, took place Aug. 17, 2010, just outside the victim's house, lead prosecutor Joao Bosco Valente said. But the case didn't come to light until the video was broadcast by several television stations Wednesday night.
The boy's family, the man who shot the video and a reporter who first saw the footage did not report the alleged crime for fear of retaliation from the police, Valente said.
California activist will be deported
HANOI - An official said Vietnam will deport the last of three Vietnamese-American activists who participated in a protest in Ho Chi Minh City.
Foreign Ministry spokeswoman Nguyen Phuong Nga said Thursday the three were held for inciting others to disturb public order and security. They were detained after the March 14 protest over corruption and property rights.
Nguyen Ly Trong of San Bernardino, Calif., and Nguyen Quang Khanh of Centennial, Colo., have already been deported. Nga says Jennifer Truong of Fountain Valley, Calif., was to be deported later Thursday.
All are members of Viet Tan, a U.S.-based group also known as the Vietnam Reform Party which is banned in Vietnam.