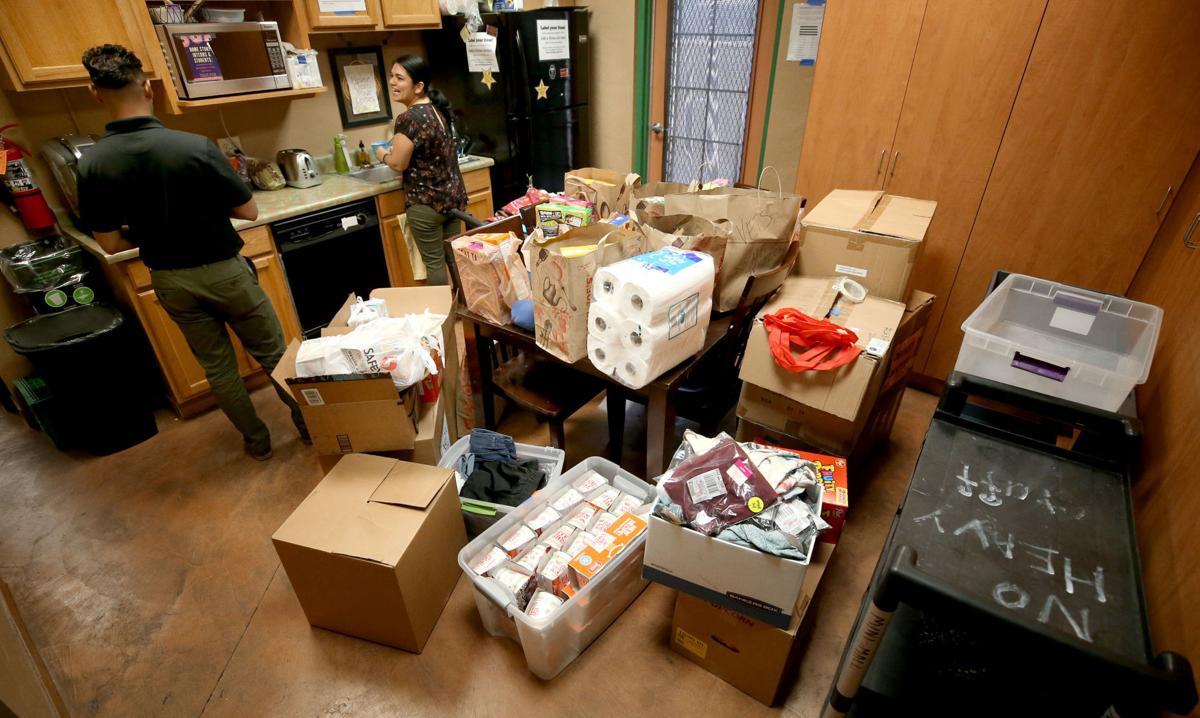 Work space for Youth On Their Own employees is disappearing under donation bags and supply stacks as the agency serves more than triple the number of teens it was helping seven years back.
The biggest boom has been in homeless middle-school students seeking help, a number that's more than doubled in Southern Arizona over the last three years, jumping from 11 students in fiscal year 2012 to 209 so far this fiscal year. Last year's total was 150.
Homeless teens of all ages coming to the agency grew from 492 in fiscal year 2010 to 1,611 in fiscal year 2017, the agency reports.
To make more space for donations and one-on-one services, Youth On Their Own is closing its thrift shop, Home Store, at 1660 N. Alvernon Way, on May 12. Home Store opened in 2015 and 36 students participated in internships there.
The non-profit's primary objective is to help homeless teens finish high school by providing food and other essentials, offering them guidance and referring them to other needed services.
Closing the thrift shop will provide more space for the teens to get their food, hygiene items, school supplies, clothing and other needs, said Nicola Hartmann, CEO of the agency. She hopes Youth On Their Own will eventually offer small household appliances and furniture.
Instead of Home Store internships, in the future Hartmann hopes the agency will provide the same opportunities closer to where the teens are staying or going to school.
"We're all really sad about the home store closing," she said. "It's been a place where the community gets to meet Youth On Their Own."
More ideas for expansion are being discussed, she said, so the agency can eventually offer showers and laundry facilities.
Hartmann said it's hard to say why the number of kids seeking help has increased so much.
"I am hoping it means that we are reaching more students, not that there are that many more out there," she said.
Schools are reaching out for help more often, she said, and her agency has also increased its staff and outreach efforts.
Some of the younger teens and preteens they see are in the foster care system, said Daniela Zasa, director of programs for Youth On Their Own. These kids might have a bed and meals at a group home or shelter, but still need clothing, school supplies and toiletries, she said.
The most common reason teens and pre-teens become homeless is because their parents abandoned them or there was a conflict, abuse or neglect that drove them away, data from the agency shows.
Other factors include parents abusing drugs or alcohol, incarceration of a parent, or parents disapproving of a teen's lifestyle including being gay or lesbian, transgender, sexually active or pregnant.
About 6 percent of teens helped by Youth On Their Own in fiscal year 2017 were homeless due to a parent being deported.
Poverty is the most common underlying cause, Hartmann said. Sometimes, she said, the family is so poor that teens are kicked out to fend for themselves because there's not enough food or money to support them anymore.
Zasa, a former teacher, said the teens she's met at Youth On Their Own are often very determined to get through school despite their struggles.
"They had a raw deal, but they are still really hopeful," she said. "It's really inspiring."