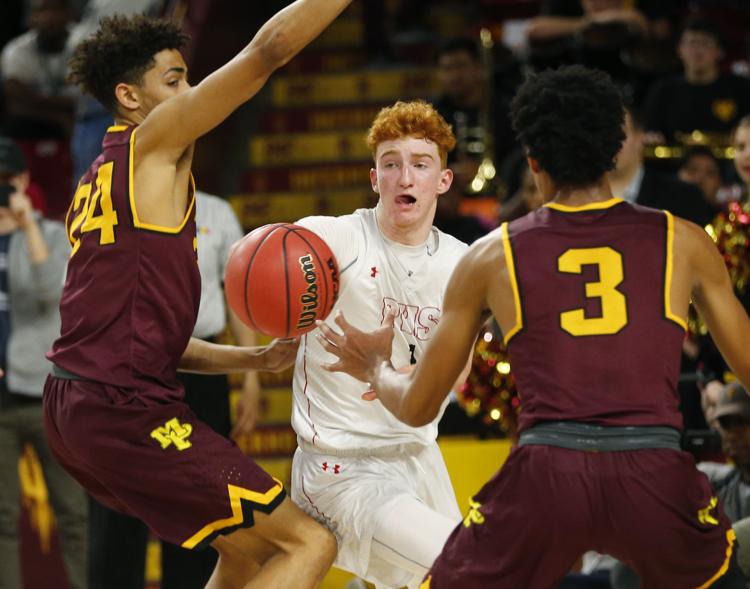 Arizona hasn't really been "Point Guard U" since the back-to-back-to-back days of Mike Bibby, Jason Terry and Jason Gardner.
Since then, the only true point guards to make the All-Pac-12 first team were Nic Wise in 2010, Mark Lyons in 2012 and T.J. McConnell in 2015.
But Friday's decision by Phoenix mega-recruit Nico Mannion to play for Arizona in 2019-20 should energize "Point Guard U" declarations.
The most head-shaking variable to Mannion's recruitment is that he did not seriously consider hometown Arizona State, coached by Mr. Point Guard, Bobby Hurley. How do you figure that? The Devils say they're "Guard U," right?
Mannion follows Phoenix-area point guards Bibby and Jerryd Bayless to the UA. That's quite a series of recruiting coups. It's odd, though, that if you compare their NBA careers, former Pueblo High School point guard Fat Lever, who played for ASU after virtually being ignored by UA coach Fred Snowden, had an NBA career that far surpasses that of Bayless, and, in many ways is superior to Bibby's NBA career.
Lever was a two-time NBA All-Star whose jersey was retired by the Denver Nuggets. Bibby earned more than $100 million over 14 NBA seasons, but shockingly did not make an NBA All-Star team. Moreover, Lever averaged 13.9 points and Bibby 14.7, but Lever was a greater assist man than Bibby (6.2 per game compared to 5.5 per game) and Lever had 1,666 steals, compared to 1,172 by Bibby, who played 249 more games.