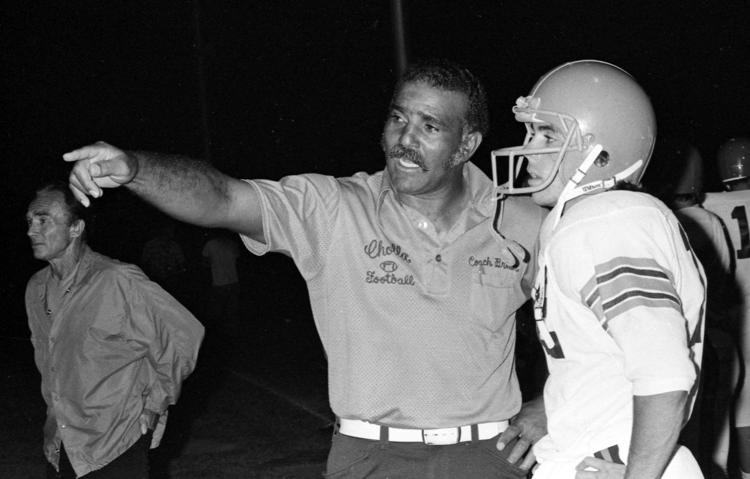 Dec. 17, 1968: Cholla's Ed Brown becomes Tucson's first African-American head coach
Ed Brown was one of three African-Americans in the 1950 graduating class of 1,400 at his Colorado Springs high school, a two-way football player, guard and linebacker, with major-college ability.
But no one recruited Brown. He joined the Marine Corps and soon found himself playing on the San Diego Marine Recruiting Depot team, making the All-Service teams of 1951 and 1952.
Along the way, he played football with Joe Stribling, who had been a standout under coach Warren Woodson at Hardin-Simmons University.
Stribling wrote a letter to Woodson, then the head coach at Arizona, telling him about Brown. Without seeing Brown play, without meeting him in person, Woodson offered Brown a spot on the UA's 1954 football team.
"I had finished a year in Korea and moved to Tucson," Brown told me at a 1988 roast in his honor at the Hilton Tucson East hotel. "There was only one other black football player. That's the way I grew up in Colorado Springs. I could handle it."
From 1954 to 1957, Brown was a three-time All-Border Conference guard and linebacker at Arizona. At 6 feet 2 inches and 210 pounds, he played every down during the 1956 and 1957 seasons.
"He was quick, strong, intelligent and maybe the hardest worker I ever saw," Woodson said in 1988. "He was a wonderful human being."
After graduating from the UA — Brown was the school's Outstanding Senior Athlete in 1957 — he was hired by Pueblo High School to be a teacher and assistant coach in football and track. He remained at Pueblo for 10 years; no African-American had ever been the head coach at a school in Southern Arizona.
Finally, when Cholla and Santa Rita high schools were completed for the 1969 school year, Brown was given a choice to be the head football coach at either. After he chose to stay close to Pueblo and be the Chargers' first coach, UA athletic director Dick Clausen phoned and asked if Brown would meet him on campus at Bear Down Gym.
"I offered Ed the head track and field coaching job," Clausen told me in 1998. "He would've been the first black head coach of any sport in Division I. That's how much I thought of him."
Brown chose to stay at Cholla.
"I had to think first of our three children and what it would mean to them if I had to be away from home (to do) so much recruiting," Brown said in 1975. "I did what I thought best for my family."
Brown coached 20 football seasons at Cholla, a school that rarely had enough talent to challenge for championships. His teams were 91-98-2. After an 8-3 season, he was selected as the Star's 1980 Coach of the Year.
A photograph of that year's All-Tucson team reflects the change that had taken place in Brown's first 11 seasons at Cholla. The team included six African-American players: Sunnyside's Fred Sims, Ron Barrow and David Adams; Cholla's Vance Johnson; Salpointe's Jay Williams and Sahuaro's Skip Peete.
Johnson, who became an All-Pac-10 running back at Arizona and played in three Super Bowls for the Denver Broncos, returned to Tucson for Brown's 1988 roast. He presented him with his Broncos' jersey, No. 82, and told the audience, "I consider Coach Brown a second father; he kicked me off the football team one year, and he kicked me off the track team one year, but he was fair to everybody. I love him."
Brown was born in Mississippi in 1932 and soon moved to a segregated neighborhood in Colorado Springs. It probably wasn't much different than racially divided Tucson of the 1930s, '40s and '50s.
Brown made the best of it. In 1975, he wrote a guest column for the Tucson Citizen. He talked about his schoolboy days in Colorado.
"I was a cocky freshman with a number of undesirable characteristics," he wrote. "Then one day my high school coach took me into his office after practice and told me the facts of life. He really gave me a talking-to. But I'll never forget it.
"For once there was someone outside my family who gave a darn about me."
In June of 1988, after he retired from coaching, TUSD named the Cholla High football field Ed Brown Stadium.
Where are they now: Brown died of leukemia in 2012. He was 80. He was inducted into the Pima County Sports Hall of Fame in 1992 and the UA Sports Hall of Fame in 1997.
How he did it: Jerry Gastellum, who was the athletic director at Cholla, among other TUSD schools and a Pac-12 football referee, told the Star: "There has never been a greater man to work with students, not just athletes."
---
Photo: Cholla High School football coach Ed Brown, left, talks to a player during a game against Salpointe Catholic High School on Oct. 14, 1977. Photo by P.K. Weis / Tucson Citizen