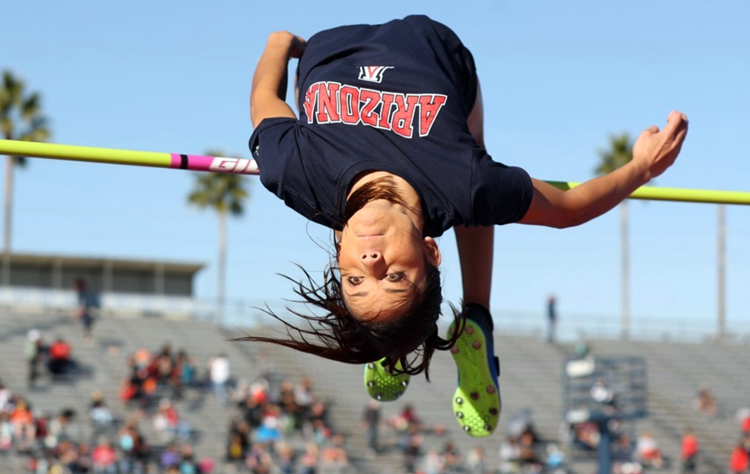 The details: Teran is a sophomore high jumper from Nogales, Sonora. She emerged as one of the Wildcats' most talented performers as a true freshman. Before she came to Arizona, Teran graduated from Colegio de Bachilleres del Estado de Sonora and competed for Team Mexico's Track and Field team at the 2016 IAAF World U20 Championships in Poland, where she came in seventh in the high jump with a mark of 1.77 meters.
The numbers: Between indoor and outdoor competition and including the NCAA Championships, Teran competed in 10 events as a freshman and acquitted herself well in most of them. Teran didn't win any events, but much of that was because of her talented teammate, senior Lisanne Hagens, who was dominant this past season for the Wildcats. Teran finished in second four times and third twice.
The value: With the duo of Teran and Hagens returning this season, the Wildcats are poised to have one of the best high-jumping duos in the nation, with both of them legitimate All-American contenders after impressive performances last year. Arizona hasn't performed quite as well as a team in the last couple of years, but should get back on track next season with Teran and Hagen.
"My goals and expectations for next season are to qualify for NCAA championships and be able to be in the podium in both competitions, Pac-12 and NCAAs," Teran said.
Why Teran? As a true freshman, Teran was already one of Arizona track's best athletes, and UA coach Fred Harvey will look for Teran to continue to improve her best marks. If Teran progresses as expected, the Wildcats will be in good hands in the high jump when Hagens runs out of eligibility after next season.
Proof she's good: As a freshman, Teran was an honorable mention All-American and earned a runner-up finish — to Hagens — at the Pac-12 Championships, making her the first UA freshman since Erin Aldrich in 1997 to finish in the top two in the conference championships. She also cleared 5 feet, 8 inches or better three times, and her personal-best clearance of 5-10 came at the Horned Frog Invitational on April 15.
Teran went into the end of the NCAA West Prelims in a seven-way tie for 11th place, and proceeded to earn the 12th and final spot to the NCAA Championships by clearing 5-9¾.
After, Harvey said "I'm really excited about Karla getting that final spot. She was nails in the jump-off."
What Teran can accomplish: She has the ability to rise from honorable mention All-America to full-blown All-American if she keeps improving. With Hagens around, Teran is unlikely to win a conference or NCAA title, but it's conceivable that she finishes near her teammate all season.
She said it: "It was a wonderful experience to compete at Pac-12s and win second place in the high jump.
"That was my first time competing at the Haw-yard Field, and I'm glad it went well. Also, being able to participate at NCAA Championships was an exciting experience. I'm glad I qualified to NCAA nationals because it was a great experience for me as a freshman."
---
How Teran performed: Teran placed second in the Jim Click Shootout (1.75 meters) and the Desert Heat Classic (1.79 meters).