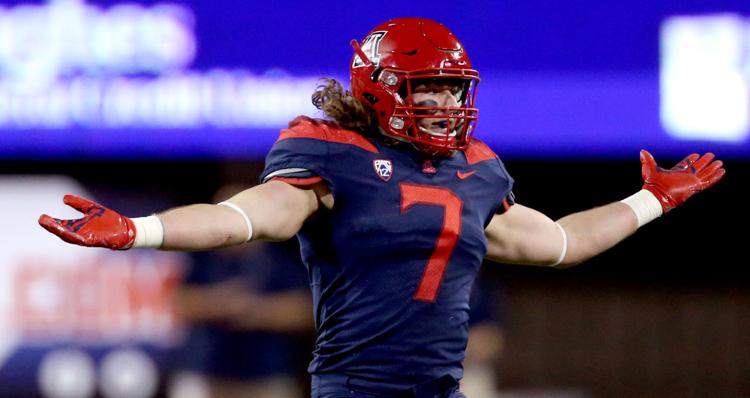 Ht/Wt/Yr: 6-0, 226, sophomore
Comment: The quarterback of the defense gets the nod.
But Schooler's role goes far beyond getting his teammates properly aligned. From the moment he started to get meaningful playing time, Schooler proved to be a playmaker.
Schooler ranked second on the team in tackles with 95, including a team-best 67 solos. He also had four sacks, two interceptions (one of which he returned for a touchdown) and a forced fumble.
Those numbers and accomplishments earned Schooler Pac-12 Defensive Freshman of the Year honors, as well as numerous Freshman All-American accolades. If he continues to improve, he'll win even bigger awards.
Perhaps because he used to be a running back, Schooler simply possesses a knack for tracking down ball-carriers. His ability to read plays and anticipate where the ball is going is top notch and should only sharpen in time. It also stands to reason that Schooler will get stronger with a full offseason in the UA weight program.
Schooler would be the first to tell you that you can always get better. It's hard to find fault with anything he did last year, but Schooler could stand to improve his conditioning. He looked a little fatigued at times, a byproduct of playing too many snaps. Then again, when you're as productive as Schooler, it's easy to understand why the coaches didn't want to sub him out.
Schooler also wasn't as vocal at the outset as then-linebackers coach Scott Boone wanted him to be. It's not easy to take over when you're a true freshman. Schooler should feel much more comfortable in that role as a sophomore. He'll be the on-field spokesman for defensive coordinator Marcel Yates, who's now coaching the linebackers.
Schooler isn't quite on Tate's level as far as irreplaceability, but Schooler isn't far off. His projected backup is redshirt sophomore Jacob Colacion, who played in all 13 games last season but has zero career starts. Linebacker is among Arizona's thinnest positions.
As long as Schooler stays healthy, the Wildcats should be fine. If he were to miss any extended action, they'd learn quickly just how valuable he is.