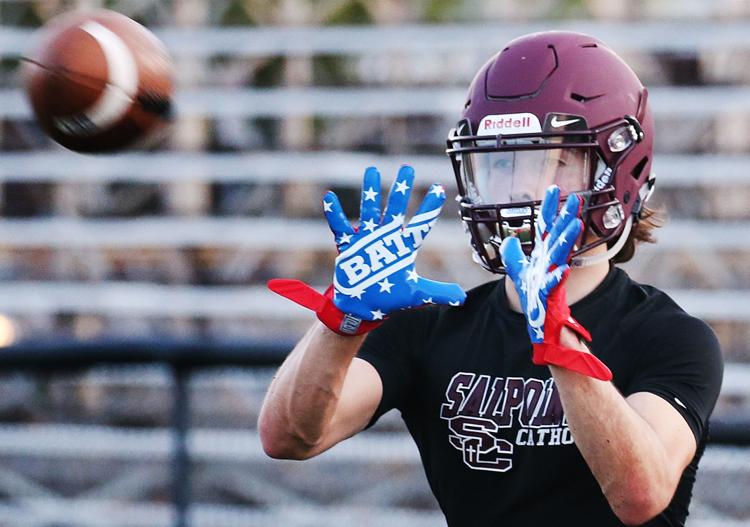 The rundown: Padilla is a 5-foot-9, 175-pound senior at Salpointe Catholic.
Who he is: No player on Salpointe's roster has more experience on the varsity level than Padilla. Not even junior standouts Bijan Robinson and Lathan Ransom, who combined have scholarship offers from Alabama, Georgia, Washington, USC, Nebraska and Oklahoma.
Padilla is arguably Salpointe Catholic's most valuable player, and gets the job done at multiple positions: running back, slot receiver, defensive back and punter. Entering his third year as the starter, Padilla's journey at the varsity level still leaves him speechless.
"It's been fantastic and there's just not any words to describe it," Padilla said.
With Ransom playing primarily defense and Robinson strictly focusing on playing running back, Padilla is expected to be Dennis Bene's utility player and rarely come off the field.
As a sophomore in 2016, Padilla led the Lancers in rushing with 1,427 yards and 18 touchdowns while averaging 7.8 yards per carry. As a receiver, he finished third on the team with 211 yards that year. With special teams yards added, he led the team in 2016 with 2,051. The second-highest player on the team in that category finished with 757 yards.
Last season, Padilla was out for four games recovering from a knee injury, but still helped Salpointe reach the Class 4A state championship against Scottsdale Saguaro. Another year older and healthier bodes well for Padilla and the Lancer offense.
Proof he's good: Despite missing the first month of the Lancers' schedule, Padilla still finished second on the team in all-purpose yards with 1,188. Padilla missed four games and was one of two Lancers to finish with more than 1,000 yards, joining Robinson.
Padilla also wrapped up his last year with Tucson Turf Elite, a nationally ranked 7-on-7 team based in the Old Pueblo, and was one of the star players that lifted the team to a Pylon national championship at the new Mercedes-Benz Stadium in Atlanta.
Padilla played a prominent role as a slot receiver and won his second national title in a row at the 7-on-7 level. The year prior, Tucson Turf Elite won the Pylon national championship at AT&T Stadium in Arlington, Texas.
He said it: "Last year, Mario played his best football towards end of the season especially in playoffs. And that carried over, because this has been the best spring he's ever had. He's practicing harder than I've ever seen him practice and has a focus, has intensity and finishes all of the drills and reps. He acts like a senior and plays like a senior. And he commands our team.
"To be honest, there may be guys that are bigger and more athletic, but it would be hard to press an all-around better football player in Southern Arizona than Mario. That guy can do it all." — Bene