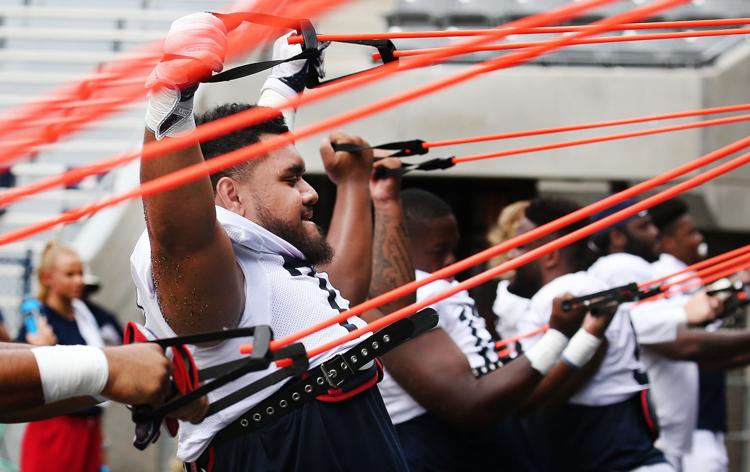 Looking for something, or someone, to root for during this trying start to the Arizona football season? Look no further than Wildcats defensive tackle Abraham Maiava.
Like older brother and former UA offensive lineman Lene Maiava, Abraham came to the United States from American Samoa to pursue his football dreams.
Unlike Lene, Abraham did not take a direct route from Fagatogo to Tucson. The younger Maiava is a walk-on who played two seasons at the New Mexico Military Institute. He made the UA roster last year through a tryout — after a year out of football rehabbing a torn ACL.
"I just didn't know where to go from there. I was kinda lost," Maiava said this week. "Luckily, God stuck by me. He gave me all sorts of opportunities, which led me here."
To help make ends meet, Maiva got a job loading and unloading luggage at Tucson International Airport. He still works there part time, usually on Friday, Saturday and Sunday nights.
He's kinda busy on Friday and Saturday nights during the football season. Fortunately, his sister, Nerisa, is able to take some of his shifts. After Arizona faces Southern Utah on Saturday night, Maiava will be on the job at 5 p.m. Sunday, toiling until about 1 a.m. Then his weekly grind — school/football/work — starts anew.
Maiava views it all as a "blessing."
"Coming from a small island, we didn't really have much resources," he said. "All we had was family and faith."
Like his older brother, Maiava played offensive line in high school. But Abraham, at 6-2, didn't have Lene's height (6-5) or growth potential. The best he could do was a military junior college in Roswell.
Toward the end of his JC career, Maiava hurt his knee. He had a handful of offers from FCS schools but didn't take them.
UA analyst Davy Gnodle, who has deep ties in the Polynesian community, invited Maiava to walk-on tryouts. He made the squad and served as one of Arizona's top scout-team offensive linemen last season.
Maiava switched positions after the UA changed coaching staffs. He knew new defensive line coach Iona Uiagalelei was Polynesian. Maiava had to play for him.
Maiava entered the season buried on the depth chart. But hard work and injuries to others created an unforeseen opportunity. Maiava played 30-plus snaps last week at Houston, recording three tackles.
"I was really nervous," Maiava said. "It was my first game in a long time, especially on this big stage.
"But the guys really helped me get through it. They just said, play your first snap and all the nerves will go away. Plus, our motto for that game was just do your job. That's what I decided to do."
Maiava played with the scrappiness one would expect from a walk-on trying to keep his spot on the team – or, if things really work out, earn a scholarship.
"It's motivation for all of the walk-ons here at U of A, especially myself, having to still work at the airport and do this," Maiava said. "I just thank God for the strength that he's been giving me."