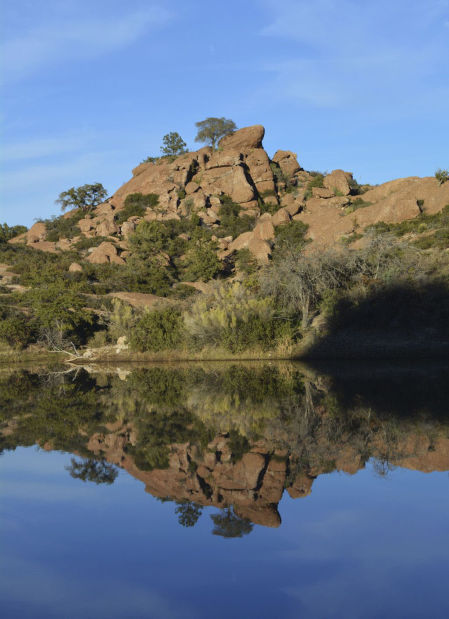 Is McConnell turning blue?
Re: the April 6 article "After Ga. law, McConnell warns CEOs to 'stay out of politics'."
This is a most welcome statement in support of repealing Citizens United. We need to keep corporate money out of politics, including lobbying. I implore corporations to keep your money out of politics and certainly away from Sen. Mitch McConnell.
Bottom line for Santa Ritas
Re: the April 10 article "Don't let Hudbay destroy even more of the Santa Ritas."
"The bottom line" is a phrase used to describe costs/profits of businesses, but like every other human expression, it is inserted where those writing the narrative want it. The recent guest opinion article concerning the greed and arrogance of Hudbay Minerals' attempt to ravage the Santa Rita Mountains, rightfully points out their shallow attempt to appeal to green-energy values. The fact is that in our capitalist system, the true cost of decimating resources is never factored in accurately. Short-term profit is the goal and long-term, real costs are ignored. Natural habitat will be pulverized. Water will evaporate. Human quality of life will shrivel. Prove me wrong.
The real bottom line is that continued exploitation of the planet with little or no regard for the overall cost to earthly lifeforms will ultimately lead to an organic bankruptcy from which we will never emerge.
Economic migrants
Do you believe that "migrating to our country because of poverty" is not a valid reason to come to the United States? For centuries humans have come here because of poverty and persecution and in some cases torture (the Nazi regime, the Argentina regime of the '70s) on the basis race, religion, sexual orientation, and political opinion. Really, it is my thought that very few came here because they were rich. Migrants can be productive citizens and still speak their native language. If they have the desire to learn ours, they can, if they are not overworked, underpaid, tired and struggling to keep afloat in our economy.
Tote the note
Most professionals carry business insurance policies. Liability, errors and omissions, malpractice or blanket policies are commonly acquired. If a professional engages in activity that results in claims being filed, the premiums increase to offset the insurance company's perceived risk. If a claim is awarded, the policyholder is insured under a higher risk pool of similar policyholders. Medical personnel, lawyers, accountants, enrolled agents/actuaries and other professionals often carry their own insurance. If the insured is moved into a risk pool that is high enough, they may be priced out of the market and leave their field of endeavor. If police officers were required to pay for their own insurance, would that eventually eliminate marginal officers? Should not police be treated as professionals in all aspects of their careers?
Supporting HR 2307
Re: the April 6 article "Lessons from COVID could help with the climate."
This guest editorial was spot-on: Government and private enterprise working together can bring rapid change. Let government place a rising fee on carbon emissions and the private sector will find creative ways to reduce those emissions. A bill to do this is in the House.
H.R. 2307 places a rising fee on carbon, returns the proceeds to American families, and requires imports to pay the same fee. Analysis shows carbon emissions declining by 30% in five years and reaching net zero by 2050 — all while improving health, creating new jobs, and growing the economy.
Already supported by scientists, economists and the business community, it now needs Representatives Grijalva, Kirkpatrick, and O'Halleran to become co-sponsors. It isn't all we must do but the free market is the quickest, strongest and most durable force we have. We need to let it go to work.
Biden's migrant deal
Biden has reportedly struck deals with Mexico, Guatemala and Honduras to deploy their security forces to stem the surge of people headed for America. White House press secretary Jen Psaki said that "Mexico will maintain a deployment of about 10,000 troops, while Guatemala has surged 1,500 police and military personnel to its southern border and Honduras deployed 7,000 police and military to its border to disperse a large contingent of migrants there." Trump had done "asylum" deals with these countries that ended the flood of Central Americans coming here in 2019, over 800,000. Biden immediately terminated those agreements and the flood resumed, 170,000 last month alone. Now Biden has reportedly done new deals with these same countries involving the use of police and military personnel to stop people from leaving or entering their country. How humane. Respected former Defense Secretary Robert Gates was right in saying Biden "had been wrong on nearly every major foreign policy and national security issue over the past four decades."
Filibuster made to support slavery
As an honor student in history, we were required to learn the Constitution. Calling myself an "honor student" indeed dates me. There have been many iterations of that title over the years.
We had a great deal less history to learn back then. Instruction was much more inclusive and instructive. Unfortunately, today, in a rush to educate (I use that word loosely), much has been eliminated from the curriculum.
We learned of the fundamental ideals of the primary political parties. We were taught that the ideas began to metamorphosize, with Democrats and Republicans changing standards and fundamental beliefs. Southern white Democrats, believing in protecting slavery, declared "States' Rights," resulting in a Civil War, the result being a victory and the beginning of eliminating indebted servitude. We learned to compromise.
You know that it's been many years since 1865, and it's still not resolved. The filibuster was devised by Congress to keep slavery, period, and not to promote the bipartisanship that Senators Kyrsten Sinema and Joe Manchin seek.
Cure for climate
Re: the April 6 article "Lessons from COVID could help with the climate."
I found this opinion particularly interesting because I'm currently reading "How to Avoid a Climate Disaster" by legendary businessman Bill Gates.
Gates recognizes that, like COVID, climate change is a worldwide affliction that threatens everyone, everywhere. He understands the need for a globally fair and fast policy for reducing carbon emissions.
Bill Gates embraces the powerful economic tool of "carbon pricing" because of it's positive potential for both the economy and the environment.
"Carbon fee and dividend" bills, like H.R. 2307, can provide an estimated 70% of American households with payments to offset rising fossil fuel prices, while folks like Mr. Gates (who describes his own carbon footprint as "astronomical") will bear a proportionately higher financial responsibility!
We need a "warp speed" cure for climate change. Please ask Senators Sinema and Kelly, Representatives Grijalva, Kirkpatrick and O'Halleran to co-sponsor H.R. 2307.
Differing ideas on governing
Re: the April 13 article "Flush with cash, lawmakers contemplate a flat tax."
Reading this article, one would think that there are no Democrats in the state Legislature. Actually, of 60 House members, 29 are Democrats. Of 30 Senate members, 14 are Democrats. With a compliant and complicit Republican governor, the Republican majority in both houses pretty much does what they want. Perhaps that's the reporter neglects to cover Democrats' positions on the many issues surrounding a flat tax proposal. But it does a terrible disservice to our democracy for the press to fail to inform the voting public that not only is there more than one party representing us in the Capitol, but that they have other ideas on how to govern and how to spend our tax dollars.
Give Biden time
A recent writer claimed that owning guns is one of our many "absolute" rights as an argument against President Biden's position. He cites the women's right to vote and the rights against unreasonable search and seizure as other examples. But the very fact that the search and seizure policy is qualified by "unreasonable" says it is not absolute. Also, women under 18, with felony convictions, immigrants, and if the Georgia legislature has its way, women of color are denied the right to vote.
The obvious dangers of gun ownership call for a balance between rights and safety. Let's give our president a chance to find that balance.
No jobs on dead planet
Superior's Mayor Mila Besich has publicly favored dollars over people and health, in her campaign to bring a catastrophic mining project to Oak Flat. Joining John McCain and (former mining lobbyist) Jeff Flake, Besich believes that Resolution Copper's campaign contributions and the lure of short term profits justify permanently destroying vast amounts of land and water in Southern Arizona.
If built, the Resolution Copper mine would be the largest in North America. It would consume as much water as the City of Tempe daily. The waste tailings would create a toxic time bomb that would contaminate the Gila River watershed.
Oak Flat is also a sacred site the to Apache people. They are camped there today to protect it, as the loss of that place would do irreparable harm to their religion.
The Save Oak Flat Act would subject the project to proper administrative review. Real leaders should support it.