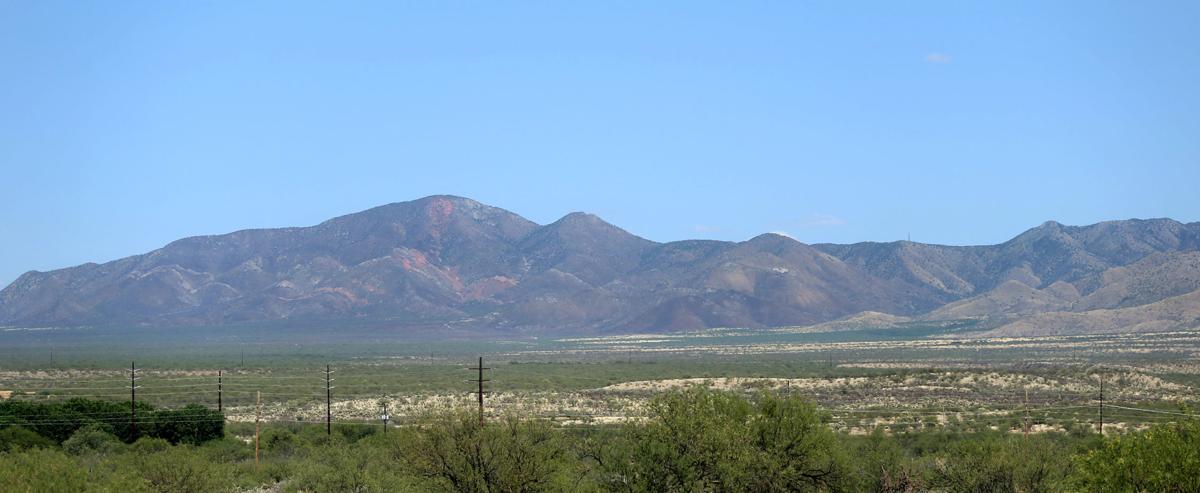 No mining, please, in the Santa Ritas
Re: the April 1 article "Hudbay eyes Santa Ritas' west slope for open-pit copper sites."
It is alarming to hear that the Canadian mining company Hudbay Minerals, formerly Rosemont, is now interested in mining on the west side of the Santa Rita Mountains. I know that they have deep wells on Sahuarita Road from which they have been planning to pump water over the mountains to the east side. I understand that their activities would both deplete the aquifer and contaminate the water flowing into the Cienega Basin and then into the Tucson Basin.
If they also mine on the west side, they would certainly be using even more of our precious groundwater, and/or CAP water. In Southern Arizona, water is a far more important resource than copper. No mining should be permitted in the Santa Rita Mountains.
'For the People Act' increases fraud risk
We need legislation to make sure every eligible individual can vote and his or her vote isn't stolen or diluted through fraud. The "For the People Act" (S. 1) enables and increases fraud.
S. 1 sabotages state voter ID laws, which now thwart impersonation and voter registration fraud, duplicate voting and voting by ineligible individuals. Under S. 1, anyone could claim to be who they say there and coupled with same-day voter registration opens the door for massive fraud.
S. 1 requires automatically registering individuals to vote who partake in government programs such as welfare or getting a driver's license. S. 1 automatically enrolls voters and limits states' ability to verify eligible voters or remove ineligible voters from registration rolls.
Sometimes legislation is bad policy, unnecessary or unconstitutional. "For The People Act" has all three aspects. I urge Sens. Kyrsten Sinema and Mark Kelley to reject this bill.
Let religious liberty triumph over greed
The San Carlos Apache Tribe considers Oak Flat in the Tonto National Forest a sacred site. Why would anyone take historical land from the Apaches that is considered sacred and prevent Native Americans from worshipping and give it to a Canadian company that would obliterate the site?
Resolution Copper has a habit of choosing land that is scenic, home to many species or that is sacred to native tribes. Just leave as it and let religious freedom prevail over greed. According to mining specialists, Arizona is laden with rich deposits of copper and other minerals. Surely there are other sites that are less controversial and won't trample the religious rights of indigenous people.
I hope that our senators can help in this struggle and support the Apaches.
Unvaccinated have made their choice
Like a third of Pima County adult residents, I'm fully vaccinated, but out respect for others while vaccine supplies were limited to those of higher priority, I've been wearing a mask and observing other protocols.
The Star daily dashboard of COVID impact in our state and county for May 13 reports no cases and no deaths in Pima County. While accounting for disruptions in reporting and acknowledging that moving averages provide more insight, this is pretty darn good news.
At this point in our battle I feel comfortable that the unvaccinated have made their personal health choices, so I'm resuming my pre-COVID lifestyle. I wish the unvaccinated good health while in no way advocating that Pima should not aggressively continue vaccination efforts among the uninformed or leery, but I'm out of the closet.
Too much uncertainty in teacher amendment
Re: the May 6 article "Bill takes aim at differing views."
As a former teacher, I am dismayed by the amendment to Senate Bill 1532 that recently passed the Arizona House of Representatives on a party-line vote. Under the "Unbiased Teaching Act," teachers can be fined up to $5,000 if they discuss a "controversial" issue of public policy or social affairs and give "deference to any one perspective." But who determines if an issue is controversial? According to Rep. Michelle Udall, R-Mesa, who chairs the House Education Committee, the Holocaust would not be considered controversial because it's an established historical event. That's a relief.
But what about climate change? And what about the results of the 2020 presidential election? Would the views of climate change deniers and the Republicans pushing for an audit of Maricopa County's election results be given the same weight as evidence-based authorities? I urge readers to contact their state senators and Gov. Doug Ducey and express their opposition to this amendment.
Biden administration ignored the science
For over a year, the CDC has said that mask-wearing indoors was necessary to stop the spread of COVID. That made sense until millions of Americans received the vaccines. The CDC directive should have been rescinded a couple months ago.
People like Joe Biden and Kamala Harris sent the wrong message by continuing to wear masks indoors and outdoors after receiving their vaccines back in January. People were asking themselves why get vaccinated if they still had to mask up. The science was clear that if vaccinated, people had a small chance of spreading or contracting COVID.
Yet the CDC and the Biden administration ignored that science. Now the CDC has reversed course on some indoor and outdoor mask wearing. Vaccinated people were doing acts of civil disobedience anyway by ignoring the mask mandates, knowing they were long past being necessary. Some declined to get the vaccines as thinking what was the point if having to mask up anyway.
Willing to provide proof of vaccination
Most of us have been carded for various reasons. I still get carded at Walgreens for alcohol and I am in my 70s. So, if CDC wants to go no-mask to totally COVID vaccinated people then let's use the same standards that have been in place for purchasing alcohol and insist on proof of vaccination to enter any business.
If businesses I frequent don't require either a mask, or validation of full vaccination, I'm doing business with those that do and I hope you do the same. Why reward those that choose to not mask up and get vaccinated!
RTA plan should address emissions
Transportation is the No. 1 contributor of greenhouse gas emissions nationwide, according to the Environmental Protection Agency. That is why it is especially curious that the Pima Association of Governments fails to address the climate crisis, even indirectly, in its Regional Transportation Authority five-year Transportation Improvement Plan.
This plan should include analysis and prioritization of climate change mitigation and adaption rather than just the mandated air quality review. The carbon emissions associated with particular projects should weigh heavily in which projects are funded and which are not. It should not be about building to maximize growth.
Those projects with the most significant emissions should be modified or scrapped. We simply cannot afford business as usual. The climate crisis is costing us every day relative to our health and welfare and certainly the future of our communities. It is time for a plan that reflects that reality.
Vaccinated-only hours work for me
Instead of early-bird special hours, how about vaccinated-only hours? That would appeal to this oldster, and get me back in a restaurant sooner than later.
Measure could work in teachers' favor
This is my 11th year teaching. I know many teachers may be upset about SB 1532. I am not. In fact, as an advocate for diversity in education, I'm thrilled.
This bill, if passed, will make it a requirement for teachers to teach both sides of controversial issues, or face a $5,000 fine.
Think about what this means! If you are a parent or a student, say, passionate about the 1619 Project, or a parent or a student who believes that Westward Expansion also needs to taught from the perspectives of the massacred natives, or a parent or a student who believes the opening words from the Declaration of Independence, all men are created equal, should also be taught alongside Abigail Adams' desperate pleas to "remember the ladies," then you have just been handed a powerful new weapon.