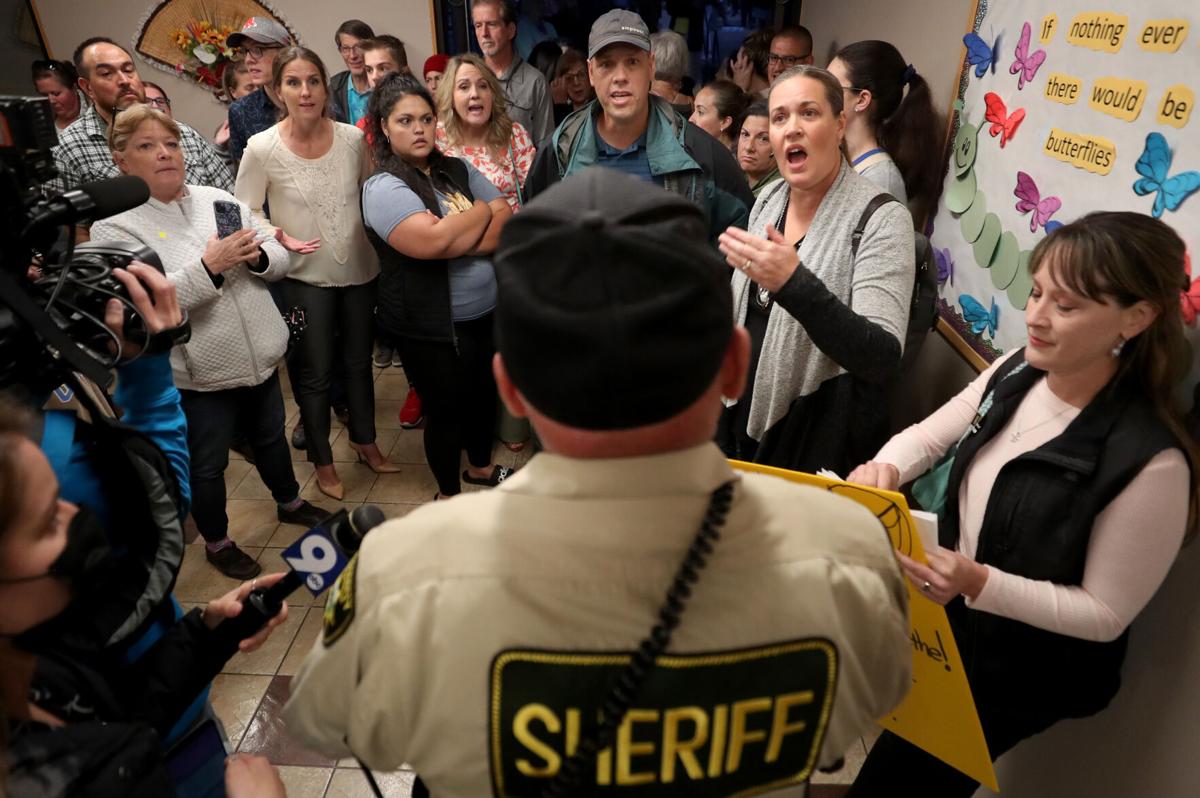 COVID treatment and vaccine
Starting in 2020 and continuing, the voluntary suspension of COVID deductibles by insurance companies is being quietly lifted.
You can either get a vaccine for free, or pay the bill when you get sick with COVID. If this doesn't motivate you to be vaccinated, then I wish you the best of luck dealing with insurance companies. By the end of summer, this will be the biggest motivator for the hesitant to get a shot.
Thuggery in Vail
Re: the April 29 article "Protesters force school board to cancel meeting."
The mob that descended upon the Vail School Board meeting in order to disrupt the proceedings showed all the reasons why Trumpism is (and will always be) dangerous. Dishonesty, disinformation and a disregard for rules were all on display.
That a few hundred people (some not from the school district or even Pima County) felt they could disrupt a meeting, overturn the elected Board (in an election in which 74,000 people participated) and then name their own Board in a shouting match made a mockery of democracy.
Their presumption that chaos, ignorance, bluster and intimidation are more important than health science, pursuit of the common good, decency and respect for orderly governance seems all too familiar.
Prosecute the leaders of this mini-insurrection if possible, or shame them, but do not tolerate thuggery as an acceptable form of protest. These actions are the antithesis of patriotism.
COVID vaccine momentum
The Arizona Department of Health Services tweeted Sunday, May 1, that more than half of Arizonans 16 and older have received at least one dose of a COVID-19 vaccine. This is great news for the state. But we have to keep the momentum going.
Looking around the world, India and Brazil, for example, are in a terrible struggle, but Israel's rapid campaign has driven its cases down. They are three reminders to us to maintain the demand and keep pushing the vaccination rate up.
As more of us get our vaccines, not only will Arizona and the U.S. be able to avoid further devastation, we will be able to leverage our economic recovery from this. Additionally, we'll be better able to assist countries still being ravaged, as we have in previous pandemics.
#MeToo fix is slow
Re: the May 4 article "AP counts 109 statehouse #MeToo allegations."
Kelly Dittmar, research director at the Center for American Women and Politics at Rutgers University understands "that fixing that problem that has been so deep-seeded is going to take longer."
What she also may understand but cannot yet admit is that a solution may never be found. I am a grandmother in my early 70s and for as long as I can remember I have been inappropriately groped, leered at, commented on.
One time, 20 years ago, I was even grabbed and kissed by a stranger sharing our hotel elevator with me and my cousin. He did this as his floor approached and then he ran out.
My female cousin turned to me and said, "What did you do?" What I did, as I stood next to him, was show I was 5" shorter and 100 pounds lighter.
Vail school district protest
Re: the April 29 article "Protesters force school board to cancel meeting."
Reading about the Purple for Parents revolt at the Vail school district over the mask mandate made me wonder what our schools are teaching.
Obviously these parents know nothing about American history and the sacrifices of their predecessors. During WWII, coffee, butter, sugar and many other items were rationed. Sacrificing was considered necessary. It was for the common good. Instead of whining about their rights most Americans learned to do without.
After 9/11, all commercial flights were suspended, and no one could fly. We all knew it was necessary; we didn't complain.
We are currently at war against COVID-19, and these parents are complaining about wearing masks in order to save the lives of teachers, staff and other people's children!
I suspect their grandparents and great-grandparents would be appalled.
Reid Park Zoo
Re: the May 3 article "How to literally bridge park, zoo."
I really liked Bob Vint's suggestion about the zoo expansion. I'm afraid it may be too late to change direction. But it is wise and it is creative, and it speaks of the outside-the-box ideas I've seen implemented in other cities both nationally and internationally.
Plus, he has creds right here in Tucson: a designer for the Desert Museum, a Tucson native and a teacher of Urban Design at the UA Architecture School. Sounds great, let's pay attention!
Why get a vaccine?
For the past few months, I have been volunteering at the University of Arizona's COVID-19 vaccination site. My most frequent task has been to schedule second vaccines for those receiving a first shot. This experience has been incredibly rewarding for so many reasons, but mostly for the kindness, excitement and joy expressed by the thousands who have lined up to get vaccinated.
To those of you who are refusing or are reticent, please consider that you are not going to get the vaccine for you. Instead, imagine that you will get it because there are people in your life you care about, people in your life that you love. And your vaccination will protect them. Please do it for them.
Vaccines are currently being given without appointments at the U of A and throughout our city. For more information about the UA site, please visit covid19.arizona.edu/vaccine.
My America
What has happened to my America? Plenty of jobs available people collecting unemployment checks instead of going to work. What about getting two jobs? My America had ethical people working to support their family, not people sitting around waiting for the government — me — to support them. My America was better.
Why can't we have nice things?
Does anyone else find it ironic that Mr. Leonard Pitts, who happens to be a Black man and is published in the Arizona Daily Star and the Miami Herald, can write that this is a racist country that "has no institutions — not one — that is free of racial discrimination"?