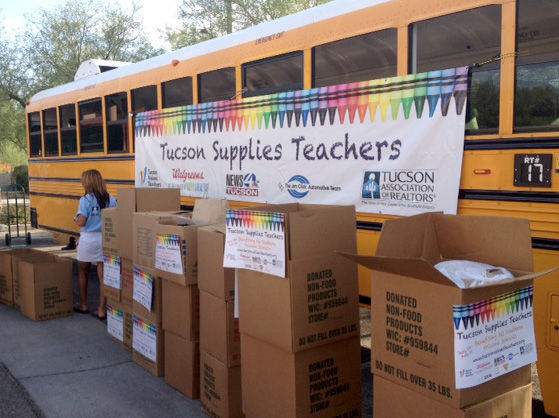 For the third consecutive year, the Arizona School Personnel Administrators Association (ASPAA) has confirmed that the teacher shortage continues in Arizona and arguably is getting worse.
ASPAA's survey of 135 school districts and charter schools identified that 1,328 teacher positions remained vacant at the start of the school year and another 2,491 teacher positions were filled by people who hadn't met standard teacher requirements.
Even more troubling was the fact that 526 teachers abandoned or resigned from their teacher positions within the first four weeks of the school year.
These statistics should alarm you because the ones who suffer the most are Arizona's children. Decades of research have shown that the quality of the teacher in the classroom has the most significant impact on student achievement. Quite simply, teachers matter more than any other aspect of schooling.
And while the recent school grades just released by the Arizona Department of Education are only one measure of student achievement, the link between the high rates of teacher turnover and student performance is indisputable.
As the CEO of a credit union that was founded by a group of teachers in 1951, I have a special affinity for teachers, but as a business leader who depends on an educated local workforce, I also have a huge appreciation for the contributions teachers make to a strong community and a prosperous economy.
My employees do, too, and annually conduct a golf tournament that has raised nearly $320,000 for classroom supplies to help offset the personal funds teachers spend each year to support their students and classrooms.
I applaud efforts by the governor and the Arizona Board of Regents to feed the pipeline with new teachers who will receive tuition assistance if they commit to teaching in Arizona. However, that doesn't stop the exodus of teachers who are leaving for higher-paying jobs in neighboring states (like Nevada, which aggressively recruits teachers in Arizona and pays at least $10,000 more than teachers earn here) or are quitting the profession altogether.
Arizona teachers are among the lowest-paid in the nation, but pay is not the only factor that drives them away. The average teacher works 60 to 70 hours a week. Summers are not vacations but time for planning, professional development and second jobs. Also critically important are a lack of respect and value for the profession.
We are heading into another legislative session where funding and education policies will be debated. Let your elected officials know that teachers and education are your top priority. Vote yes on the bonds and overrides that districts are putting on the ballot to make up for the lack of funding for basic facility needs, like air conditioning, fencing, playground equipment and technology. Learn more about the work of groups like Tucson Values Teachers that advocate for teachers and provide programs that benefit them financially and professionally. Send a special thank you to your child's teacher or to the teachers at your neighborhood school and let them know you value their contributions.
Education is the path out of poverty and the key to a strong community, and teachers are at the center of that success. Do your part to ensure that every child has a highly effective teacher preparing them for the future.
Eric Renaud is president and CEO of Pima Federal Credit Union and a member of Tucson Values Teachers Board of Directors. Contact him at ERenaud@pimafederal.org