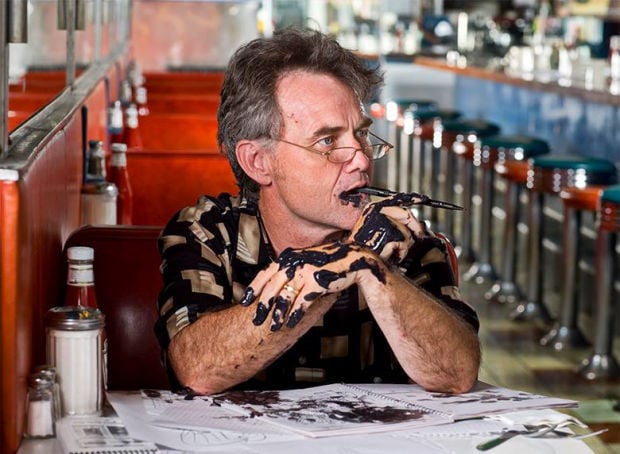 Attending a gathering of cartoonists in Mexico City last week, I found myself wading through a sea of 30 million people every morning as I made my way to the national museum, where our cartoons were exhibited and we discussed the future of cartooning, the decline of print journalism and the threats all journalists face in the line of fire.
Being cartoonists, we also talked about more pressing concerns. "Where did you get that cool pen? Is that nib flexible?"
I met Nadia Khiari, a famous Tunisian cartoonist who cheered on the Arab Spring with her equally famous feline character, Willis the Cat, nicknamed the "Cat of the Revolution." We exchanged high-fives and selfies.
I met the famous German cartoonist, Til Mette of Stern Magazine. We commiserated over the challenge of reducing the complexities of immigration to a cartoon. And finding the best schnitzel.
I met the most famous cartoonist in all of Latin America: Angel Boligan, the Cuban-born artist who draws for El Universal and resembles a cross between Leon Trotsky and Toulouse Lautrec. No one draws like Angel, the charming founder of "Carton Club," the group that hosted us and organized two exhibitions of our work; "Linea del Fuego"(Line of Fire) and "Borderlines." I was honored to have my work on display at Mexico City's Museum of Memory and Tolerance alongside famous ink-slingers.
I talked to my pal, conservative cartoonist Gary McCoy, into playing hooky after our first luncheon. Gary was surprised to learn that none of the liberal cartoonists on the tour bus, including myself, supported open borders. And I was surprised to learn Montezuma sought revenge against my digestive tract because conquistadors tortured him centuries ago. ¡Historia fantástica!
I met Pedro X. Molina, a Nicaraguan cartoonist famous for savaging President Daniel Ortega. The American Association of Editorial Cartoonists will be honoring Pedro with the 2018 Courage in Editorial Cartooning Award in Sacramento, California, in a few weeks. Like third-graders, Pedro and I misbehaved in the back of the room during the panel discussions, swapping rude drawings and snickering, which is the sensible response to our present global insanity.
I saw the lovable Monte Wolverton, a master of the 1960s underground style and a peer of cartoonist Robert Crumb. Monte's tale of Crumb visiting him in Portland this past spring and playing their ukuleles together was as close to heaven as I'll get. We reminisced about the '60s with the help of the cartoonists present who could remember them.
Thanks to Daryl Cagle, the Buddha bear of Cagle Cartoons, my cartoons are syndicated worldwide.
While breaking bread with his cabal of cartoonists, Daryl informed me that one of the most-often reprinted cartoons his syndicate distributes is my cartoon depicting Mohammed. In 2018, a fatwa is better for your reputation than a Pulitzer.
My favorite cartoonists were two good-humored Jordanian brothers, Emad and Osama Hajjaj. The older brother, Emad, told us about the time he drew a cartoon of Jordan's King Abdullah II. Much to his surprise, the king liked the caricature so much he invited Emad to accompany him on a diplomatic tour of the United States. "I met Steve Jobs!"
His younger brother's cartoon story was very different. Osama got thrown into jail for a terrifying week because an irreverent cartoon he drew was deemed too irreverent. They both thought their contrast in fates were hilarious. Both talented artists have gotten Islamic State death threats.
Visiting the Museum of Anthropology together, we talked about the universal dangers posed by religious fanatics. And by children who would rather look at memes online than look at their own father's cartoons in the newspaper. High-five. Solidarity. Kids these days.
I met Dan Piraro, the "Bizarro" creator who resembles an extra from "Moulin Rouge." I held out my arms and said, "Unconditional love," and we became friends forever. Dan lives in San Miguel de Allende with other ex-pat cartoonists, like New Yorker cartoonist Victoria Roberts, and my personal hero, the cool and kind Mike Keefe, the great Denver Post cartoonist who was laid off the very same year he won the Pulitzer Prize for Editorial Cartooning.
Wife Ellen and I went to dinner with Mike and his wife, Anita, in Coyuocan, the beautiful barrio that Frida Kahlo and Diego Rivera called home. We talked about life after cartooning, the slow demise of the profession and the joy we are finding in our new shared interest: writing. And how much we loved Mexico.
Yesterday I got a selfie from the Hajjaj brothers, who are still Mexico.
They were posing in front of Aztec pyramids, wearing serapes and sombreros. They were smiling, enjoying their time out of the line of fire.