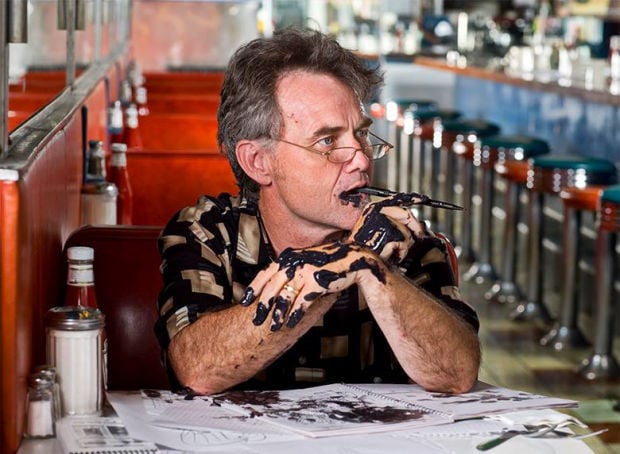 If you're a Trump fan you feel it in your gut. Deep down the man can't have a racist bone in his borderline obese body. He's being crucified by the the sinister Enemy of the People, the evil media! Day after day, they do the unthinkable: reporting what he actually says, verbatim. And that, my fellow patriots, is un-American. As long as the stock market keeps going up, why should it matter if Trump's stock among hate groups is reaching record-breaking highs?
No amount of economic exuberance can erase the stain of malevolent racism from this presidency of the United States. Trump says he's the least racist person he knows. And I'm the least liberal person I know. Who are we kidding? The man is Archie Bunker with billions. Remember good old Archie, the lovable bigot? The primitive throwback longing for the time when, guys like us, we had it made. Wink, wink. Segregation. Jim Crow. Those were the days. Back when our groundskeepers weren't rapists. And our maids kept their mouths shut about what went on. The good old days. When NFL football players loved the anthem and weren't uppity.
It's unfair to compare our bigot-in-chief to Archie. Bunker may have been a bigot, but he never sold out his country to the Reds, cheated on Edith with porn stars, or talked about dating his daughter, Gloria. And he never sent Meathead to the Middle East as a special envoy.
With Archie you had hope. God bless youse, America, at the end of each episode the old snarling bigot would experience shame, a sliver of growth and and a teaspoon of redemption.
Not shameless Donald. And we're only at the end of the first season; with three more odious seasons to go. Republicans brought this political death spiral on themselves. For decades they employed covert racist dog-whistle politics, racist voter suppression and racist code language. Suddenly Trump comes along, pulls back the cloak and to the delight of the racist base simply "tells it like it is" when, for example, he describes Africa as a "s—hole."
Instead, Trump wants Norwegian immigrants, a tribe so white they're translucent. Norway told Trump to go jump in a fjord.
How could a man care so little for human beings that he would treat hundreds of thousands of young "dreamers" like pawns in a game?
How could the guy who peddled the racist birther bilge for years possibly be a bigot? I mean, come on. A man isn't a racist just because he is celebrated by American Nazis, is he? And just because a snickering guy throws around nicknames like "Pocahontas" doesn't mean he's Mel Gibson's BFF, right? Just because he defends treasonous Confederate monuments devoted to the barbaric defenders of slavery and is celebrated by the Ku Klux Klan is no reason to jump to conclusions. As Steve Bannon said, "If Donald Trump is a racist, I'll eat my hood."
When the bigot-in-chief orchestrated the immigration summit show at the White House, I thought of those times in junior high when we didn't do our homework and the teacher called on us, and the more we talked, the more it was clear to everyone in the room that we were in way over our heads and we really should have just shut up. But no. We kept going. In that regard, the Trump show is the cringe-inducing Adam Sandler movie that never ends.
Some souls at the "S—hole" meeting were "unable to recall" Trump's racist words. Those who fear confronting the racists among us are akin to the coward squirming in the shadows at the edge of a great congealing lynch mob, hoping nobody gets hurt. It's too late for that. Years from now, standing in the rubble of what was the Aging White Man's Republican Party, these same cowards will deny ever having known the orange nameless one, or supporting him, or voting for him.
We won't forget. As Archie Bunker would sing, "those were the days."