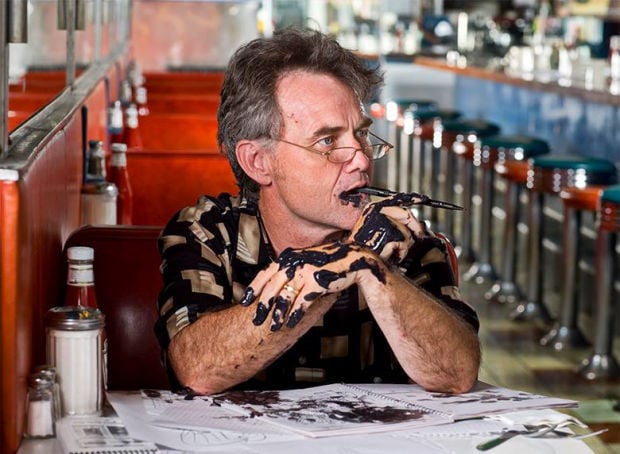 The following column is the opinion and analysis of the writer.
I've never written a fan letter before.
When I saw that "Linda Ronstadt: The Sound of My Voice"opened at the Loft yesterday I started to worry about you. When KUAT did a short documentary about me for "Arizona Illustrated" the entire film crew had that "better get the story while he's still with us" look on their faces. I told them that'll be the day.
I knew, in spite of the fact you have a lot of life left in you, I should tell you what you meant to me.
But first I wanted to tell you I saw you with George Lucas at Old Town Artisans a few years back and that I decided to leave you two alone, particularly because Lucas gave me the stink eye and yes, you're welcome. De nada. I respected your privacy. I hope you didn't mind my Polaroid flash bulbs. The busboy charged me $20 for your discarded cocktail napkin.
Speaking of celebrity sightings, a SaddleBrooke acquaintance of mine, claimed he ran into Noam Chomsky in the produce section at Fry's. I'm surprised. It makes sense to me Chomsky would shop at a food co-op, not at Fry's.
I know what I'd say if I ran into him.
"Are those non-GMO, free-range, cruelty-free organic plantains in your cart?"
"Are you Noam Chomsky? Can I call you Noam? Tell me what you think of this: I had the craziest idea. Picture little Noam Chomsky figurines made of plaster that people can put in their gardens. With little red caps on their heads. Guess what we'll call 'em? 'Garden Noams'! A real moneymaker, right?"
The local celebrity I want to see is Frank Figliuzzi, former assistant director for counterintelligence at the FBI and star of MSNBC. Frank's the cable expert on terrorism with the Tucson skyline behind him on the green screen. People here don't recognize him in public because he doesn't have the Tucson skyline backdrop behind him everywhere he goes.
Smart subterfuge, agent Figliuzzi.
Since I found out "Frank" is his middle name and his first name is actually "Cesare" I've been yelling "Hey, Cesare!" at guys I see around town who look like they could be Frank Figliuzzi, to see if they turn around. My neighbor the retired state trooper suggested, "It's not smart to startle a terrorism expert." Maybe he's right.
When I showed up a few weeks back to lecture at the U of A's Lifelong Learning Institute I learned "Cesare" had addressed a class before me. The silver-hairs were smitten.
"I have one question, ladies. Did he wear the mandatory FBI suit?"
You look hot in that suit, Frank. This is Tucson. Tell Maddow you're semiretired! Lose the suit. Ease into our lifestyle. Try a guayabera. Try a bolo tie.
Very famous celebs have resided here. Liz Taylor. Lee Marvin. Even Speedy Gonzales. When Sir Paul McCartney lived here he favored a south-side Mexican restaurant. A very old waitress deduced from the table chatter that her customer was a musician. Impressed, she asked him if his band performed at quinceñeras and how much he charged.
Sir Paul graciously declined. I would have taken the job. You never know when the gigs will dry up.
Or worse, when a wretched disease will steal an artist's glorious gift.
Thanks for using your glorious gift to glorify the music of this corner of Sonoran Heaven, Linda. Thanks for using your voice to glorify every flavor of music there is, from Lalo to Nelson Riddle to Gilbert and that slacker, Sullivan (I'm sorry you never got around to recording your take on reggae-influenced Mongolian klezmer tunes). Thanks for turning me into a vinyl, cassette and CD hoarder of your musical canon. Poor, poor pitiful me.
And thanks for using your still powerful voice to support the least among us by backing groups like No More Deaths. You have a heart like a wheel that rolls ever onward.
A final story. My pal, Professor Dave, experienced the greatest moment in Old Pueblo musical history, firsthand. It was the late '60s. He was a kid. "I had ridden my bike to Hi Corbett Field to see a concert. I snuck in, by the bleachers. And there she was."
"Linda Ronstadt! She was on stage, in the middle of the field. She was singing 'Different Drum' with The Stone Poneys."
"She was opening for 'The Doors', on their very first tour."
When Dave shared this testimony I fell into a brief state of reverence. The lyrics of the age came to me. "All I'm sayin's I'm not ready for any person, place or thing to try and pull the reins in on me."
To your credit, in the course of your tumultuous, amazing life, no one ever pulled the reins in on you. May your heart roll on. For a long, long time.