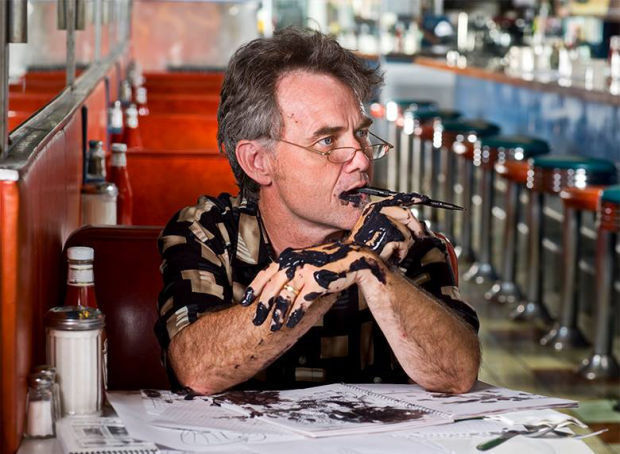 The following column is the opinion and analysis of the writer:
This week I sat down with Southern Arizona's oldest living weatherman, Ned Nimbus.
You just celebrated your 127th birthday, Mr. Nimbus. Congratulations.
You knew some of the great weather forecasters?
Yep. I Knew "Sunny" Rodriguez, "Scorcher" Santa Cruz and "Triple Digit" Jones. Taught Dolores "Dust Devil" Dominguez and Michael Goodrich how to point.
You were doing the weather by telegraph when "San Pedro Pete" rode a lightning bolt in 1901?
Yep. Pete rode it clear from Tubac to Tortolita. Eventually ended up in Hollywood doing stunts for silent Westerns where he met a young Yosemite Sam on the lot and told him how he shot across the Arizona sky shouting, "Mah biscuits are burning!" — a phrase Yosemite would later make famous in many a Warner Brothers cartoon, slapping his smoldering buns.
When did you do your first weather report?
I issued my very first flash-flood warning before there was nary a pueblo in the Old Pueblo. It was a volcanic lava alert. Even then, there was always some Neanderthal who'd ride his mastodon right into the flaming river. Saw a pterodactyl hit by lightning. Better than fried chicken.
Where's our rain, Mr. Nimbus?
Drought sure makes folks edgy. In territorial days the last varmint to sing, "Rain, rain, go away, come again another day," was lynched between two horse thieves.
Can't blame 'em. Some folks here ain't never seen rain 'cept in picture books, or maybe they heard some cowpoke tellin' tall tales around the campfire about things looking like teardrops falling out of giant cotton ball-like things called "clouds."
Is it possible to make it rain?
Folks here'll try anything to make it rain, even some nonsense called cloud seeding. How you gonna get your tractors and plows up there?
Some wash their cars. When I was kid we'd wash our buckboards. Grandpa even tried washing Grandma. Nary a drop.
Then there's the Precipitation Peddlers.
Last Rain Man come to town was a feller named Dustin Hoffman and he was no help, aside from telling us what the weather was on a Tuesday in 1639.
Tucsonans go crazy when it rains. Why?
Soon as them tiny drops spank them creosote leaves and tap dance on our tin roofs we slip 'n' slide all over our roads and drive into flooded washes. Our "Stupid Motorist Law" was modeled after Tombstone's "Danged Fool Rule of 1883" which declared that any "id-jit dumb enough to drive their wagon into a crick deeper than the Rio Grande gets what's coming to 'em, including a bill for the rope and mules, or we're throwin' 'em back in."
Heck, I found a "Village Idiot Code" dating from 1378 which read "Ye ride into my moat, Ye best pray ye float."
Does a javelina stink when it's wet?
I know fer a fact Karen Carpenter never spent much time in Tucson. How else could she write "Rainy days and Mondays always get me down?" We'd welcome a month of Mondays if they were rainy!
Spot a drop and we start singing in the rain. What a glorious feelin', we're as happy as Gene Kelly again, hoppity-scotchin' across puddles giddy as Colorado River toads.
You've seen historic floods?
Yup. Seen a wash fill up faster than a saloon spittoon in Saskatoon. Before noon. Big monsoon. Saw the Gullywasher of '92 and the Santa Cruz Soaker of '29!
One flood season was so bad I saw two fellers, name of Lewis and Clark, canoeing down the Canyon del Oro wash, followed by a Kon Tiki raft complete with a National G-O-graphic film crew followed by a boat called "The Minnow" packed with fools that had done set out for a three-hour tour. I larnt the first "do not enter when flooded" sign was posted at the Red Sea 'cause I seen one of the pharaoh's chariots float past that same day. That's the year I gave up licking the backs of toads.
You know how you can tell can tell when rain's coming? Watch your desert tortoises. When they tuck in their feet and sprout periscopes, it's time to head to higher ground.
Why do we freak out when it rains?
Because rain is more rare in Tucson than toenails on a tarantula.
Pardner, rain always triggers the following six stages:
4. Stampede out into the rainy drops
6. A million mommas yelling at their whippersnappers, "You best not bring that mud into this hacienda!"
Yup. Chubasco ain't a dance; it's a storm that'll blow your spurs off and El Niño is Spanish for "The" Niño.
Ned Nimbus' secret to a long life?
Always wear a smile behind your mask and don't enter any danged place when its flooded with rainy drops or them corony virus bugs.
Thank you, Mr. Nimbus. Will it ever rain?
It always rains. Monsoon or later.
Catch the latest in Opinion
Get opinion pieces, letters and editorials sent directly to your inbox weekly!