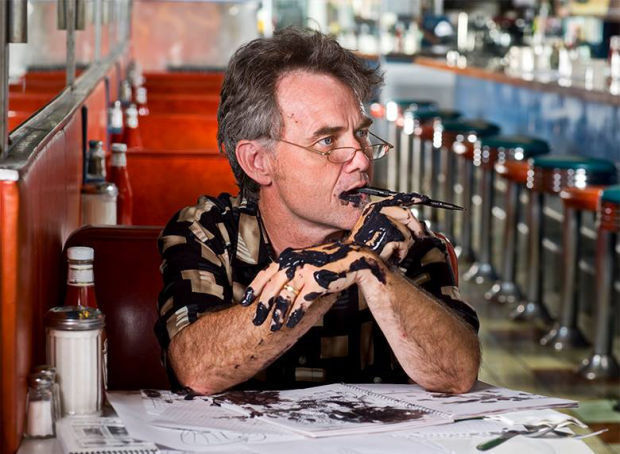 The following column is the opinion and analysis of the writer:
As Carlos opened the door of the Arroyo Cafe wide enough to haul his boxes out he wondered where he'd come up with the money to pay the back rent when this thing finally ends. And when will this ever end? Not by August. Not by this winter. He pulled his drooping mask up over his nose.
Rosa, packing boxes, encouraged Carlos to have faith. "I pray for all of us every night."
Carlos suggested to Rosa she, "Pray instead for Sour Frank."
Rosa had news about their friend. "Lurlene says Sour Frank's mom says our boy's off the ventilator." Rosa heaved a box. "Where do you want this?"
"That's paperwork. Taxes. Put it on the front seat. Next to the menus. You know we could have taken two paths, right?"
"Two paths? What two paths?"
"First there was the rational path." Carlos set down his boxes.
"Tell me more oh great Buddha."
"Happy to, grasshopper. What do you do when the first case of a new highly contagious virus appears?" Rosa shrugged.
"You listen to your scientists. You lock down your entire nation. You stock all your hospitals with the finest equipment. You send out an army to test and track your entire population. Your elderly. Your prisoners. Your packing plant workers. Mobilize your nation. A wartime effort! Find every carrier. Quarantine every last one. Use the federal government to muster the finest equipment you have. Treat the sick. Rally your nation behind a single message. Mask on. Find it and contain it so you can safely reopen. Subsidize employees, the workers, at 80% for the duration. Subsidize every small business for the duration. Rent moratorium until it's over. You contain it in one month. You reopen. No second wave. You play whack-a-mole when hot spots pop up. You get a nice U-shaped economic recovery. You take a bow, go out to your socially distanced dinner and celebrate America's can-do spirit."
"Dinner out would be nice. I'm sick of this. I'll make a reservation for us, Carlos. Dinner for two. 2021. March. The vaccine riots should be over by then."
"Or, Rosa, you could take the second path, the path our leaders chose." Carlos stacked boxes onto his dolly. "What do you do when the first case of a new highly contagious virus appears?"
"First, you ignore the seriousness of the reports. Downplay them. Claim it's overblown. Over by Easter. It'll just disappear. Then you scapegoat and go golfing. You sow division. You ridicule science. You muzzle and contradict your scientists.'
"Isn't that happening now?"
"Tell everyone you accept no responsibility for what's happening. Blame the overwhelmed hospitals, blame the media for telling the truth, pass the buck down to the smallest government entities. Ridicule masks. Mock testing. Don't track. Manipulate data. Close down your commerce too late because after all it's a hoax. Peddle snake oil. Lie. Host super spreader events."
"Then reopen way too early. Tell your people to live with it. Congratulations, Rosa. You have created the perfect storm for perpetuating this pandemic resulting in a deep and lasting economic depression."
"Nope. Claim victory, Rosa! Celebrate the greatness of your leadership. Rate yourself a 10. Rosa, what's that in your hand?"
Rosa stood before the open hatchback of her Pinto studying a beloved artifact from her childhood, a toy plastic cowboy boot from Old Tucson that resembled a bank. "Tip jar, Carlos." Rosa tossed it onto her tangled heap of Arroyo Cafe memories. Rosa slammed the hatchback shut. "We will be back, right?"
"It's up to this virus, the vaccine developers and our landlord. Speaking of landlords Molina's rent's due. I gave him what I could spare."
"And Zeke?" Rosa crossed herself.
"Zeke's unemployment is covering his rent, for now. Buried his mom last week. They sent her to a Phoenix hospital where she died alone." They hauled boxes until the property was vacated.
Carlo slammed the door on his beat up old van, and squinted at the flame-seared Catalinas. "I might convert this beauty into a food truck. Home deliveries. That kind of thing."
"Or you could bring it back. Two paths, right?" Rosa offered a thumbs-up over her rolled down car window. "Keep me posted."
She held her tears until Carlos was gone from her rearview mirror. As Rosa headed into the unknown she looked forward to checking in on Lurlene down at the grocery store.
Catch the latest in Opinion
Get opinion pieces, letters and editorials sent directly to your inbox weekly!