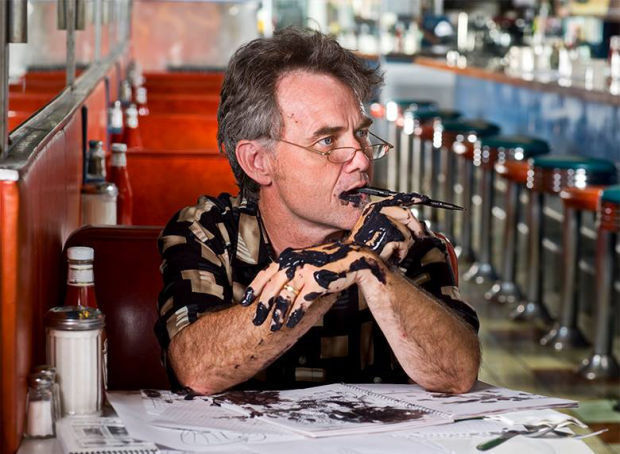 The following is the opinion and analysis of the writer:
Carlos called the meeting to discuss the future of the Arroyo Cafe, the diner he'd poured his life into. Rosa and Elena, the new waitress, and Zeke, the young cook, and Kid Molina, the dishwasher, stood 6 feet apart, in front of the old cafe, wearing their threadbare masks. Carlos was strict about his crew wearing masks. "I hate to wish the fools who refuse to wear masks ill. Because they'll the fools who'll be the first to cut in line in front of me for the ventilator in the ICU. Cabrons! It's like herding javelinas during a thunderstorm."
Elena, the waitress, had no choice but to return to work. "Rent's due. I'm facing eviction."
Molina kept working at Carlos' side, scrubbing his pots and pans through the carry-out months. "Mi madre's diabetic. I can't bring the virus home. It'll kill her. I live in my truck. I need this to pay her rent and buy her food."
Zeke, the other cook, was happy to be back after surviving COVID-19. "With every breath my lungs burned. I was hammered with headaches. Down for three weeks. Then two weeks quarantine. And that's not all."
Zeke's mother was on a ventilator. Rosa crossed her chest and whispered a prayer.
Carlos' dad was still behind glass in his assisted living center. "He's terrified. My old man calls it 'Alcatraz with Alzheimer's.' Three of his best friends died in the past couple of weeks."
As turkey vultures circled over the cafe, the gossip went on.
Lurlene's still a cashier, scared to death. She quit smoking.
Before checking in to TMC, Sour Frank, between coughs, said, "My right to not wear a mask shall not be infringed."
Romero had a dry cough yesterday and tested positive.
Carlos' crew admired the new windows. Carlos told Molina, "I was here the night of the protest. I kept shouting, 'I'm not the enemy.' But what can you do? I agree with them."
Walking into the cafe, Rosa spoke. "The governor says we've got more cases because there is more testing. Dumb as Gila Monster spit. We're going to have so many cases, Arizona's going to look like Italy with saguaros."
Zeke nodded. "We closed too late and now we're opening too early. We're going to surge worse than New York City."
Molina had a theory. "I heard our governor's been infected. With the Trump virus."
"Eats your spine. Kills brain cells. Blinds you to facts."
The diner counter seats were now 6 feet apart with clear partitions between the customers. Four booths replaced 10. The parking lot was now Carlos' new "Dining Al Fresco" patio: four tables under a tent. "That investment cost me my last nickel. If we don't make bank, the Arroyo Cafe is gone. Like a tumbleweed in the wind."
Carlos clung to hope like a man holding fast to a tree branch in a 100-year flash flood. Rosa, Elena, Molina and Zeke sensed Carlos' desperation. They looked at him like jackrabbits caught in the headlights of a floored semi. Carlos pointed to the cleaning supplies. "The health inspector is going to be on us like sweat on a snowbird. We have to make this work even as hundreds of Arizonans are getting sick every day and hundreds are dying."
Carlos paused. Thinking of his father he wiped a tear. "I built this cafe. It's all I have and I'm desperate to keep it alive while seeing to it that not a single one of you catches this damned virus."
Zeke pointed out that Carlos had touched his face and handed him a wipe. Carlos cursed. Rosa had her back to the group. "Rosa, what are you looking at?"
"At my Catalinas." The bright-red slurry lacerating the mountain looked like flesh burns tormenting a living thing. "Thousands of saguaros gone. Maldito buffelgrass! Entire canyons up in smoke. I think Mother Nature was joining the protests. Dios bendiga a los bomberos."
Carlos translated for Zeke. "God bless the firefighters."
Molina hung his homemade sign over the door. "No Mask, No Service. 6 feet apart or 6 feet under."
As Rosa disinfected the counter she told Elena, "Ducey broke our 'Stupid Motorist Law.' He drove this state into the middle of an arroyo flooded with coronavirus. And now we're up to our masks in it!"
It was time. Carlos walked to the door of his cafe, turned to his crew and said, "Stay safe. For each other. For our abuelos. Our elders. And may God have mercy on Doug Ducey's soul. Y los idiotas who think this is over."
He took a deep breath through his mask. "Let's do this."
Carlos unlocked the door. "The Arroyo Cafe is back. Where everyone is welcome. As long as they're wearing a mask."
As Rosa fired up the coffeemaker, Carlos turned on the neon "OPEN" sign in the new window. It glowed like an Arizona sunrise on a cloudy day.
Catch the latest in Opinion
Get opinion pieces, letters and editorials sent directly to your inbox weekly!