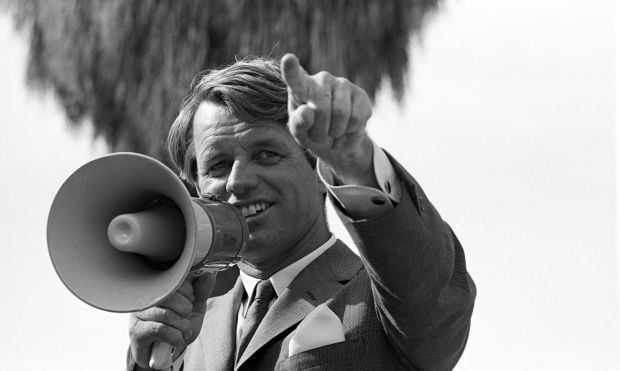 The old joke is that if you claim to remember the 1960s, you couldn't possibly have been there. But as a 13-year-old kid raised on Walter Cronkite, the Huntley-Brinkley Report and network news, I still have vivid recollections of 1968, a year arguably unlike any other in American history.
The raging war in Vietnam and the accompanying student protests, the unprecedented decision of a sitting president not to seek a second term, the assassinations of Martin Luther King Jr. and Bobby Kennedy, and the so-called police riots in Chicago throughout the Democratic National Convention were all part of a perfect storm of events that would forever change the trajectory of American politics and American life.
Ultimately, it was the loss of Kennedy, who was shot moments after claiming victory in the California primary on June 5, 1968, that I still grieve, and that as a country, we ought still mourn. I have no doubt he would not only have won the nomination, but the election as well. And with that, there's no telling how different our lives, and the welfare of our world and our planet might be.
Make no mistake, Kennedy was not perfect. In 1952, as a young lawyer he worked for family friend Joe McCarthy in the early days of McCarthyism, a term that would become synonymous with not just the anti-communist fervor of the day but with the way in which people were accused of crimes because of the people they knew or the beliefs that they held. Throughout the 1950s, as a backroom operator, "ruthless" and "calculating" were also words often associated with him. It wasn't until after the death of his brother in 1963 and his decision to run for the Senate in New York one year later that he began to experience profound change.
In spite of still functioning very much as a professional politician, he somehow knew the way to best connect with people was not through sound bites or photo ops, but by making genuine attempts to understand and to actually listen. And when he did he was moved. His work to change the culture of Bedford-Stuyvesant, one of Brooklyn's most poverty-stricken neighborhoods, is still legend in that part of the city, while his trip into the heart of Appalachia, just months before declaring his presidential candidacy, is still fondly remembered deep in the heart of Trump country.
Fifty years ago he was indeed the most prominent spokesman on behalf of those he called the "disaffected, the impoverished and the excluded." While that may echo the so-called populist rhetoric of our current president, Kennedy's commitment to and compassion for those who had been marginalized provides a shockingly stark contrast to the politics and politicians of today.
Many may remember, or have since seen or heard, the unscripted speech he gave from the back of a flatbed truck in Indianapolis on the night that King was murdered. Speaking to a predominantly black audience, he spoke frankly about how he had a member of his family that was also killed by a white man. Then, he added, "What we need in the United States is not division; what we need in the United States is not hatred; what we need in the United States is not violence or lawlessness, but love and wisdom, and compassion toward one another, and a feeling of justice towards those who still suffer within our country, whether they be white or whether they be black."
While it is difficult to imagine how our lives might be different had Bobby Kennedy lived, it is not hard to imagine the world as a much different and ultimately, much better place.
Jim Lipson is a freelance writer, yoga instructor and proud (now retired) adult educator. This column was adapted from an essay in Zocalo Magazine.