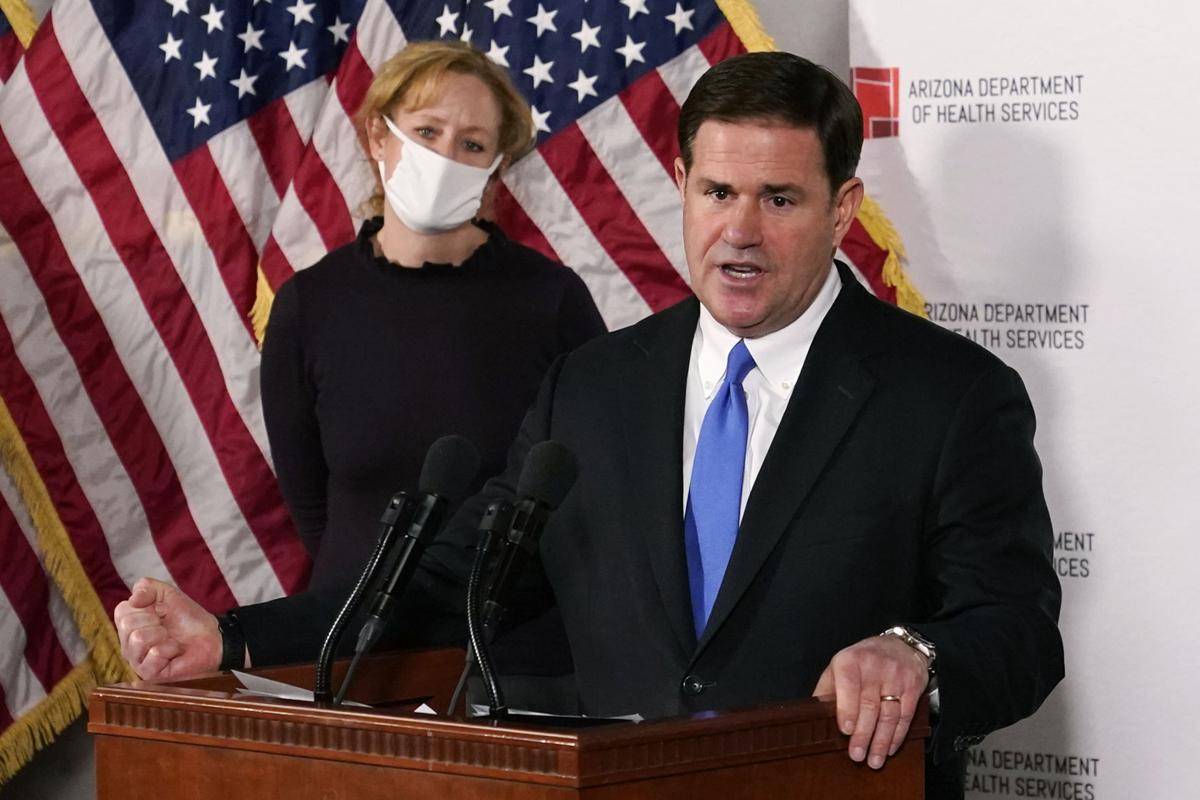 Shame on you, Governor Doug Ducey and Dr. Cara Christ. Due to your lack of action in the face of a horrible crisis, this state is now No. 1 in the world in prevalence of COVID-19 infections. You have ignored the science and have not had the fortitude to put measures in place to help stop the spread of this disease.
One would think that it would be prudent to keep our state relatively safe to continue to attract the winter visitors to the area and their stimulus to our economy. Your actions have been woefully lacking and you should be embarrassed.
Congressional cowardice on full display by GOP
The unimaginable attack on Jan. 6 by domestic terrorists on the U.S. Capitol in their attempts to change the results of one of the most secure presidential elections this country has seen was an image that will be forever etched in the minds of all decent Americans. Especially that of a gallows and a noose! Donald Trump is responsible for this "carnage" thanks to his directive in his speech that morning to his followers to march on the Capitol. He knew exactly what would ensue: mayhem and destruction caused by white nationalists, racists and anti-Semites.
Blame also those Republican members of Congress who were complicit in assisting Trump in his seditious coup attempt: Six U.S. senators led by Josh Hawley and Ted Cruz and 121 House members, all of whom will be forever stigmatized by their own insurrectionist attempts to overthrow the results of a legitimate election primarily to promote their own political ambitions. Their names should be permanently etched in a Congressional Hall of Shame.
Re: the Storytellers' "10 Years Later: Conversations about courage and resiliency with Gabby Giffords and Friends"
Thank you, Megan Finnerty for hosting such a moving tribute to the 10 year anniversary of the Tucson shooting. My wife and I were very moved by all of the participants in the Storytellers Project on Facebook. We are so glad that the Arizona Daily Star has put the transcript into Friday's paper. We would like more people to see the hourlong presentation as it is archived on YouTube.
We are grateful for the participants and their families as they shared their touching stories. It gave us a sense of courage and hope for the future. We have experienced gun violence in our family and it is our hope with education and a new administration that changes will come forth in 2021.
I expect my members of Congress to support the impeachment and removal of the president from office. Despite the fact he has only 13 days left in office, the violence at the Capitol on Jan. 6 — incited by him — proves that there is no low to which he will not stoop to tear down this country and every norm in it. We simply cannot give him the opportunity to invite more violence and endanger us all.
He cannot be allowed to pardon himself, which would be his most egregious abuse of power yet. And that's saying something, because his abuses of power have been numerous and extreme.
The House must vote on articles of impeachment now. The Senate must vote to convict and remove now. This sedition cannot go unpunished, or why even have laws?
At least it wasn't private property
As I watched the break in of our Capitol building, I wondered why after witnessing the rioting, looting, burning, and attacking law enforcement all summer, I was still so shocked to be seeing another riot. Then, I heard some politician say, "This is not us!"
I disagree. It has been us for months. How we have allowed ourselves to accept the destruction of anyone's private property as necessary to appease the "frustrations" of any segments of our society is the question. I don't condone the destruction of any property, private or public. Consider that, unlike the victims of the common riots of today, those politician's offices weren't built, cleaned, or maintained by them.
I wonder how those who lost all they built feel about the country's outrage at the damage done to buildings that public funds will clean and repair.
I urge Vice President Pence and the Cabinet to immediately invoke the 25th Amendment to remove Donald Trump from the presidency. His actions constitute a danger to the democracy of the country. His actions are seditious and treasonous.