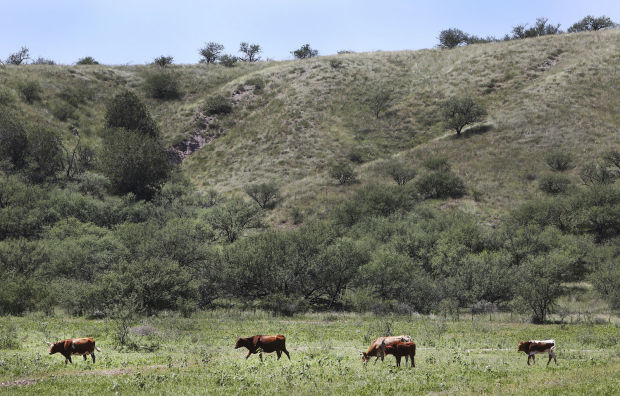 Re: the Nov. 20 opinion piece "The rural cow-pocalypse you aren't hearing about."
I am writing because something needs to be done on this issue. I know firsthand that a certain group in the Willcox area are destroying everyone's property with their cattle. They have no regard for their neighbors rights or well being. So far they have run roughshod over all who live in that area. It needs to be addressed before it causes a range war, which is in the making already.
Destruction of property, cattle under people's windows, cow poop everywhere, busted and torn-down fencing and broken water lines are just a part of what is happening and they don't care. Willcox is a small place and the good ol' boy system runs the day there. I think the governor needs to address this and change the laws so that everyone has their property rights back and this is stopped.
It is frustrating to see the call for right-wing or left-wing writers, not because I don't want a group of people to have their views exposed, but because of the assumption that we fall along a spectrum, like beads on a wire.
I'd like to hear from Democrats (like myself) who are uncomfortable with abortion, who maybe want limits but not to criminalize pregnant mothers, and who are concerned with the responsibility for the health of the newborn and support free drug treatment programs for expectant mothers.
I'd like to hear from Republicans who are disgusted with the corruption of the Trump administration, but perhaps who want to slash government spending rather than increase it.
I'd like to hear from recent immigrants about the challenges to democracy in their home countries, not a partisan issue.
We are so much more than a label.
With all the furor over whether or not Donald Trump has committed any impeachable offenses, reflect back a moment on what did get a president impeached. In the '90s, Republicans commissioned Ken Starr to do an extensive investigation on everything Clinton. After several years and many taxpayer dollars, the only inappropriate behavior he found was an extramarital relationship.
The president was subpoenaed to appear before Congress and lied about the sexual relationship while under oath in front of Republicans, many of whom were doing the same and worse (e.g., Newt Gingrich). Recently, Trump stood on the White House lawn and asked for dirt on Joe Biden from both Ukraine and China after he submitted the transcript of his call to the Ukrainian president in which he said, "I need a favor though."
Trump claims all the witnesses are lying. It's time for him to come before Congress and testify under oath to show why he should not be impeached.
'Cow-pocalypse' harms public lands, too
Re: the Nov. 20 opinion piece "The rural cow-pocalypse you aren't hearing about."
The difficulties the Hatch family has had dealing with roaming cows and the lack of legal ways to stop those cows from harming their private lands is also happening at the San Pedro Riparian National Conservation Area (SPRNCA), public lands that belong to all of us. The SPRNCA was set aside, in part, to protect it from the devastating impacts of livestock grazing. In spite of federal laws protecting this rare riparian gem in Southern Arizona, cows and their "sign" are often found in the San Pedro River, along its banks and in the uplands.
The Bureau of Land Management can do little to prevent the trampled stream banks and vegetation, or the E. coli contamination of the water from these trespassing cows, placing the true costs of livestock grazing on the public. Meanwhile, the ranchers get sweetheart deals from the feds and don't even have to keep their cows where they belong.
Cyndi Tuell, AZ and NM Director of Western Watersheds Project
As an advocate for public education I am dismayed at the inadequate resources provided by the state of Arizona for public schools to educate and care for our children. With a child at Magee Middle School, I am further saddened by what appears to be TUSD's propensity to lay blame for consequences of inadequate resources at the feet of competent school administrators when that blame belongs to state decision-makers and TUSD regulations. Lack of a stable teaching staff, under-skilled and constantly rotating substitute teachers, and inadequate resources and options for managing discipline issues — driven by state decisions and district policies — have compromised Magee this school year.
Meanwhile, many stellar teachers and staff provide a school environment where my child is happy and learning. From this parent's perspective, Magee administrators and teachers are committed to meeting the educational and safety needs of Magee's economically and ethnically diverse student body and could use a supportive hand from TUSD.