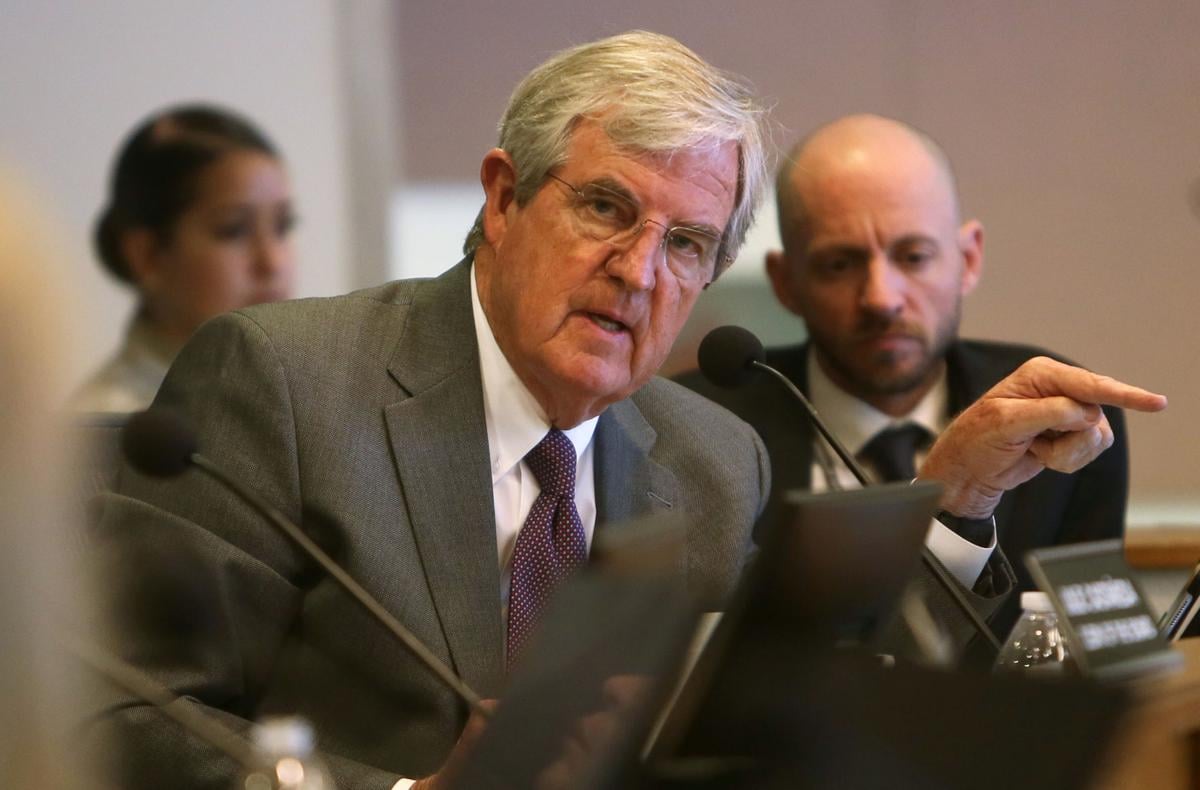 New Iran deal must not include a waiting period
We need agreements that will protect us from being nuked by Iran or North Korea. Such agreements must not repeat the mistake of the first Iran deal: It would have imposed a waiting period for the inspection of suspected sites. During the waiting period for one site, nukes could be transferred to a second site which would have a new waiting period, and so on.
Inauguration Day, Jan. 20, is the perfect time for us to come together as Americans. And what better way than for all of us to display our flag?
Whether the flag is large or small, the sentiment is the same. We are together in supporting our country and all it stands for.
So join me and millions of our fellow Americans on Jan. 20 and fly Old Glory!
Distribution suggestion for the COVID vaccines
I agree with the decision to make the coronavirus vaccine first available to front-line health-care and public-safety workers, people confined to nursing homes and others who must come face to face with the public. I think all those, closely confined, and unable to "socially distance" should also be considered for the front of the line. Those people in shelters, jails and prisons, who do not have the option of keeping apart, should go before me (an elderly citizen).
The COVID-19 vaccines are here and will soon be available to millions of Americans. One of the problems in reaching herd immunity is the belief by an alarmingly large number in our population that the vaccines aren't safe.
My suggestion to the new administration is to hire the staff responsible for the Geico advertising campaign. Their imaginative creativity could convince those nonbelievers of the vaccines safety. Let's face it, if that lovable little reptile got the shot, millions would follow.
Pardon Trump's accomplishments
Obviously, many of your readers suffer from "Trump Derangement Syndrome." This is not surprising since 90% of the news coverage is nastily anti-Trump, Arizona Daily Star included, thanks often to your frequent reliance on a totally biased Associated Press. Lately, he has been called profane, a bully and divisive in letters to the editor, but never is evidence of this provided.
Now readers are saying he cannot pardon himself. Why should he? What has he done that needs pardoning? He told all of us what his objectives were, then got elected and proceeded to implement those objectives. What a concept for a politician!
Perhaps he should pardon himself for lowering taxes, fixing our porous borders, taking on China, making a good start on peace in the Middle East, etc.
Does anyone know what Joe Biden's objectives are?
Anti-Trump coalition already unraveling
Already, we're hearing the progressive wing vilifying anti-Trump Republicans, criticizing their conservative credentials. But they are fighting the previous war. Conservative/liberal is no longer the great divide in U.S. politics.
The new chasm will be democracy vs. autocracy. Trump may be defeated, but not Trumpism. Some 70 million Americans along with many state and federal lawmakers cast their lots on the side of autocracy.
Autocracy was defeated this go-round by a coalition of Democrats, independents, and anti-Trump Republicans. Splinter that alliance and Trumpism could well prevail next round.
The system held off the attempted coup but only because its instigator was inept, and key Republican officials maintained their integrity.
But given four more years, principled officials and inept leaders can be replaced with savvy autocrats.
A Trumpian victory in 2024 could mark the end of democratic elections in the U.S. Anyone willing to oppose such a catastrophe is my ally.
We are just turning the corner.
We'll have 20 million vaccinated by Jan. 1.
Oh, the endless list of lies, lack of knowledge and/or lack of care from Donald Trump. The corner we need to turn is to pry him out of the White House to make room for a politician who respects government and what it can do for the country and understands how to move the levers of power to make it all happen. It is going to be a much better year, and it can't come too soon.
COVID-19 is real, America
Thank you, Arizona Daily Star, for the Year in Review, which was in the Dec. 31 issue. I only hope that similar articles were published in newspapers throughout the country. It may serve to open the eyes of the naysayers who don't believe the COVID-19 even exists or just how deadly it really is.
Hundreds of thousands of Americans have a solid belief in something that materially does not exist, only spiritually. The Year in Review has stories that prove COVID-19 does exist and it is more deadly than the common flu.
Recovery does occur but sometimes it takes weeks if not months to recover and even then it leaves behind physical damage to the body. Mask up, wash up and stay at home.
Digital Daily Star worth a subscription
Times are changing and so am I. The morning paper at my door has been a welcome ritual for 50 years, but I've found a better way to subscribe. The digital Daily Star has been our morning source for over a year and we couldn't be better served.
We don't pass the print edition around as we each have our own copy on our iPad and phone. It is the exact same format and appearance as the print edition, is here when we pour our first coffee and is with us all day. Plus it is economical.
I can't change the editorial policy, but that might just be another topic. We'll deal with it in the meantime. Give it a try and you just might like it as we do.
How sad for our country that Nancy Pelosi was reelected House speaker despite being one of the most polarizing and outmoded people in Congress. She wasted millions of dollars chasing windmills in an effort to impeach President Trump. She acted in a very uncivil manner in Congress (e.g. tearing up the State of the Union address) and even flouted COVID-related restrictions (e.g. for a haircut), demonstrating no concern for spreading COVID nor the meaning of true leadership by setting proper examples.
She also deliberately stymied COVID-relief checks last Summer by adding trillions of dollars of pork into the bill having nothing to do with COVID-relief, making it impossible for Republicans to support in a tragic stunt of political one-upmanship from which we all suffered.
Nancy Pelosi will not heal and reunify our struggling and divided nation but will only make matters worse. Please don't tell me that there wasn't one other Democratic member of Congress who could have done a better job.
The east-side road shuffle
As a Tucson east-sider, I've noticed that Speedway, Broadway and 22nd Street all take a left/right jog at Wilmot. They're all straight-as-an-arrow east-west roads until they cross Wilmot where they take this strange jog.
I'd love to have a writer for Tucson and Region investigate and explain why this exists. Did the roads need to realign to conform with property lines to the east? Did the road designers get bored with perfectly straight roads and decide to have a little fun?
Inquiring minds want to know.
Tweak, don't abolish, the Electoral College
Thank God, this national election is coming to a close. We will have a new president on Jan. 20 at noon EST.
There are many who are advocating doing away with the Electoral College as described in the Constitution. Do not do it. Tweak it to modernize it at most.
Each state should have two Electoral College votes, one for each U.S. senator based on the popular-vote winner over the whole state. Each U.S. congressional representative should have one Electoral College vote according to the political party winning in their district.
Democrats won in five of Arizona's nine congressional districts, Republicans won in four districts. And Democrats carried the whole state.
Joe Biden should have gotten 2+5 = 7 Electoral College votes and Trump 4 votes. Why is it rigged to be 11 to zero?
Huckelberry is paid too much as it is
No way should Chuck Huckelberry get a new contract for four more years with a pay raise. It is an insult to all the people in Pima County who have lost their businesses, their jobs and insurance and are struggling to stay afloat due to the pandemic.
I believe he chose to do this ahead of time knowing there was a new board and they may be at a loss without a leader, but he should not get this raise. He makes too much money as it is.
He has been in too long and the board needs a new leader with fresh ideas. If they vote to do this for him shame on them. Now is their chance to grow.
In my 72 years, l have never seen a political landscape like today. We actually have a president who is trying to destroy the democratic process. Nearly 25% of Congress are trying to help this egomaniac.
He will not get his way this time, but be warned this type of thinking creates demigods like we see in Russia and North Korea. Look into a politician's history before you elect another dictator.
Huckelberry's contract should be extended
As a medical professional with 27 years providing community service to Pima County, I strongly disagree with the Pima County Board of Supervisors' decision regarding Mr. Huckelberry's contract renewal.
The contention that this is a "new" board is a nonstarter. Members should be ready to govern on Day 1. These members have been involved in our community for years and held elected positions.
His contract has always coincided with the elected board.
Our future hangs in the balance. Establishing "evaluations" is ludicrous. He can be terminated at any time without cause. His job performance is his "evaluation."
He successfully manages a $1.5 billion budget. He has led, addressing all aspects of the devastating human, economic and social consequences. He conducts weekly meetings with city managers and mayors. He works tirelessly and is always available to the board. You will not find anyone with his abilities to develop and execute policy.
He should immediately be offered a new four-year contract and be commended for his leadership. Anything less is offensive.
Repeatedly, I see photos of individuals on television and in the press with only their mouths covered with a mask. Apparently these people believe that viral contamination comes only from the mouth; however, proof has shown that more contamination is emitted through the nose, not the mouth: these offenders are fostering contamination by not covering their noses with their masks. Get real!
Tucson is very fortunate to have Tucson Medical Center, Team Rubicon and Banner Health running the point of dispensing sites (PoDs) for the COVID vaccines in Pima County. I have volunteered at both sites and both have been very professional, efficient and well run.
It is difficult for me to hear so much negative news about the vaccine rollout when I know how well it has been going locally, on site. People are working very hard on our behalf and I am proud of our community and comforted by their organization, resilience and effort.