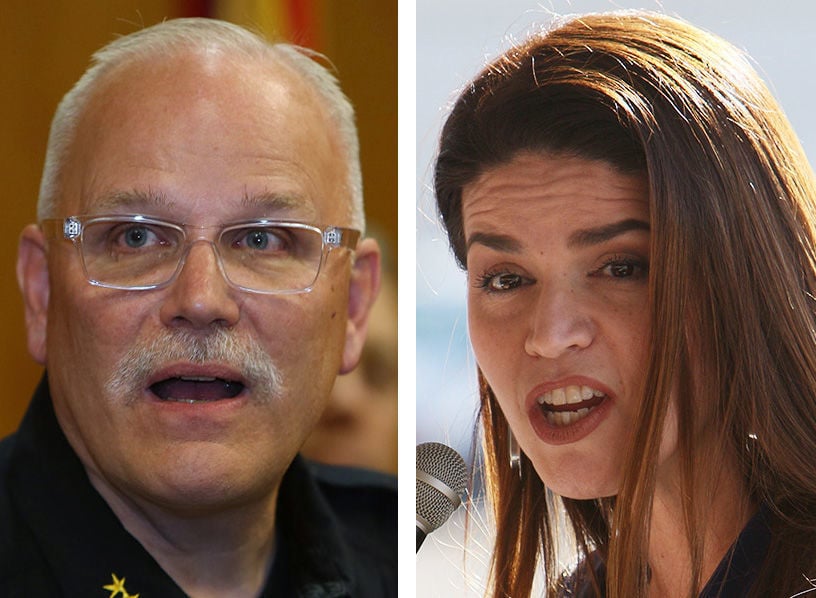 It is very sad to hear that our senator, Martha McSally, has contributed to the incivility and rudeness that has permeated our country in the past three years. For a woman who professes to be a patriot, a lover of America, a former military pilot, to respond to a reporter asking a perfectly legitimate question in an abrupt, uncivilized, and rude manner by responding, "I'm not talking to you, you're a "liberal hack," shocks the conscience.
All it would have taken was a "yes" or "no" answer. McSally might be appealing to the Donald Trump supporters with her slamming of the media and reporters in a nasty and hostile way, but she is a poor example to the dignity and professionalism that a senator should exhibit. Perhaps she needs to be reminded that she wasn't elected, but appointed by Governor Doug Ducey. This behavior is not attractive and will not win her votes from anyone who believes in common courtesy.
Re: the Nov. 24 article "Casitas in the clouds: Hotel on Mount Lemmon due in 2020."
This is great news. I have wondered how long it will take for someone to do this. The vistas, the trails, the cooler temps in the summer, the wildlife, make Mount Lemmon a nice getaway. But there wasn't a place to stay the night. Now there will be. I am looking forward to their opening.
Restrict tax exemption to those conscripted
Most, if not all, career police officers wanted to be in that profession, nobody forced them to be police. I don't understand giving them a tax break, just as I don't understand not taxing military retirees. They, like police, chose those professions themselves. Nobody said, "this is your sacrifice for your country." Let's face it, it was some other reason far from patriotism that made them choose those professions.
If you want to give someone a tax break, give it to the thousands of people who were forced into service to save this country from whatever our leaders thought was threatening us. These people did not choose the profession of going to war. They were forced into it via the draft.
Besides, if nobody is taxed, then who is going to pay for all the things that need to be paid for?
Re: the Jan. 19 article "$31.2M expansion done; more expected on horizon."
This article does not mention expanding basketball facilities.
It would benefit the city and Pima County to bring in basketball club teams from all over the country if we had the facilities at Kino Sports Complex. Most of the basketball regional club teams in Tucson go to other states that offer volleyball and basketball hoops tournaments. Tucson is far behind in offering facilities for basketball and volleyball in bringing teams to Tucson from all over the country.
American Sports Centers in Anaheim, Calif., is the largest indoor wood court facility in the United States, featuring 34 volleyball courts that can be converted into 25 basketball courts. The 242,000-square-foot facility is home to a family of tenants including the U.S. Men's and Women's National Volleyball Teams and Basketball Teams. Additionally, ASC hosts numerous youth club volleyball and basketball programs, adult basketball and futsal leagues, and a variety of weekend tournaments and events. It brings in an enormous amount of tax dollars to Anaheim.
Grant refusal reveals Romero's priorities
Regina Romero is elected mayor. We pass on a program ($600,000, equal to 10 additional officers) that increased public safety by providing "overtime to do proactive, on-site activity in high crime areas," and "resulted in hundreds of arrests that would not have occurred without this federal money."
It also has "taken countless guns and drugs off the streets of Tucson," according to Tony Archibald, president of the Tucson Police Officers Association. "Without these federally funded overtime deployments, an already understaffed police department will have a hard time addressing these crime issues," he said.
I'm excited. As the mayor's focus continues to be on people from outside this country, some here undocumented, instead of law enforcement by a fully staffed and funded police department, crime will increase in our community. There will be an even lower presence of police to control illegal immigration and provide the basic block-and-tackle police service legal residents expect, fund and deserve. Our recent business and downtown revivals will die.
I'm excited a pro-business, crime-fighting mayor is on the horizon.
Veritable shade brigade at work in Poet's Square
On Jan. 11, 88 trees were planted in the Poet's Square Neighborhood. As a resident and a proud adopter of a new tree in my front yard, I'd like to thank the Poet's Square Neighborhood Association leadership, neighbors, Trees for Tucson and their many enthusiastic volunteers. Our streets overflowed with green vests. This is the best of Tucson.
On Sunday's front page, a telling juxtaposition
Once again, I marvel at the juxtaposition of two articles on the front page is Sunday's paper. Tucson's schools are rotting due to lack of funds to maintain them. And, the Tucson Police Department will stop accepting funds from Operation Stonegarden.
Not connected? The city streets are crumbling, the schools are deteriorating and funds are being refused because "it runs counter to the mission and expectation of the community we serve." Is that the same community that voted 70% against becoming a "sanctuary city?" I'd suggest that the mission and the expectation are at odds with each other.
Maybe parents could use sex-ed
Re: the Jan. 15 article "Senate leader blocks restrictive sex-ed bill."
Sex education in public schools has been and continues to be a divisive issue. At what grade level should instruction start? Or should it even be taught in schools?
Despite the 1960s sexual revolution, far too many parents today feel embarrassed to talk with their children about sex. They don't know what to tell their kids or when to start.
Decades ago, Rev. Daniel Lord, S.J., advised parents that it was better to begin talking about sex too early than too late. This is good advice, except it doesn't answer how to have these conversations or what to say.
Perhaps we need to offer sex education classes for parents who wish to be better informed on this very personal subject. It could put an end to the controversy over sex education in the schools by putting it back in the home where it belongs.